It's that time again where I'm itching to dress up my house for the holidays. I decorate my house twice a year, for Christmas and also for Valentines Day. A third time, if you count Halloween, when I stick a pumpkin outside my house for two months, before it rots and has to be thrown away.
I don't know what it is about Valentines Day, but I love this holiday, especially now that I'm a mom. In general, I love crafting with my kids but Valentines Day crafts are the best! Something about making gifts for friends makes it that much more special to them. They take such pride in their work and I love the concentration they put into making each of their gifts perfect. And the joy on their faces when they get Valentines Day card from their friends is just priceless.
So back to decorating. This year, I decided I would once again spruce up my guest bathroom with some cute Valentines Day guest towels. Click here to see last year's towels
I decided to stencil my linen hand towels with one of my favorite things, freezer paper and some cute Valentines Day designs.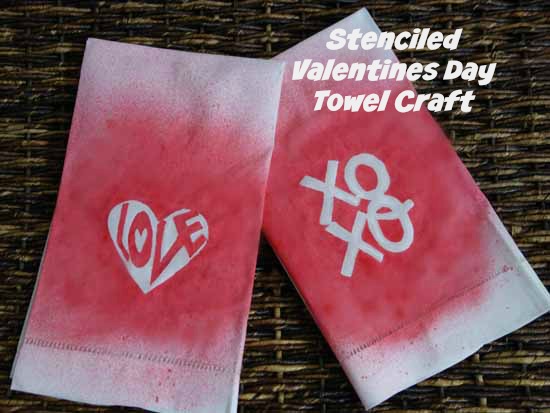 BUY THE MATERIALS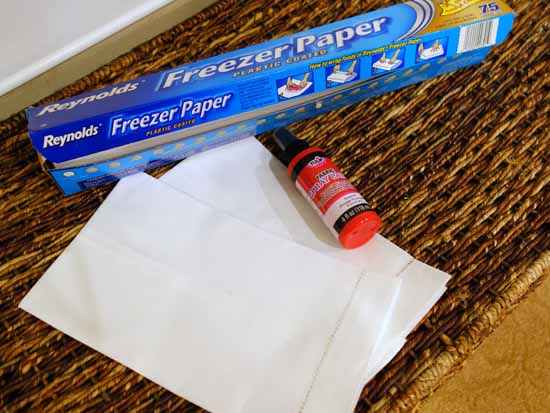 Buy some freezer paper at your local grocery store. It's found in the same aisle as plastic wrap and foil. Note that freezer paper is not the same thing as wax or parchment paper. The difference is that freezer paper has a thin plastic-like coating on one side and paper on the opposite side. The plastic side is what makes the paper awesome to use on fabrics. It will temporarily bind to the fabric with a little heat. So if you create stencils from it, the stencils will stick nicely to the fabric and it can then be easily pulled away once you are done.
Buy spray fabric paint at your local craft store.
Purchase some linen hand towels or dress up towels that you already have around your house.
CREATING THE STENCIL
You can draw out your design on freezer paper (similar to instructions found here) or in my case, you can use a craft cutter.
For Christmas, I received the Silhouette Cameo cutter and I love it. It's so easy to use and I can already envision tons of crafts I can use it for.
If you don't know what the Silhouette Cameo is. It's an electronic cutting tool that plugs into your computer, just like a printer. But instead of printing paper, the Silhouette Cameo uses a small blade to cut paper, card stock, vinyl, fabric and more. It can cut up to 12″ wide and 10 feet long.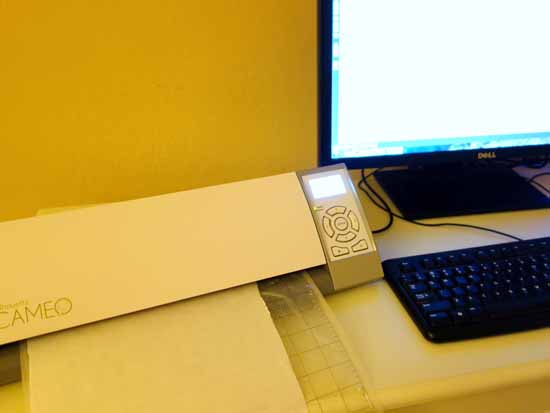 I picked two cute Valentines Day designs from their online store and then sent it to my Cameo.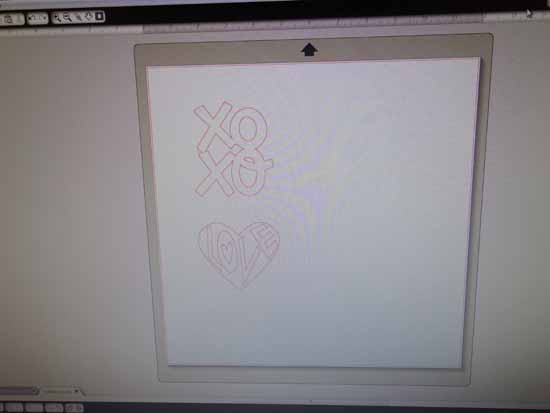 I placed a piece of freezer paper on top of the sticky cutting mat with the plastic coating side down. I then let the Cameo do it's magic. Here's what it looks like once it's cut.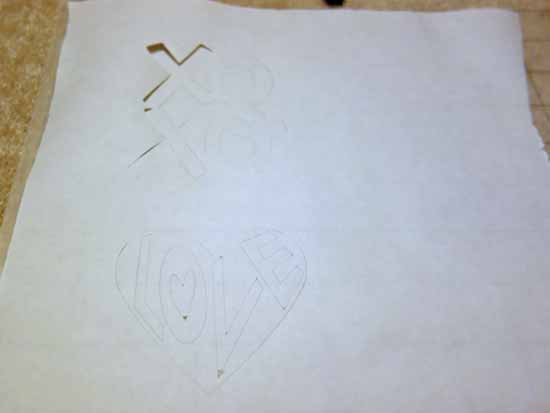 Carefully remove the stencil from the sticky mat.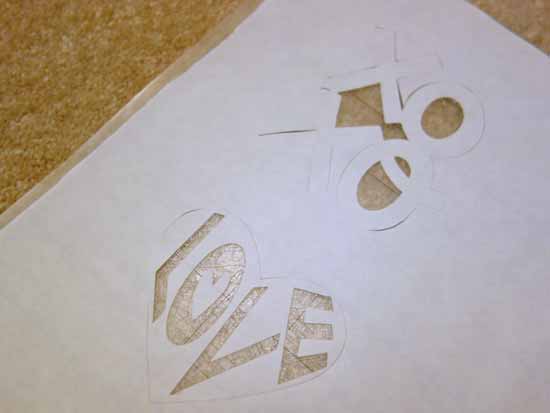 The Cameo is awesome to use if you have detailed cuts that need to be made. Plus it's super fast and will save you lots of time. I highly recommend getting one.
STENCIL IT
First iron the linen hand towel flat, removing all the wrinkles.
Place the stencil down with the shiny side of the freezer paper down.
For towels, I like adding the stencil about 2″ above the hem. The stencil is approximately 2.5″ tall.
Dry iron the stencil onto the fabric. Make sure that the edges in particular are adhered to the fabric so that no paint will leak through, when stenciling.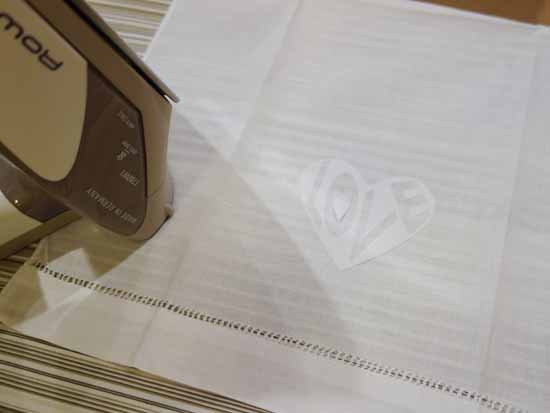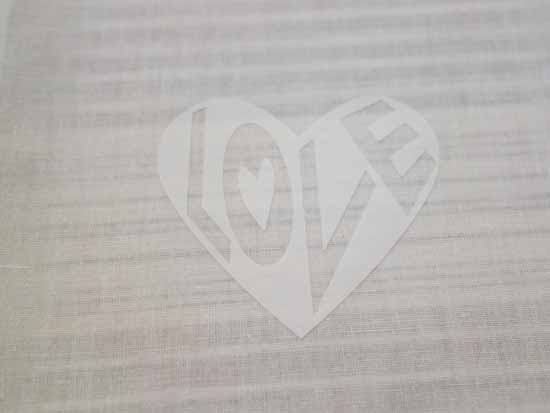 Place your towel on a large piece of cardboard. This is important in case the fabric bleeds.
Shake your fabric spray slightly before spraying.
Carefully spray your towel with the fabric paint. Press halfway down for a splatter effect and all the way down for a mist.
(Unfortunately, I didn't figure this out until after I started so learn from my mistakes. If you do accidentally splatter, go ahead and pat it down with a kleenex to blend the fabric)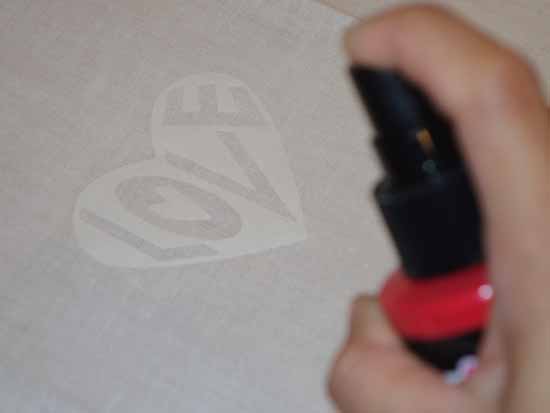 Let the fabric paint dry.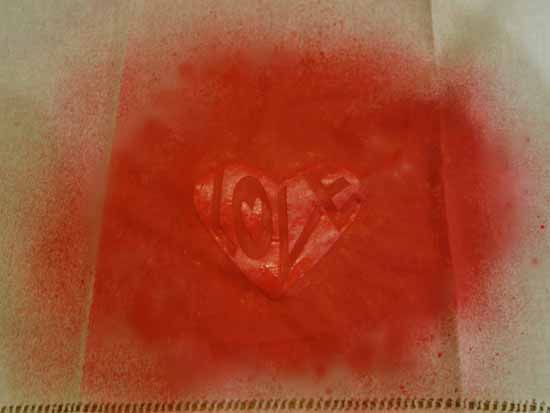 Once the fabric paint is dry, carefully remove the freezer paper stencil.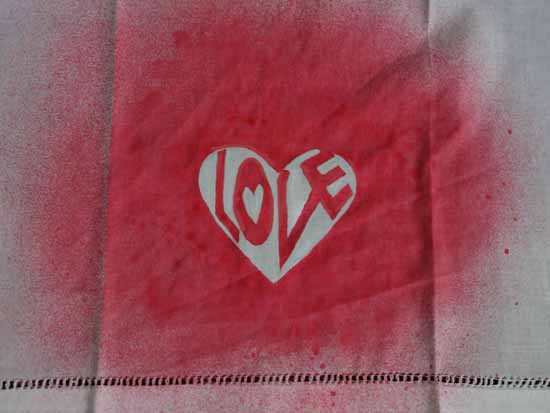 The final step to this easy craft is to set the fabric paint by dry ironing the back of the napkin on a low setting. Be sure to lay something on top of the paint before you iron. All fabric paints have different instructions on how to set the paint so be sure to read the manufacturer suggestions before doing this final step.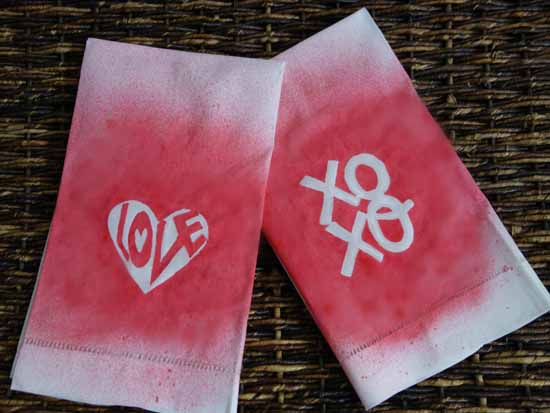 Craft Materials
Linen Hand Towel
Freezer Paper
Spray Fabric Paint
Silhouette Cameo (optional)
Iron