I recently saw this cute Valentine's Day towel in the Pottery Barn catalog and I knew I had to have one. Problem was that there was no way I wanted to pay $21 dollars for one hand towel. I can just imagine, my husband finding the credit card statement and then asking me if I was crazy. I'm sure he would then go on and on about how we are in a recession and that we shouldn't spend money frivolously. I'm sure my excuse of "But it's really cute and it's almost Valentine's Day" wouldn't help the situation.
After thinking about it some more and to avoid that imagined lecture from my hubby, I realized that I can easily make this cute kitchen towel at a fraction of the cost. Why spend the money if I can do it myself, right? The hand towels we sell in the store are totally affordable and I have tons of scrap felt laying around.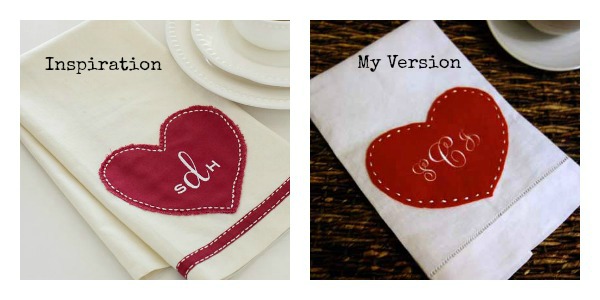 The instructions are pretty simple, all you need for this craft is a white linen hand towel, a piece of red felt, scissors and white embroidery floss with needle. Note: If you forgo using red felt, this towel could work year round.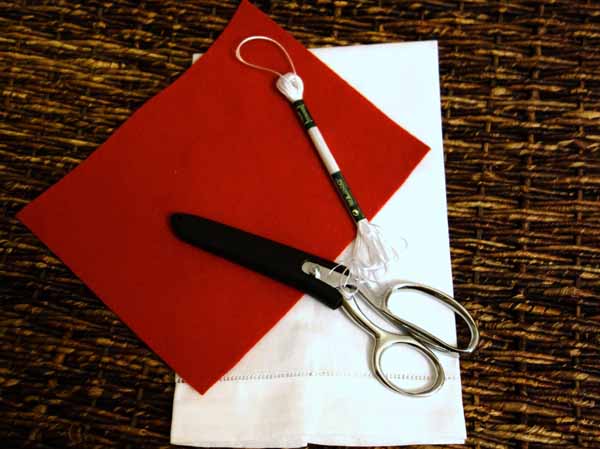 If you want a personalized towel, you will first need to embroider yours and your husband's initials onto the felt. When you combine both initials into one, it's called a couple's monogram. For those that don't know what this is, the first letter of the monogram is your husband's first name initial. The center character is slightly larger and represents the initial of your combined last name. The third letter is your first name initial. So for example, our names are Steve and Jennifer Chou, so our couple's monogram is sCj.
<Note: for a wedding, a couple's monogram starts with the bride's first name initial instead of the groom's. Therefore our wedding monogram would be jCs. The thought behind this is that a wedding is mainly for the bride therefore she should come first. Hmm, I wonder why the wife's name shouldn't always come first. We do run the house and our husbands would be lost without us =) >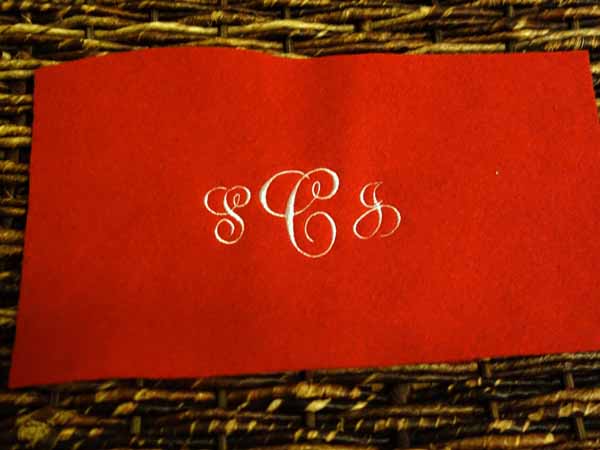 The next step involves creating the big center red heart. I used felt mainly because when you cut it, the edges won't fray. To insure that the heart comes out even, fold the felt vertically in half. Be sure that the monogram sits directly in the middle of the heart.
Lightly draw half a heart in the felt with a black pen or pencil.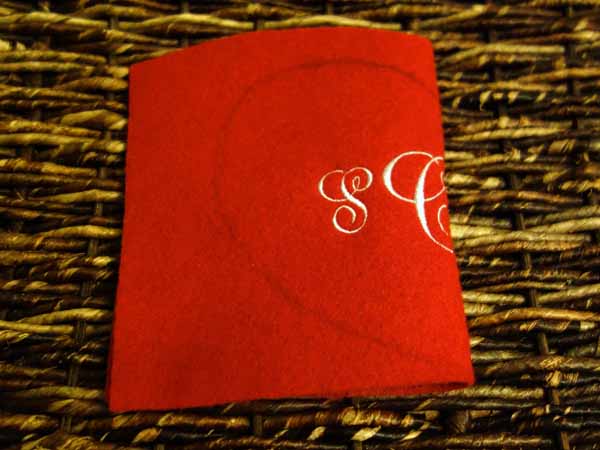 While still folded, carefully cut along this drawn line. You will now have a perfect shaped heart.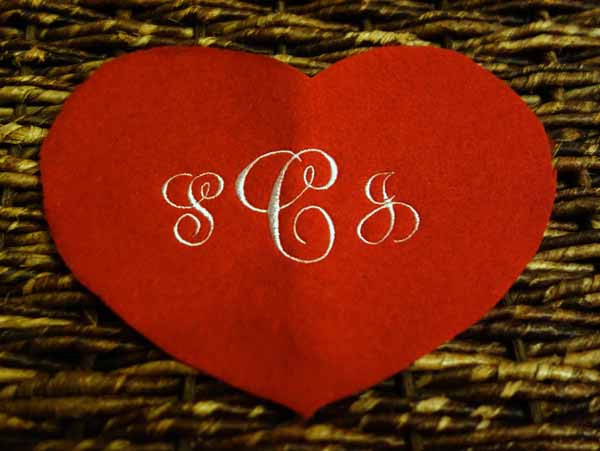 Open the heart and pin it onto the hand towel. I pinned mine approximately 1″ above the border.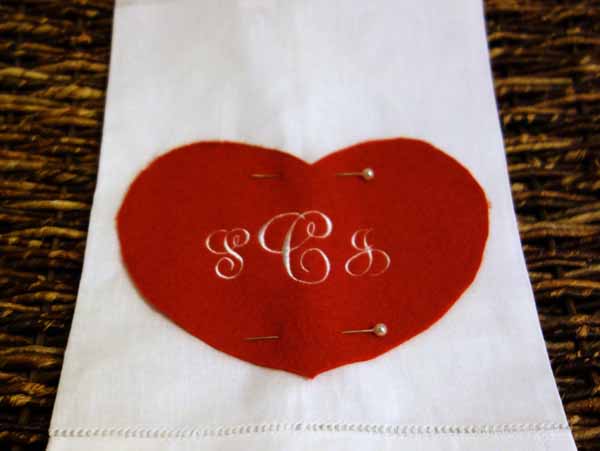 Now you will need to hand stitch the heart onto the towel with the embroidery floss. To make my towel look similar to my inspiration I stitched a running stitch close to the heart's edge.
For those that don't know how to hand stitch, a running stitch is pretty simple. You first poke your threaded needle through the fabric. Pull the thread all the way through and then poke the needle back down through the fabric close to where it originally came up. Then pull the thread all the way down again. Then you repeat the process but the next time you poke the thread back up, you will want it to come up close to your last stitch. Then you poke it down again and repeat until you are done with the entire heart.
Note: to make my stitches really stand out I used all six strands of the embroidery floss together but you can use much less. However, I would recommend at least two on felt.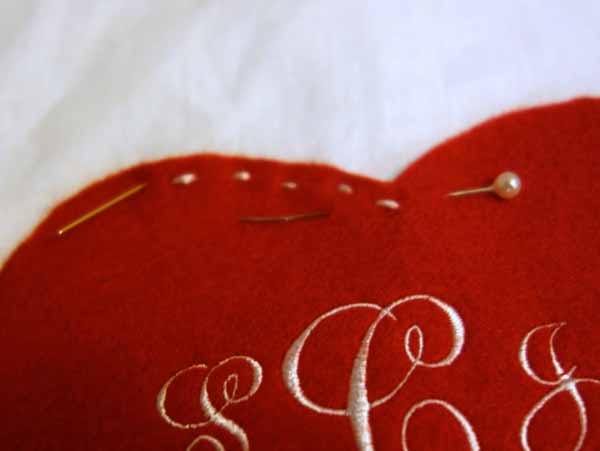 I think my PB knockoff towel turned out great! What do you think?