How To Set A Formal Table

Have you ever wondered how to set the table for a formal dinner? With all of the different types of silverware and wine glasses, it can be very confusing to get it right the first time. This guide will teach you how to set the table properly for a wide variety of occasions.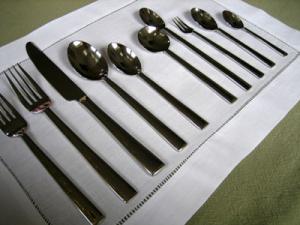 Materials Needed
Silverware Set
Plates
Glasses
Linen or Cotton Napkins
Directions How to Set the Plate
Set a charger on the tablecloth at each place setting. On top of the charger, place a dinner plate, and then either a salad or soup bowl on top of each dinner plate.
Place the bread plate above the forks with the bread knife placed horizontally across the plate.
Directions How to Set the Linen Napkins
The napkin should be placed in the center of the plate or to the left of the utensils.
Directions How To Set the Utensils
One of the most confusing things about setting a formal table is how and where to place the silverware. In general, the forks should be placed in order of use to the left of the dinner plate, and the knives and spoons should be placed to the right of the dinner plate.
For the most basic table setting, the fork is to the left of the dinner plate and the knife is to the right. The blade of the knife should always face towards the dinner plate. (See Figure 1)
For a standard five piece dinner setting, place a salad fork and a dinner fork to the left of the plate. To the right, place a knife facing inwards followed by a tablespoon and a teaspoon. (See Figure 2)
For a more formal setting, you will need to place other silverware onto the table. First start with the standard five piece setting and then add to it. Place the dessert spoon and appetizer fork above the plate. The appetizer fork should be on top pointing to the right and the dessert spoon should be placed underneath and pointing to the left. The butter knife is placed horizontally across the top of the bread plate which should then be placed above the dinner forks. (Figure 3)
Directions How to Set the Glasses
The stemware should be placed above the spoons in order of use. First placed should be the water glass, then the red wine glass, white wine glass and then your champagne flute. Based on space it is perfectly acceptable to place your glassware in a triangle pattern above the spoons.
Since coffee is typically not served during a formal dinner, leave the cup and saucer off the table until dessert. If you would like to include it, place the coffee cup and saucer to the right of the spoons. Place the coffee cup spoon to the right of the cup.
Shop Materials For This Craft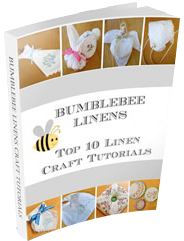 Sign up for our newsletter and receive a free book of crafts!
Arts and crafts projects
DIY tutorials
Fun decorating ideas