Testimonials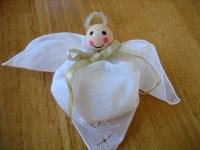 We want you to
shop with confidence
at Bumblebee Linens. We know that online shopping can be very difficult and time consuming so we want to make your shopping experience at Bumblebee Linens as easy and stress-free as possible.
With this goal in mind, we are dedicated to bringing you the
best selection
of wedding hankies and linens at great prices. We go out of our way to make sure that your products arrive in perfect condition and in a timely fashion. As a result, we have received hundreds of emails from
happy customers
who were thrilled with both our products and service.
We have also been featured on television on the
NBC Today Show
as well as other major publications
(Click here to see our press page)
.
Read what our customers are saying about us:
Thank you for my order from Bumble bee linens.The order was very prompt and exactly what I ordered.You have a very easy website to place an order
Suzanne
---
Thank you for your fast delivery. I am very happy with the hankies and I am sure I will be a return buyer. Thanks again.
Juanita
---
I received my order from you today, and I am very pleased. Thank you!
Sharon
---
I received my order today. Thank you for the excellent and speedy service!
Kathy
---
Hello, I just want to say thank you for such fast service! I ordered 2 personalized handkerchiefs on Wednesday. On Thursday I got an e-mail saying my order had shipped. It just so happens that the shower for my niece-to-be in this Sunday. Of course I never imagined having the handkerchiefs to give the moms but... I got them in the mail today (Friday). I would recommend your site to anyone looking for quality items. Thanks again!
Kathy
---
Thank you so much for rushing these beautiful hankies. i waited until the last minute to place an order and your company performed wonderfully. thanks from a very happy customer who will be back.
lori
---
I received the handkerchiefs today! THANK YOU so much. I appreciate your good customer service-- the hankies are beautiful, too. My wedding dress hankies turned out so cute! I used colored and patterned cardstock instead of white--so sweet. Thank you again.I would recommend Bumble Bee Linens to my friends and family.
Cheryl
---
I just wanted to say that I am so very pleased that I received my order so promptly but the handkerchiefs are absolutely beautiful. The pictures on your website don.t do the handkerchiefs justice. I got my baby bonnet made for my niece before the baby came. Thanks so much and you will be receiving another order as I have recommended you to my friends. Thanks again for having such a wonderful company!
Peggy
---
This order is sadly to replace the linens which I purchased from you about 3 years ago. They were beautiful & still in great condition after a great deal of holiday & dinner party use. They were brought to the dump (intend of the cleaners) inadvertently after Christmas this year :( Soooo glad I was able to replace them EXACTLY!!!! Thank you! Just wanted you to know how much I loved them!
Rachel
---
WOW! What great service and what great napkins. They arrived today. No where in San Diego could I find this quality of napkins. Thank you, thank you,
Peter
---
Thank you for working so hard to create such very special mementos for my grandchildren. I am floored at your abilities and level of service.
April
---
Thank you so much! I really appreciate the time and effort you put into my order. I got the delivery today and it looks wonderful! I am wondering if there is a place I can give your company a review encouraging potential customers to do business with you? Thanks again,
Sara
---
Thank You, received hankies, they look really nice. Gave them to bride and groom last night they really liked them. They will be perfect to use on their wedding day.
Linda
---
Just got this in the mail today and it is beautiful!!! Thank you sooooo much!!! I have been telling everyone about your website. Thanks again,
Stacey
---
I love my hankies- they are perfect! Thank you! I will recommend you to all of my friends!
Lindsay ;)
---
THANK YOU! The handkerchiefs arrived today and they are beautiful! Thanks so much for the quick service - have a wonderful weekend. Sincerely,
Sue
---
Thank you so much! I really appreciate it very much!! I am going to let my friends know about your company!
Brenda
---
Thank you for the prompt delivery of my recent order. Although the 6 ladies handkerchiefs were bundled for wedding use, we needed them for a family funeral in sweltering Mississippi heat. Their quality and beauty were a special comfort to us. Please know that I will be ordering from you again in the future.
Nancy
---
Just wanted to let you know I received my handkerchief for my Aunts 90th Birthday. I really like it. Thank you so much. Will be giving it to her this Sunday. Am sure she will also like it. I will recommend you and more than likely be reordering at some point.
Barbara
---
These are absolutely the finest hankies around! Ive been embroidering mine myself, and they are so resilient! I spilled coffee on one, washed it, and it looks perfect again. Thanks for such an exceptional product!
Kaitlin
---
Thank you very much for my order! I am VERY pleased! My wedding is a week away and now I have these beautiful hankis to give as gifts. Thank you for the great & prompt service.
Shari
---
Thank you so much for the fantastic service. I LOVE your website and look forward to ordering many other things. Its nice to know you provide these lovely items that cannot be found anywhere else at very affordable prices.
Patricia
---
I received the handkerchiefs on Tuesday and they are beautiful. Thank you for the great customer service and beautiful product! Let me know if I can write you a testimonial, I will definitely recommend your products to everyone!
Kate
---
I just wanted to let you know what a success the shoebags I ordered from you in the early spring turned out to be. The wedding ended up being a very small, remote beach wedding. We put matching flip flops and polish in the bags for all the girls, at breakfast before going for pedicures. And then we had a very cute way to carry them for the beach trip. Thanks so much!
Kathleen
---
Im always pleased with the work and effort you you put into keep the customer informed on the status of the order and possible delivery dates! THANK YOU!! Its a great feature to give the buyer a little "Piece of Mind" about their order and where its at! I love your products and the verity to add on for future gifts. Im 51, retired Army Sargeant, and a paraplegic! Not because of combat but because of prior bad surgeries will I was in. But I guess you could say I was "brought up" and the "Ladies" Im associated with deserve the "old elegant " things that are now lost to the times! I want to change that with the "Ladies" and hopefully the kids will watch and do the same for their "Special Other"! The Ladies I gave them too have all "CRIED" with "JOY"!! I had them embroidered with their initals and they all said that they all love them and they "Never" thought theyd get them as a gift! I scored points, (Smile), but Ladies desever some of the finer things in life!! Thank all Folkd
B.K Olsen
---
I cannot tell you how pleased I am with my order and how surprised I was to have received it so soon! Everything looks just as it did online, even better. It totally surpassed my expectations. I look forward to ordering from you again in the near future.
Debbie
---
I simply wanted to say "thank you" for the service that I received on my several recent orders. Items were delivered quickly and accurately, and I love the quality. It is unusual in todays world to receive the kind of thoughtful service that Bumble Bee provided. Thank you very much!
Billie
---
Hi there, I just wanted to thank you so much. The handkerchiefs turned out BEAUTIFUL. You were so easy to work with and so accommodating to do them so quickly so I could have the one that was a gift in time for the wedding. Thank you so much. Ill definitely order again in the future. :)
Adrienne
---
Hello, Thank you!! I received the order from you that I had placed for three ladies handkerchiefs. They are lovely! Thank you so much for the quality and the great service. I will order from you again.
MaryAnn
---
I just wanted to sincerely thank you for your assistance in this matter. You were prompt, helpful and sympathetic while solving the problem immediately. It is so rare to receive such proactive and effecient customer service. Thank you treating me like a person instead of a number. I will recommend you to everyone I know.
Amber
---
I dont know if you can remember all of your orders...but I had one for an opening night gift for Finians Rainbow on Broadway. We are opening this coming Thursday. It arrived yesterday and I LOVE IT!!! It is WONDERFUL! I am a dresser (costumer) and I dress the star of the show. I am thrilled about the handkerchief. Thank you thank you thank you!
Del
---
Dear Bumblebee, BZZZZZZZZZZZZZ (thats I love you in bumble bee language) Received my pillowcases today. They are so beautfiul. Thank you for your excellent customer service. Steve, thank you for your personal note responding to my email question regarding order status. BZZZZZZZZZZZZ.
Bonnie
---
I placed my order on Sunday evening and received my order in the mail in less than a week. I was very impressed with the amount of care put into the presentation and packaging of my linens! Everything was beautiful. I will be returning for additional purchases in the near future! Thank you for a great product that was beautifully presented.
Cindy
---
I cannot believe how incredibly helpful and responsive you have been in resolving the issue. I did receive the napkins in the Saturday mail, just picked up last night. They are very nice and I would like to keep them. Again, I am so impressed with your customer service that I will be using you as wedding and other gift items in the future. Your service and product were outstanding.
Mary
---
Thank you for following through with my order so well. You have won my loyalty. I look forward to seeing those beautiful hankies... if it's anything like your customer service I know I will be pleased. Thank you so much for your customer service.
Lucie
---
Thank you so much! I am very grateful you shared with me your beautiful wedding dress template... from all the wedding planning, I loved doing these the most. Thanks again.
Virginia
---
This is just a little note to tell you how very much I appreciate the prompt delivery of my order. Most importantly, the quality of the hankerchiefs are excellent. Beautifully made. Just lovely. Thank you.
Lisa
---
Just to let you know the napkins arrived TODAY! Thanks so, so much. They are lovely and I will be pleased to offer them to my UK hosts in appreciation for their hospitality! Much appreciation for your excellent service and quality products.
Lyn
---
Just wanted to let you know how grateful I am to have found Bumblebee Linens! Your website is both eye-pleasing and easy to navigate and your service is excellent! The napkins (replacements) I ordered arrived very quickly (even though it was a CA to MA ship) and the merchandise was exactly as you had pictured and described it. I applaud you for running such a quality company.
Judith
---
Hi just a note to let you know that I received my hankies today. They are perfect for what I needed. When my son married a very good friend had one embroidered for me and I plan to do this for a friend whose daughter is getting married in November. I have put your site in my favorites and will be checking it often. Hope you have a great rest of the week and weekend.
Betty
---
Hello. I just wanted to let you know that I received the hankies on saturday. They are beautiful and just what i was looking for. Thanks for such an easy transaction. It was a pleasure doing business with you. Thank you.
Melissa
---
I can not tell you how excited I am to have found you. We are in the wedding business and embroider these with a name and date and put them in a frame for the bride, mother, grandmother, etc. (This is actually a side item to our freeze-dried flower business.) You offer these at such a reasonable price that we can still make a small profit on them. You have made my day. Thanks.
Diane
---
i have just received the linen pillow shams i ordered. they are truly wonderful. they brought back so many memories. sometimes the world can over power us, but we can go back in our minds and re-live a quieter, gentler more caring moment in time. we can actually catch our breath. i will return to this store. thank you for being the way stores use to be.
Cynthia
---
Continue