Our Mason Jar Wall Decor Craft is a perfect decor addition to any craft room or bedroom, completely customizable to your liking.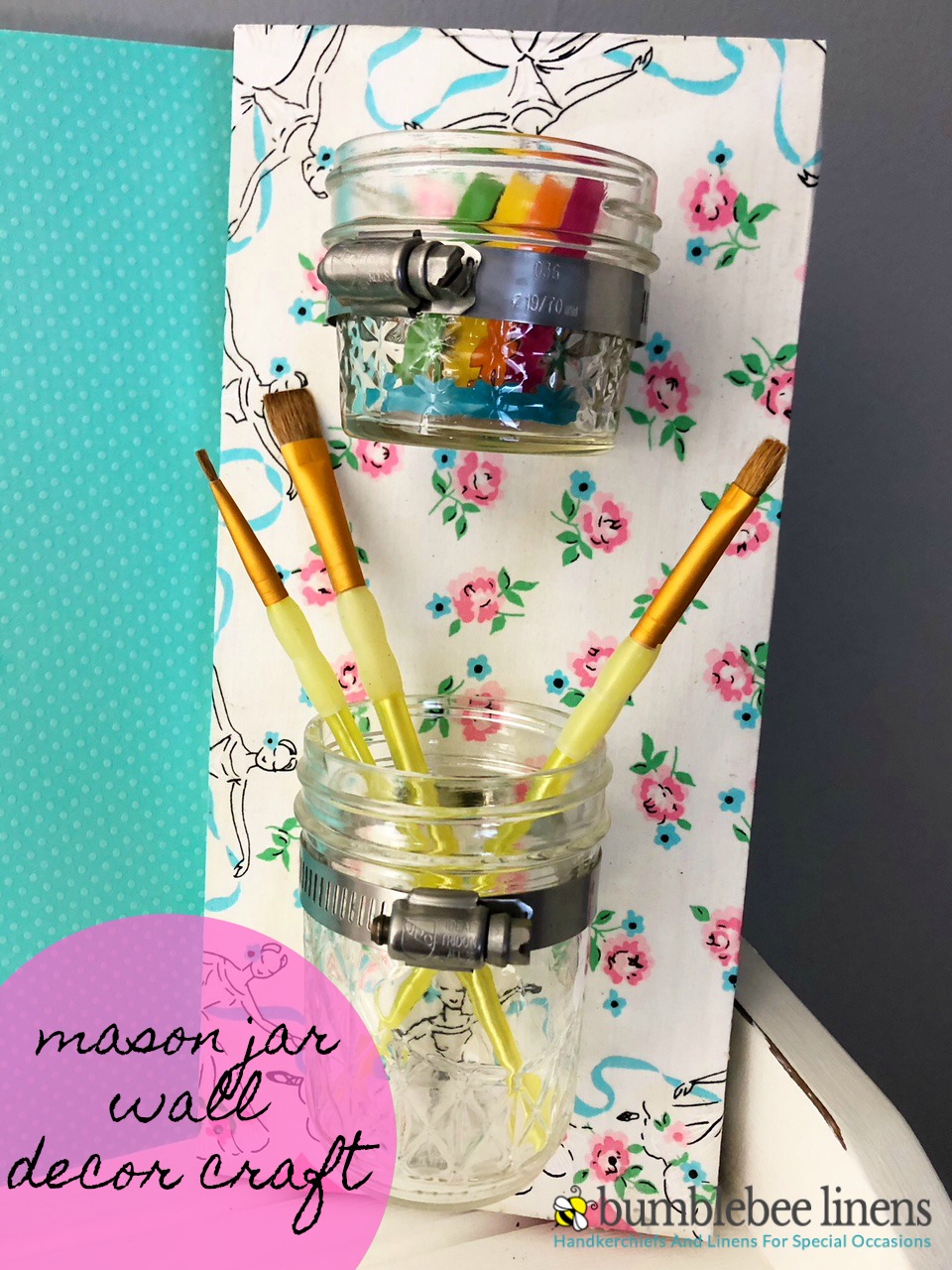 I've had this beautiful flowered ballerina handkerchief just sitting around and I wanted to display it because of how pretty it is but it took me awhile to figure out what I wanted to make with it.
Then I had an 'ah ha' moment scrolling through Pinterest. I saw a few of those hose clamp and mason jar wall hangings with cute plants in the mason jar and from that moment I knew what I could do.
My daughter loves to craft so I thought she would have fun filling up these cute little jars with items like washi tape, paint brushes, stickers or whatever her little heart desired.
A little hook on the back is all I need to place it on the wall next to her desk, she loves it.
How to make our Mason Jar Wall Decor Craft: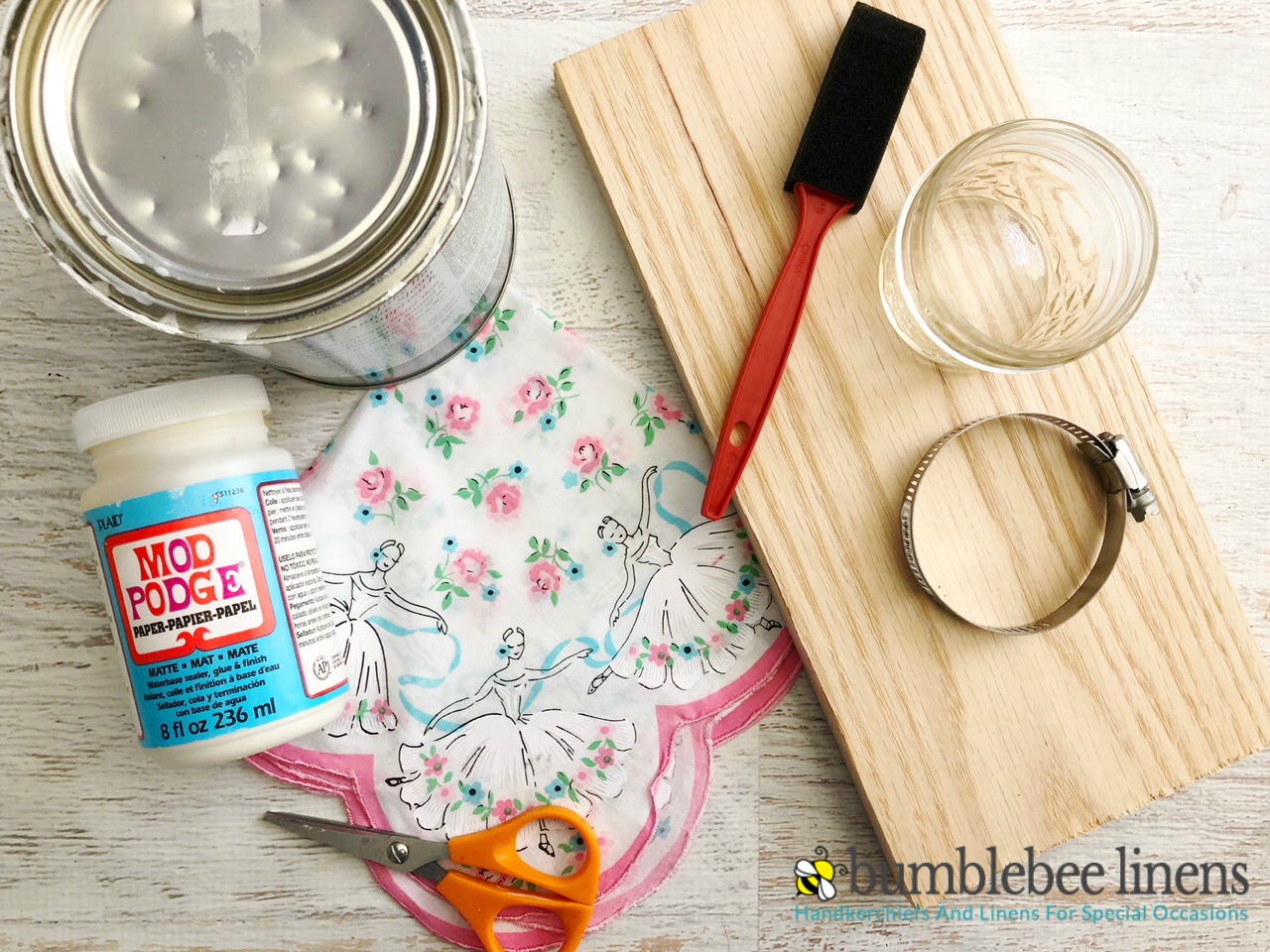 Materials:
1 x 6″ wood board
white paint
handkerchief
mod podge
foam paint brushes
scissors
4oz and 8oz mason jars
hose clamps
screw gun and tiny screws
1/8″ drill bit


Use a foam paint brush to paint your board white, let dry, paint a second and let dry again (use a hair dryer for a quicker dry time).
Use a clean foam paint brush to paint a thick coat of Mod Podge onto the from of the board.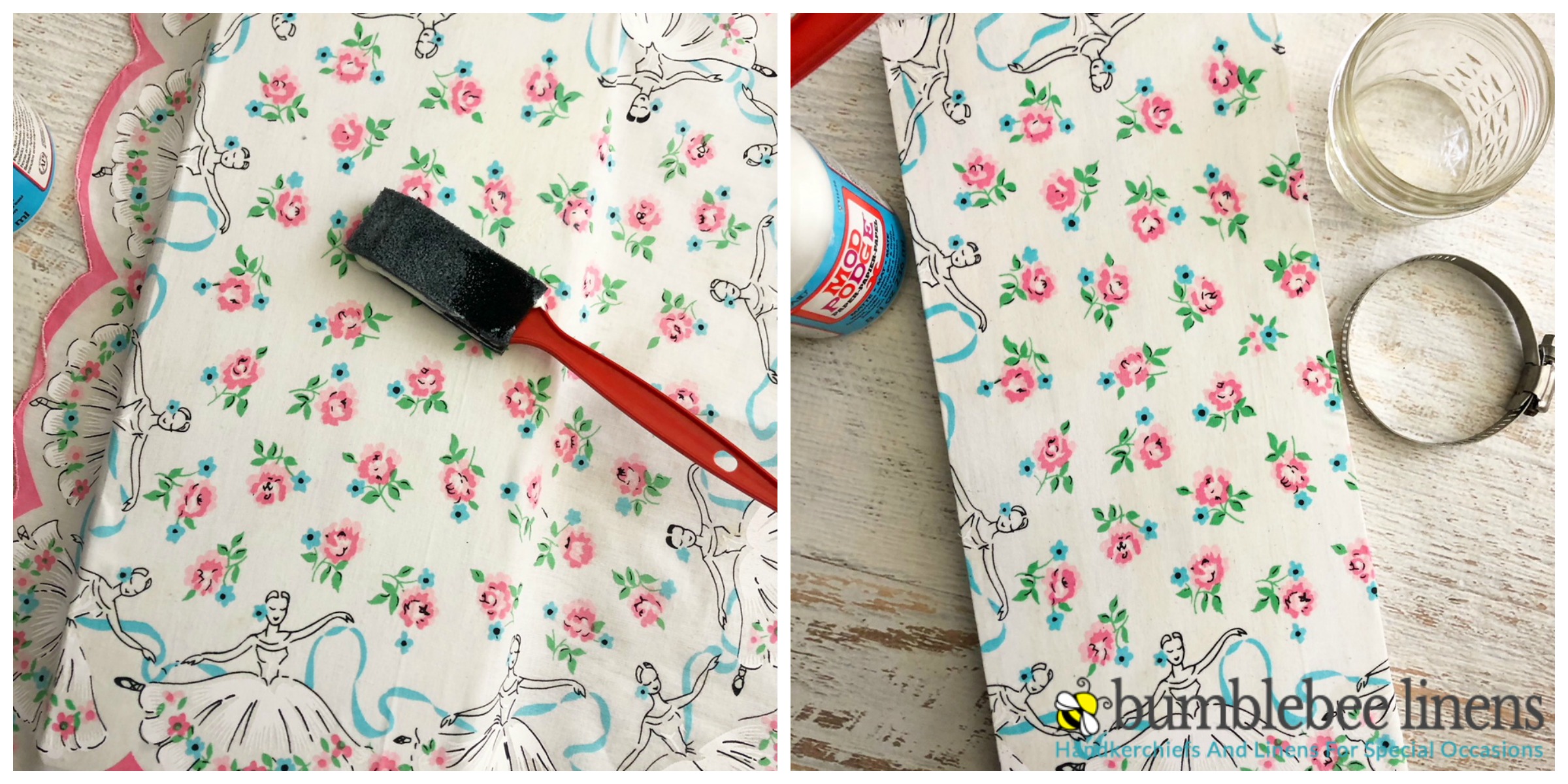 Lay your handkerchief onto the painted board and lightly stretch it out and press against the wood so you don't have wrinkles in your fabric. Turn your board over and apply another coat of Mod Podge around the edges and back sides.
Tightly wrap your handkerchief to the backside of the board and cut off any excess fabric. Apply another layer of Mod Podge over your fabric (front, back and sides) and let dry.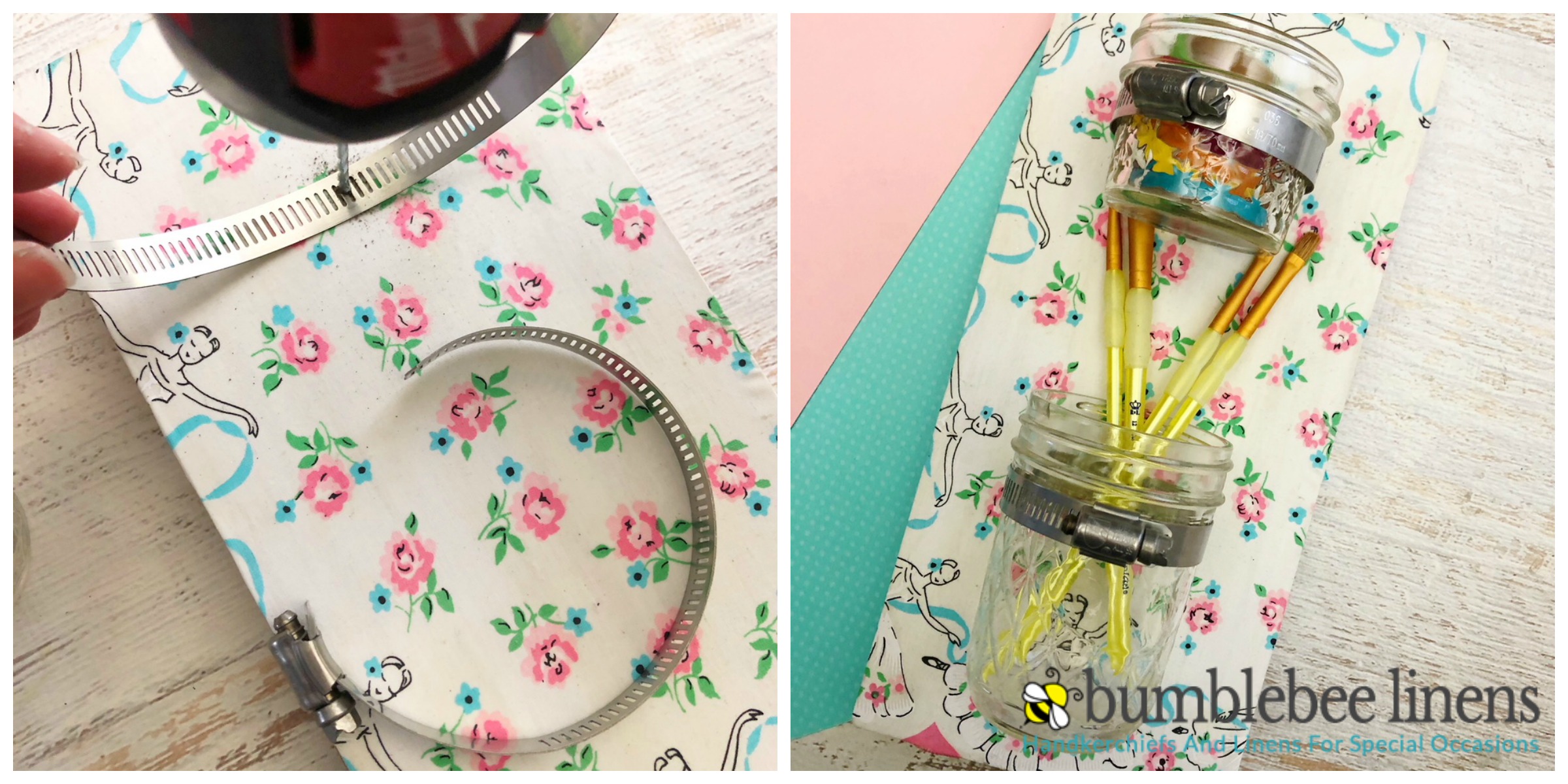 Open your hose clamps, mark with a for of a pen or pencil where you would like them and use your drill and 1/8″ drill bit to carefully drill a hole in the center through the clamp (caution: wear protective eyewear and gloves because this will produce little metal shavings from drilling through the clamp).
Carefully wipe away the metal shavings and use your drill to carefully place a screw through each hole. Attach your clamps back together which the mason jars in place.
Attach a hook to the back, hang on a wall of your choice and fill with change, arts and crafts or treasures.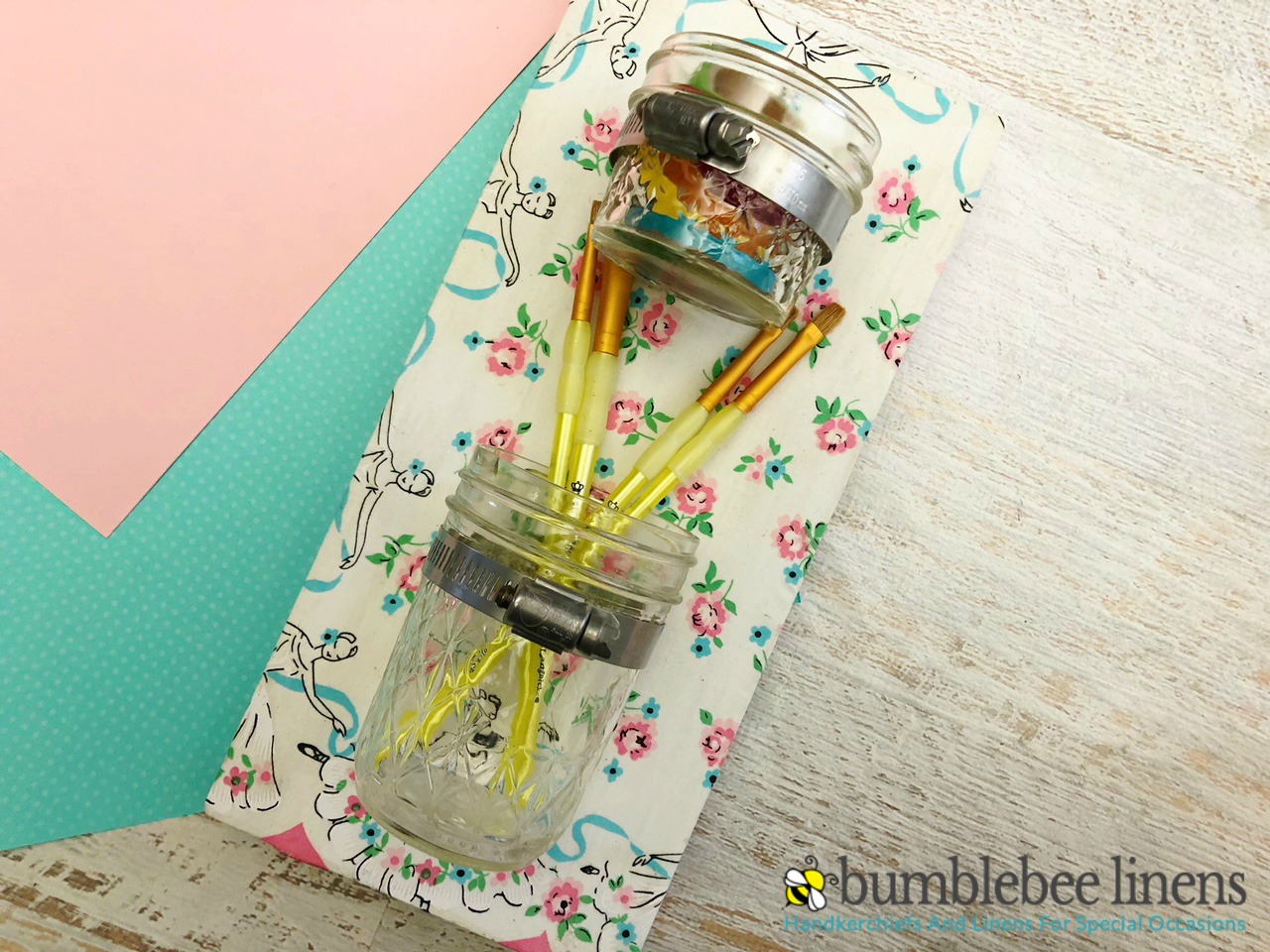 Check out more of our beautiful handkerchiefs that you could use to make a Mason Jar Wall Decor Craft like ours: