As a bride, it is easy to get tunnel vision when planning a wedding.
Those hectic months and days before the wedding often consume a future bride's life as she is trying to figure out which invitations to buy.
Also, which song would be best for the bride and groom's first dance, which flavor of cake is best, which flowers to use, the perfect bridal party gifts and all the other details that must be ironed out in order to plan the perfect wedding.
But think where the bridesmaids come into play: they plan the bachelorette party and the bridal showers, they invest time and money into dress fittings, they help address invitations, and on the big day, they clock in early and are the last ones to leave.
These special girls deserve a special thank you. After all, they are the special heroes of the wedding party and your companions on your wedding journey. If you need some unique bridesmaid gift ideas, keep reading.
I have done the homework for you.
Whether you want a personalized gift, a practical gift, an edible gift, a luxurious gift, or you have something else in mind, you will certainly find the best possible gifts for the extraordinary girls you chose as your bridesmaids.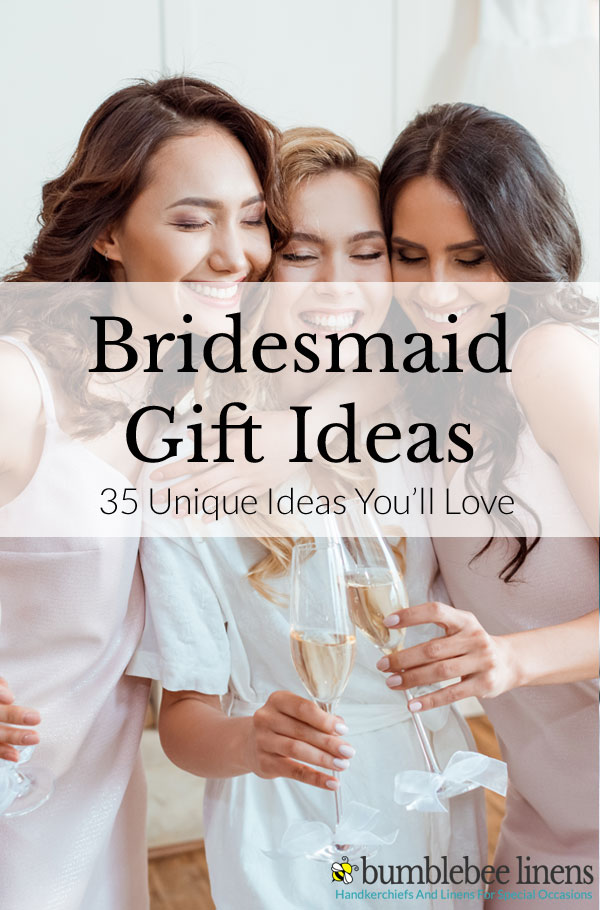 Personalized Bridesmaid Gifts
Personalized gifts are special because you took the extra time to tailor each gift to each individual. Most people love having something personalized—a piece of jewelry or even a bath robe. If you want to take the personalization route, (which is a great idea!), check out these unique bridesmaid thank you gifts. 
Bridesmaid Gift Idea #1: Monogrammed Handkerchiefs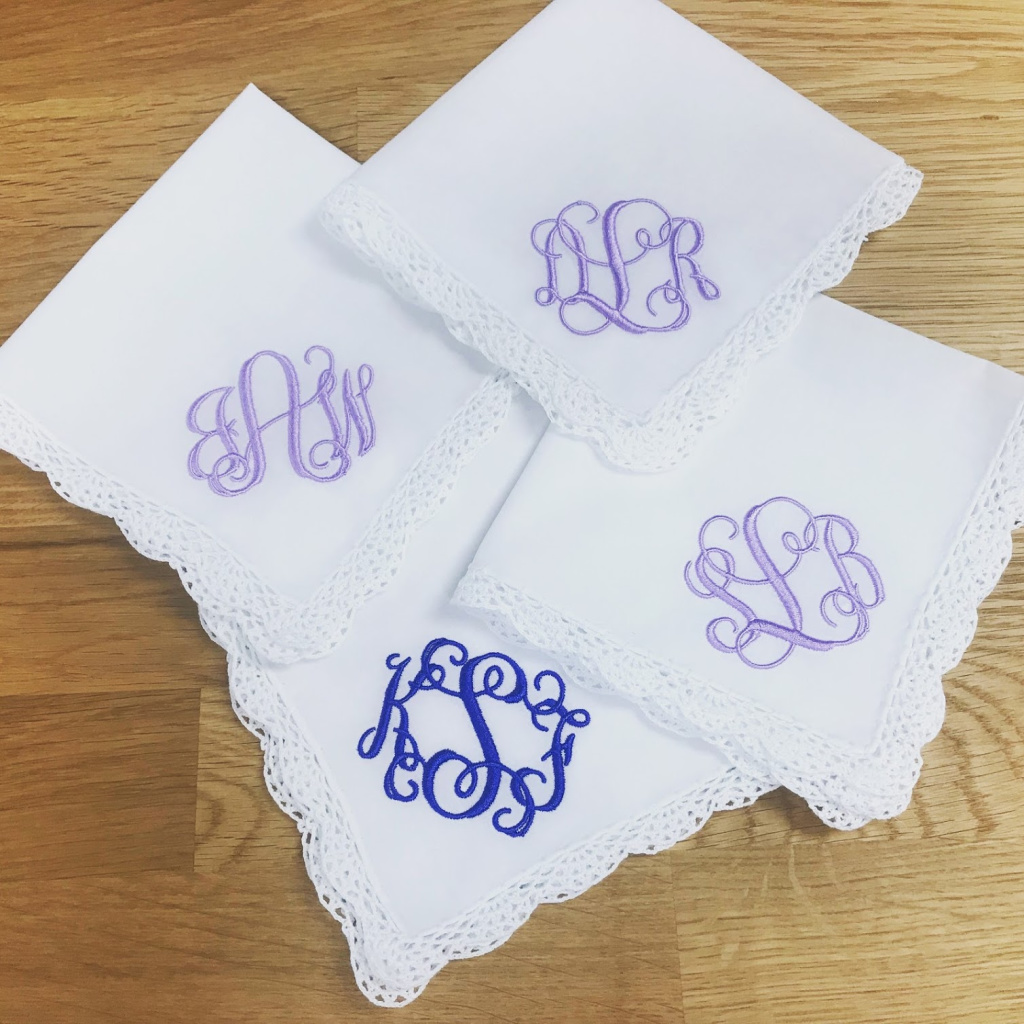 I love the idea of personalized handkerchiefs. They are fabulous for handing out as gifts to your bridesmaids.
I handed them out at my wedding and my bridesmaids loved them. They were especially useful for my teary eyed bridesmaids. They are customized with the girls' initials, which is awesome!
Bridesmaid Gift Idea #2: Custom Phone Case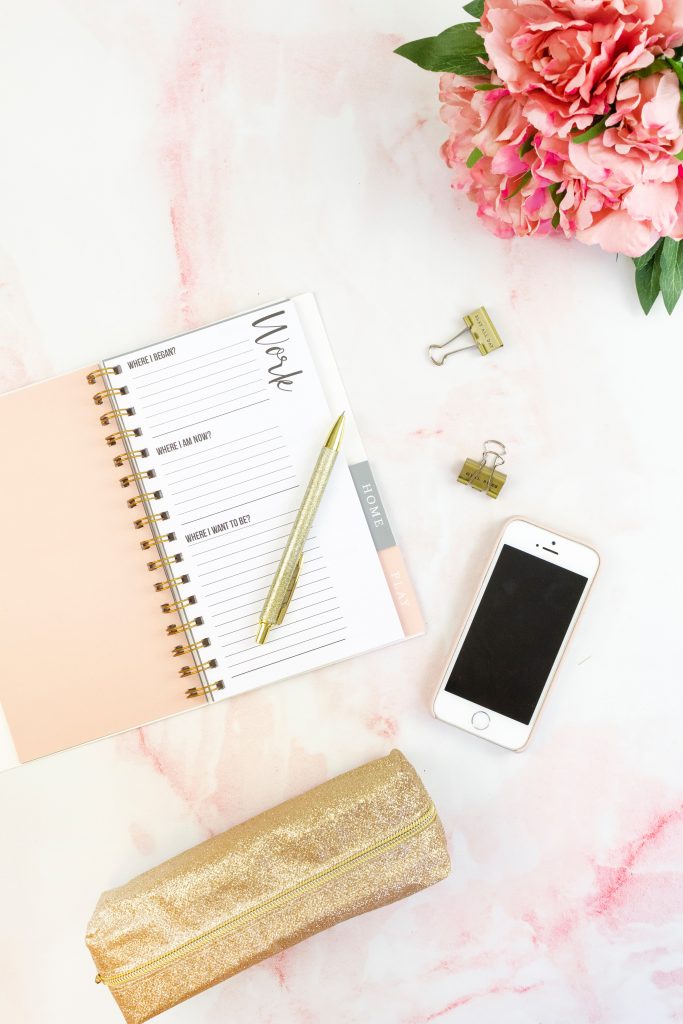 How about a practical gift that your bridesmaids will use long after your wedding day? If you have a phone, which is pretty much 99% of the population, then you need a phone case. These custom phone cases from Shutterfly are useful bridesmaid gifts that your bridesmaids will enjoy long after your wedding.
These cases come with an extra layer of protection: a silicone liner. You can choose the pattern and colors and can even personalize each one! Buy these custom phone cases from Shutterfly for $32.99 each.
Bridesmaid Gift Idea #3: Embroidered Waffle Spa Robe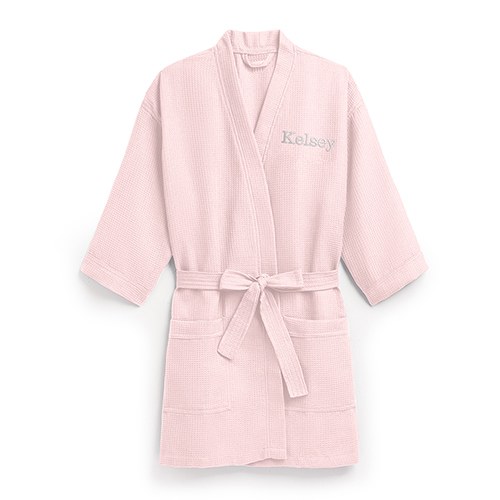 A waffle, what robe? (Yeah, I asked the same thing!) Waffle robes are made from a waffle weave which is a lighter material, but also keeps you warm. The perfect choice for bridesmaid robes! Pick your color, your lettering, and your bridesmaid's names and you will be giving the gift of comfort with these embroidered waffle spa robes from David's Bridal.
Made from luxury cotton and polyester blend, these robes are perfect for you and your bridesmaids as you are getting ready on your big day. These comfy robes are available from The Knot shop for $24.99 each. 
Bridesmaid Gift Idea #4: Personalized Ring Dish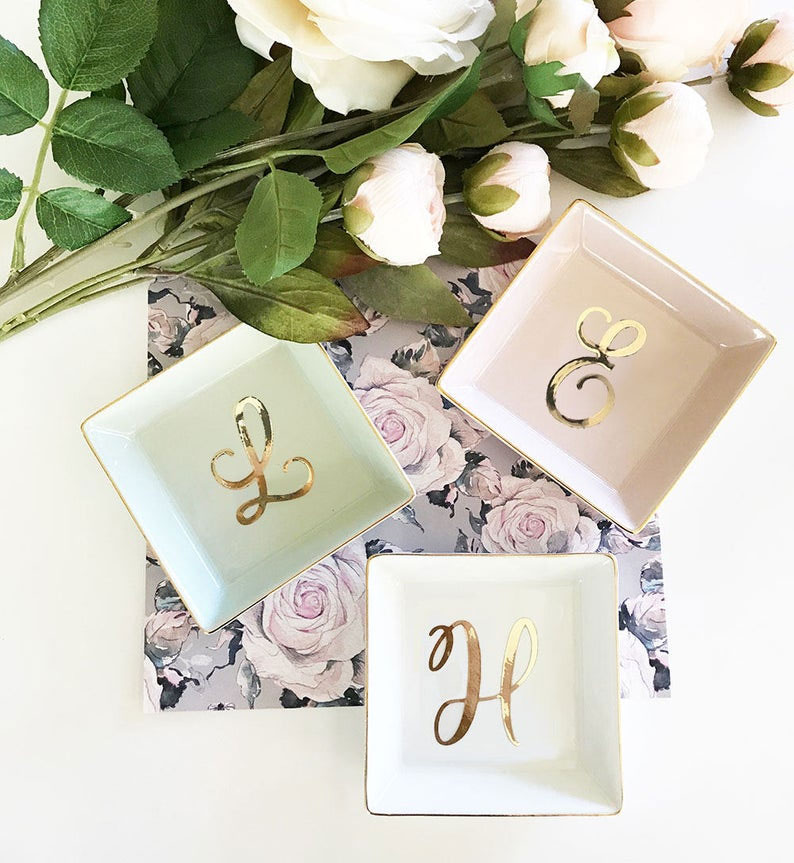 Every girl needs a particular place to keep her rings and necklaces. These mini jewelry dishes come in pretty pastel colors or black and can be personalized for each of your bridesmaids. They're fun and easier to use than a jewelry box, perfect for sifting through accessories.
The personalized letter is written in metallic gold and adds a classy touch to the porcelain dish. These dishes will sit nicely on a dresser or nightstand while they hold jewelry.
The best part—these little gems are handmade and available for $9.60 on Etsy. 
Bridesmaid Gift Idea #5: Personalized Heart Charm Necklace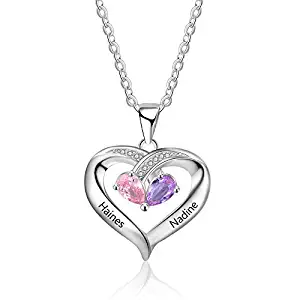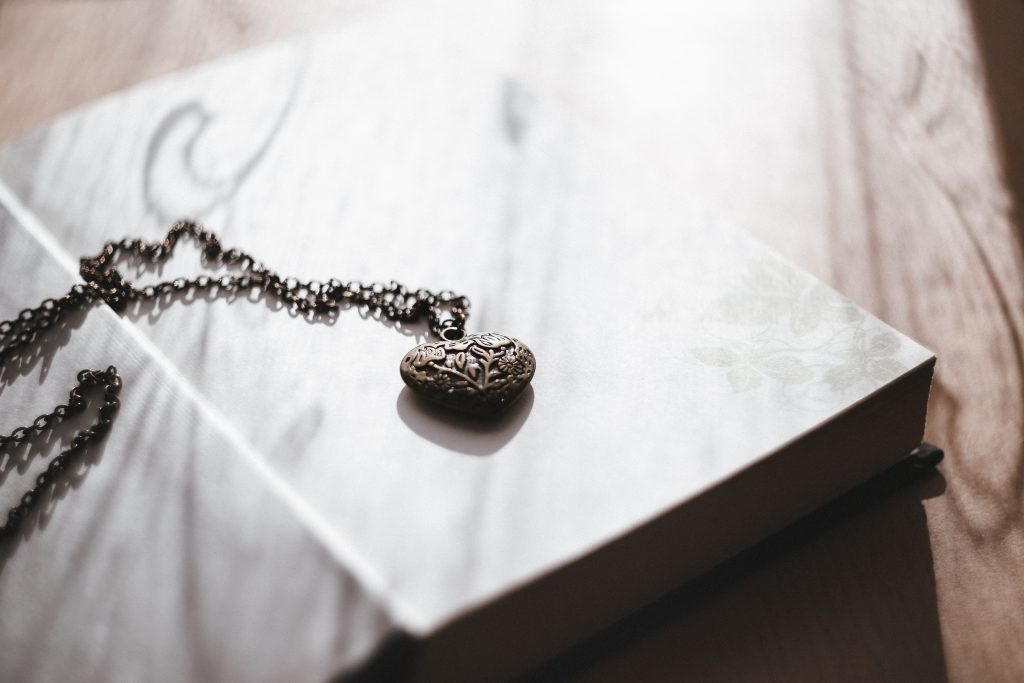 With a personalized charm and a freshwater pearl, a heart necklace is a memento that your bridesmaids will keep and treasure.  Available in gold or silver, the necklace is 16 inches long and comes with a 2-inch extender.
Paired with a personal message that says, "Thank you for being my bridesmaid. I couldn't say 'I DO' without you," this necklace is a simple, classic gift that your bridesmaids will surely love. 
Bridesmaid Gift Idea #6: Monogrammed Tea Napkins
These beautiful monogrammed tea napkins are always a huge hit for bridesmaids.
Embroider any 3 letter monogram of your choice in the thread color of your choice to make these napkins extra special.
It's a wonderful gift that will last a lifetime!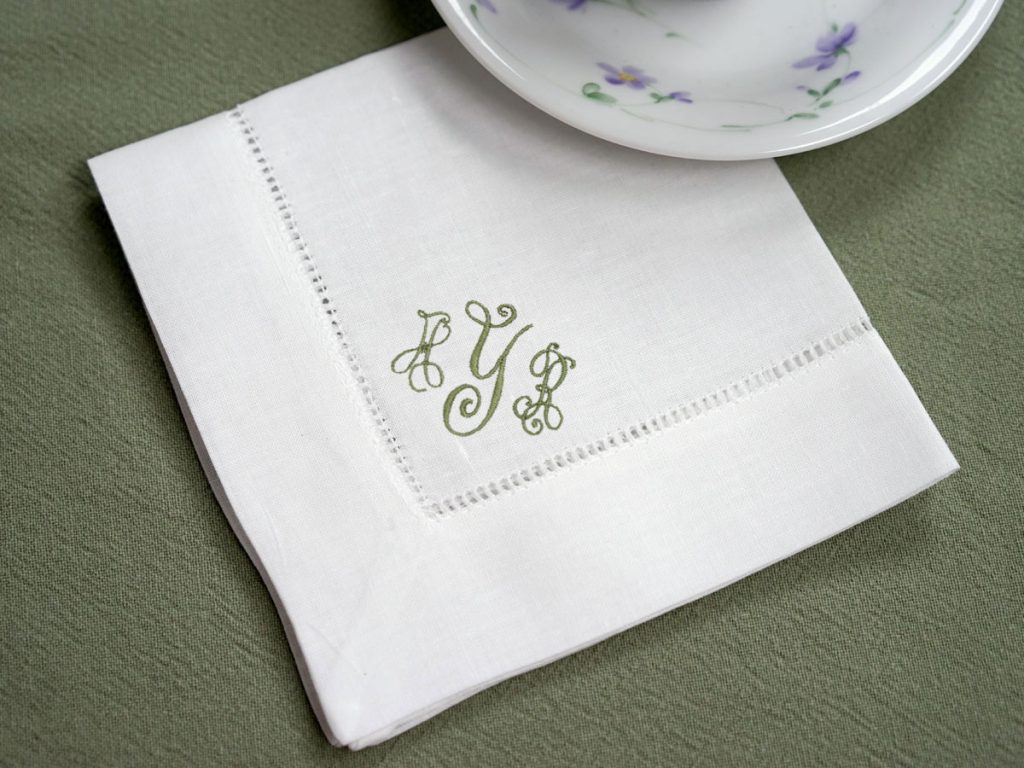 Practical Bridesmaid Gifts
Maybe you are the type of bride who likes to give practical gifts—the ones that your bridesmaids can use for years to come. Maybe it is important to you that your bridesmaids will actually use and reuse their gifts.
Most people appreciate practical gifts! Here are some great, everyday gifts that your bridesmaids are sure to use over and over again. 
Bridesmaid Gift Idea #7: 24oz Personalized Tumbler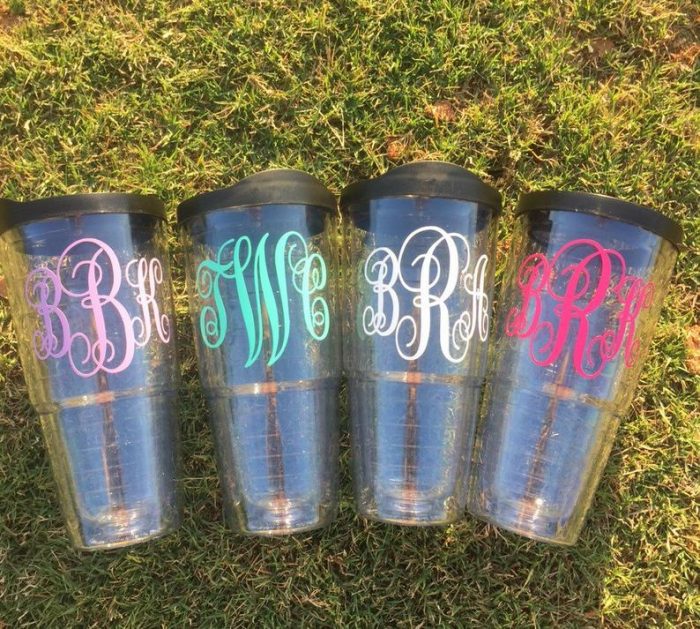 Everyone needs a Tumbler to keep their favorite beverage ready and available all day. These large BPA free Tumblers are the perfect practical gift for your bridesmaids. They can be monogrammed to fit each girl and each one comes with a straw. Plus, they hold up to 24 oz of liquid, so they won't need to be refilled all the time.
These personalized tumblers are available on Etsy for just $10.00 each.
Bridesmaid Gift Idea #8: Black Leather Casual Backpack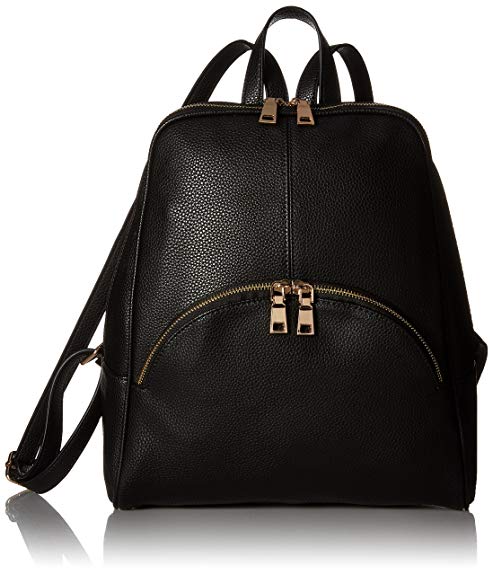 Many women are trading a purse for a backpack these days. An Amazon's choice product with great customer reviews, this leather backpack is a classy, medium sized bag that allows a distribution of weight on the shoulders and of course, hands free carrying. 
There are several pockets so your bridesmaids can stay organized. Black is a neutral color, but there are five other colors available. Buy this cute, classy backpack on Amazon for $27.99.
Bridesmaid Gift Idea #9: Initial Canvas Tote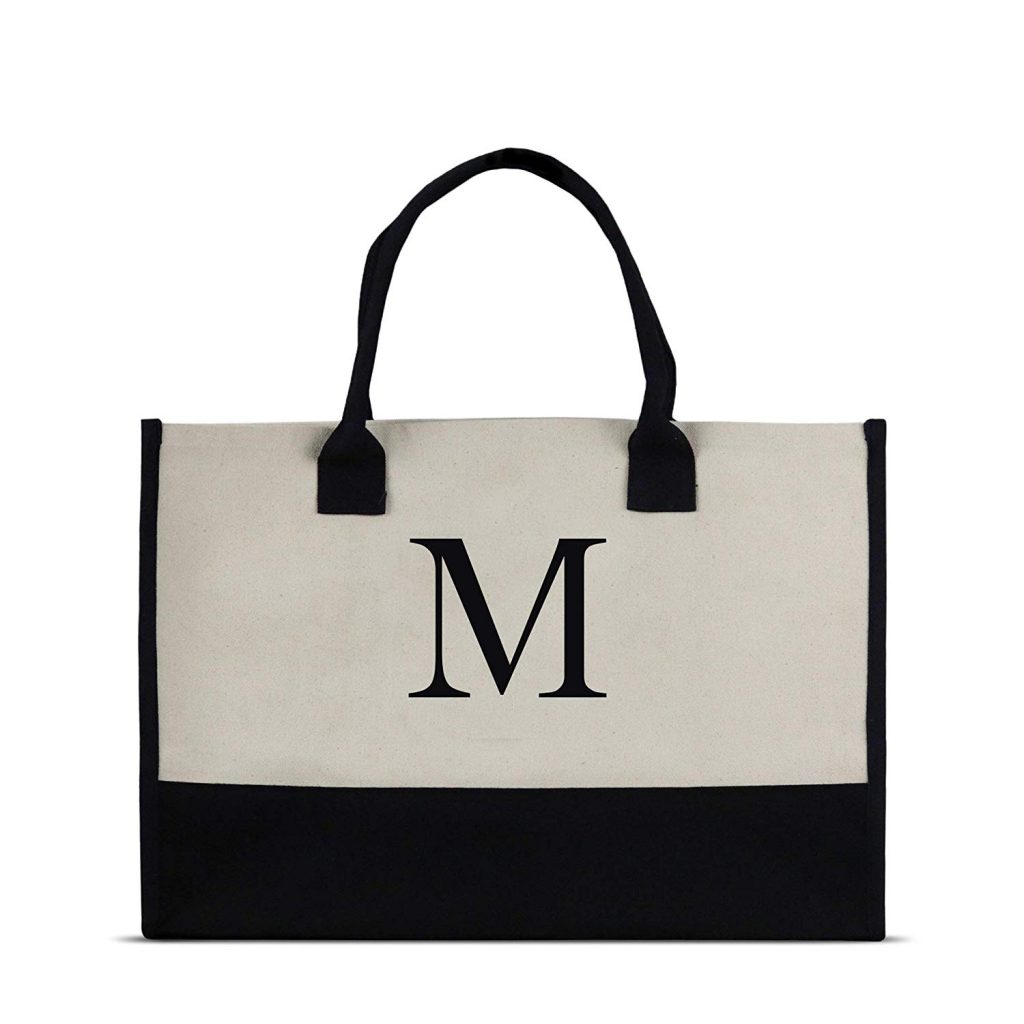 This initial canvas tote is a perfect work bag since you can nicely fit a laptop and a notebook inside. It also doubles as a travel bag or even a beach bag. It is large enough to fit what you need into it and take it wherever you go. It also comes with a monogramming option, so you can personalize it for each of your bridesmaids. 
You can buy this practical gift for $19.99 on Amazon. 
Bridesmaid Gift Idea #10: Bamboo Spoon with Colorful Silicone Handles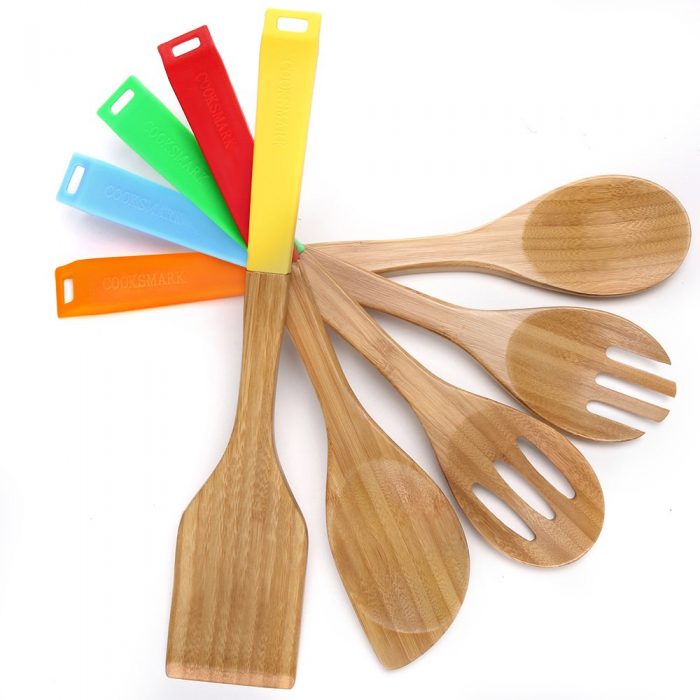 For a very practical gift, you could get your bridesmaids these colorful bamboo kitchen utensils to stock their kitchens.
The wooden bamboo multicolored spoon set includes a spatula, serving fork, serving spoon, slotted spoon, and mixing spoon. These sets are durable, eco-friendly, biodegradable, and are made from 100% quality bamboo. 
Buy this 5-piece set at Amazon for just $16.99. 
Bridesmaid Gift Idea #11: Wireless Ear Pod Headphones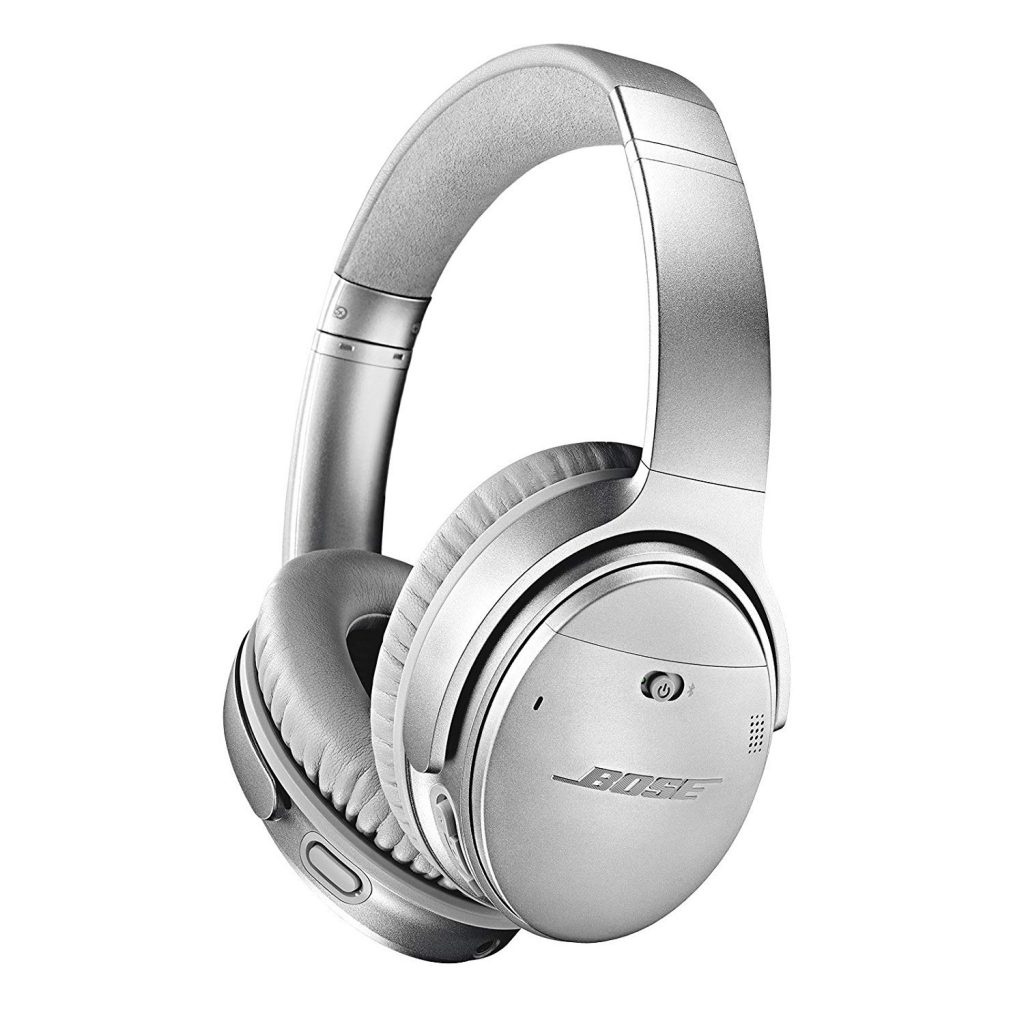 These wireless ear pod headphones are a great practical gift for your bridesmaids! Sometimes we all need a break from the hustle of planning a wedding, so these ear pods will ensure that each bridesmaid has some down time to listen to their music or podcasts.
Each set comes with a portable charging box, and you can choose from several colors. 
Bridesmaid Gift Idea #12: Monogrammed Linen Guest Towels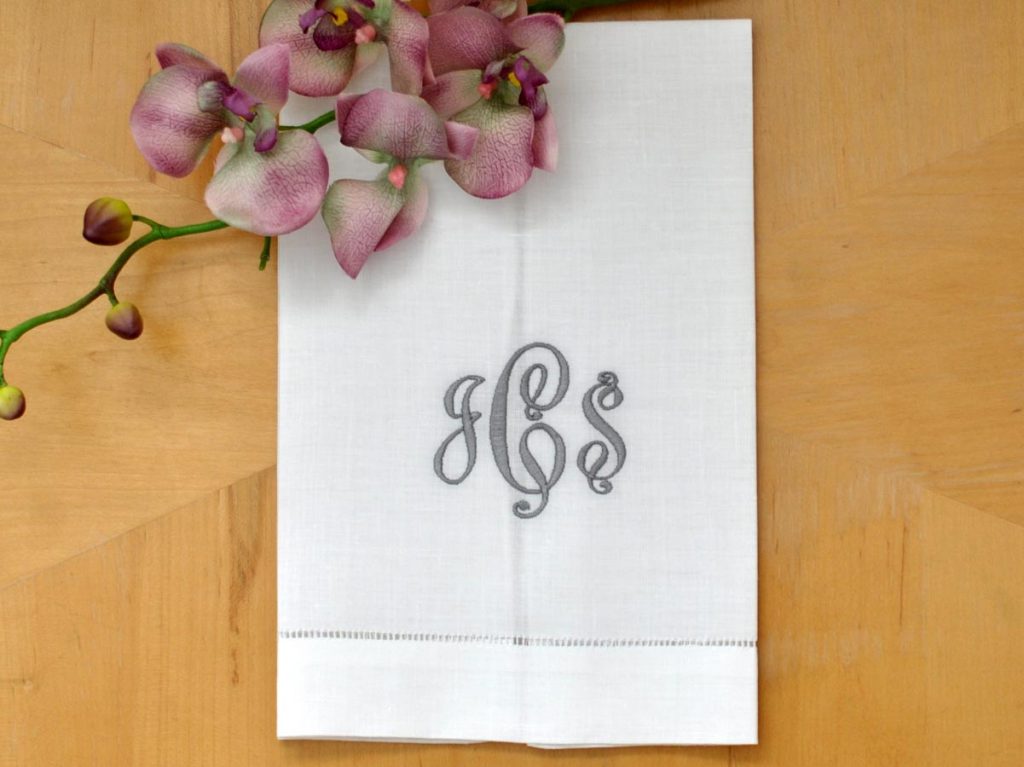 I placed these monogrammed linen towels in my bridesmaid's hotel room right before the wedding and they were all pleasantly surprised!
Monogram your towel in the thread color of your choice!
Edible Bridesmaid Gifts 
I don't know about you, but edible gifts are my favorite type of gifts, especially anything that involves chocolate! If you think your bridesmaids will enjoy gifts that will satisfy the palate, look no further.
Bridesmaid Gift Idea #13: Just For You Bouquet
Who doesn't love fruit and chocolate? The Just For You Bouquet is a fruit bouquet packed with plump grapes, pineapple daisies, and chocolate dipped strawberries. It comes packaged in a modern style container that your bridesmaids can use for years to come. You can buy this product at Edible Arrangements for $49.99 each.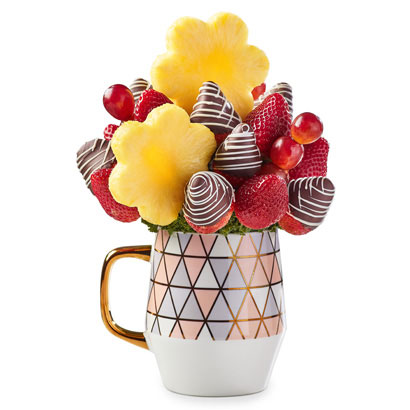 Bridesmaid Gift Idea #14: Classic Indulgence Box from Edible Arrangements
This special edible gift is full of fresh fruit and real, gourmet chocolate. What could be sweeter? Each box contains strawberries, bananas, and Granny Smith apple wedges all dipped in melt-in-your-mouth chocolate. Each bite will remind your bridesmaids on how much they are appreciated. 
Buy the Classic Indulgent Box from Edible Arrangements for $29.99. Note: at the time of this writing, these boxes are on sale for $19.99.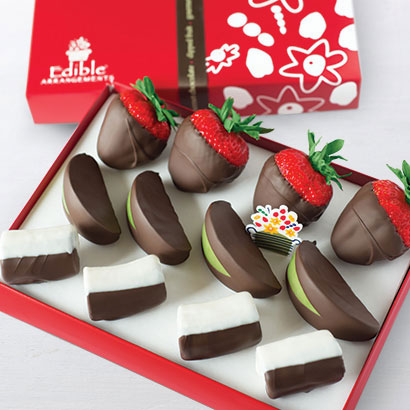 Bridesmaid Gift Idea #15: Fresh and Fruity Candy Basket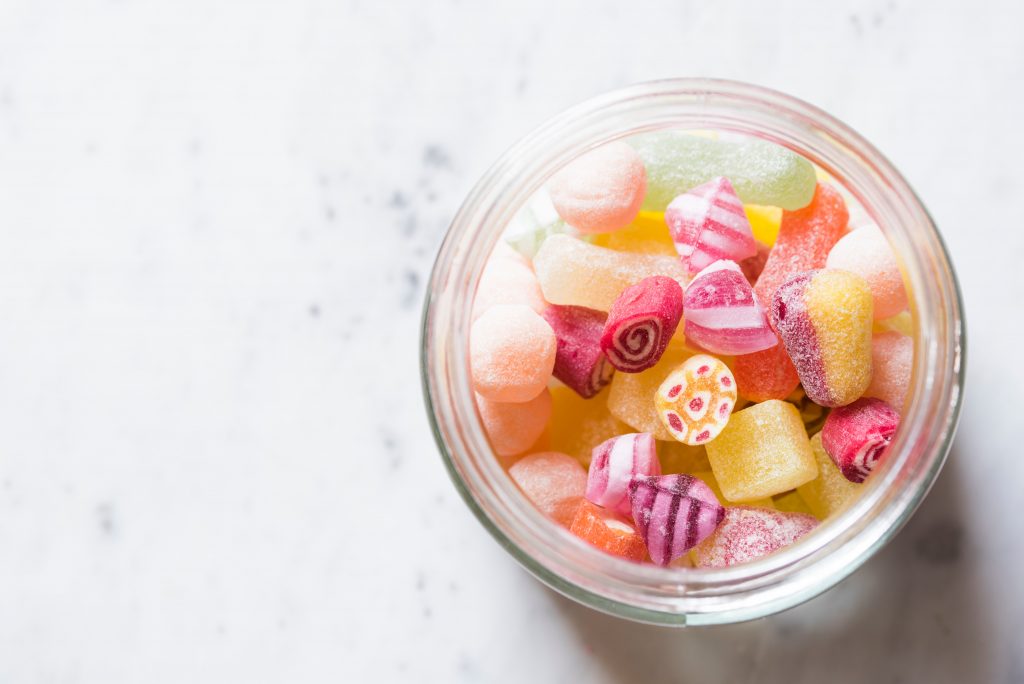 Everyone loves candy, and your bridesmaids are no exception. These fresh and fruity candy baskets are the best bridesmaid gift for candy lovers. Each wicker basket is packed full of candies such as Skittles, Nerds, Twizzlers, Laffy Taffy, Jolly Ranchers, and more. This website also has other candy basket options (such as an entire Reese Cup basket!) 
Buy your candy baskets from All About Gifts and Baskets for $44 each. 
Bridesmaid Gift Idea #16: Gourmet Gift Tower with Gourmet Popcorn, Cookies and Assorted Sweets
This Gourmet Gift Tower of Goodies is a fabulous gifting option for your bridesmaids. It comes with chocolate chip cappuccino cookies, butter toffee popcorn, yogurt covered pretzels, berry cherry vibe trail mix, and salt water taffy. When your bridesmaids receive their box, they will be able to design the beautiful tower presentation and enjoy the goodies on several occasions!
The Gourmet Gift Tower is available on Amazon for $27.95.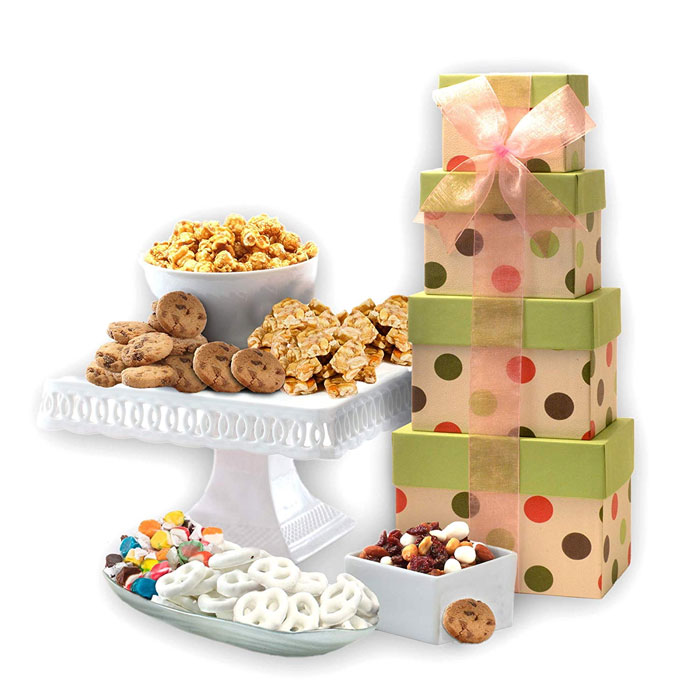 Bridesmaid Gift Idea #17: Toast of California Wine Basket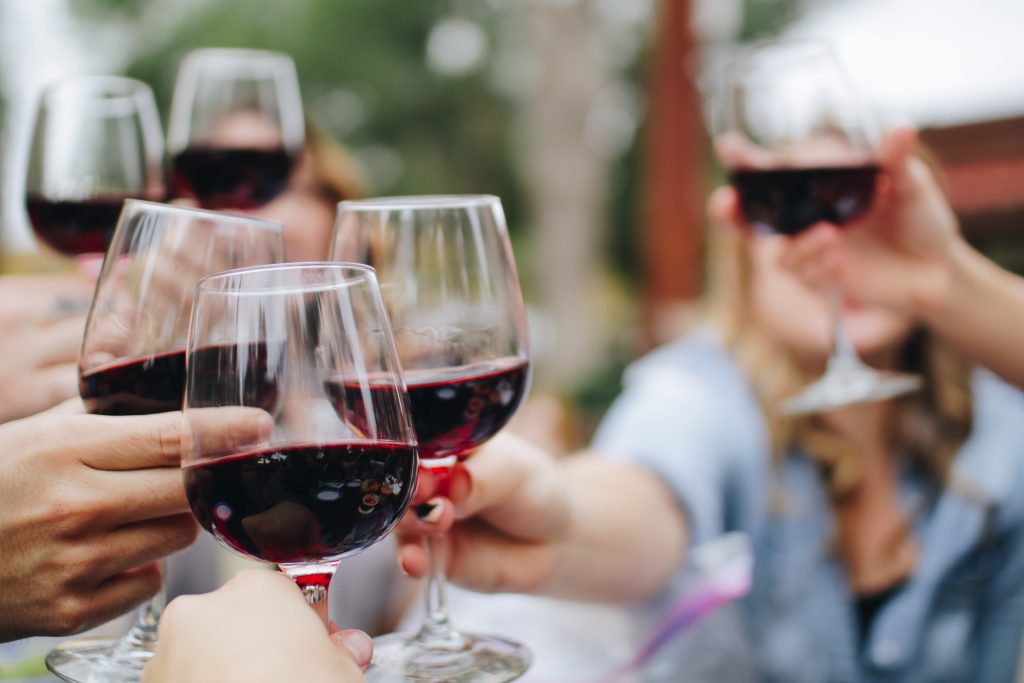 This Toast of California Wine Basket is perfect for the wine lover. The classic woven basket comes with two California wines: Chardonnay and Cellar's Master's Red and a hand selected variety of gourmet treats to pair with the wines. A special message is delivered along with the wine basket, straight to your bridesmaid's door. 
You can order your Toast of Wine California Basket at Gift Tree for $54.95 each. 
Creative Bridesmaid Gifts 
If you want to "think outside the box," so to speak, you may want to go the creative route for your bridesmaid gifts. Not that the gifts we discussed so far are not creative, but these next few gifts will have the creative and personal flare that you may be looking for. 
Bridesmaid Gift Idea #18: Bridal Gals Fashion Illustration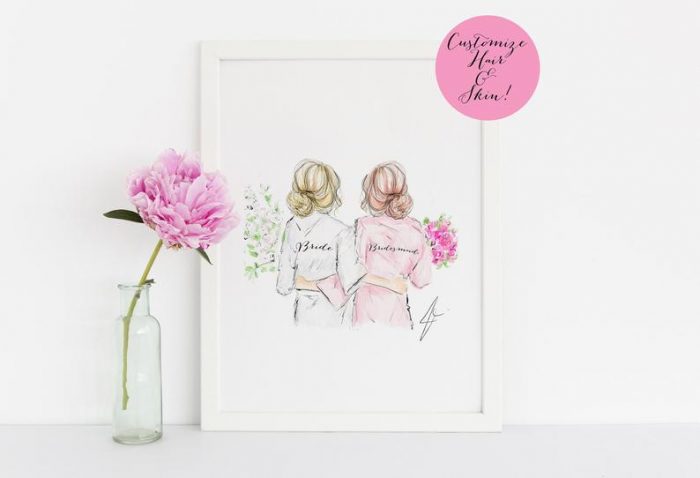 Jamel Saliba, also known as Melsey, is a fashion illustrator who is known for her customizable, hand made pictures.
This unique print can be personalized for each of your bridesmaids and they will treasure it for long after your wedding day. All you need to do is hop on Etsy and customize your print by selecting hair/skin color personalization for each of your special girls. 
These prints are a best seller on Etsy, and they start at only $18 each. Best of all, you know these are handmade especially for your special girls! 
Bridesmaid Gift Idea #19: Monogram Cocktail Napkins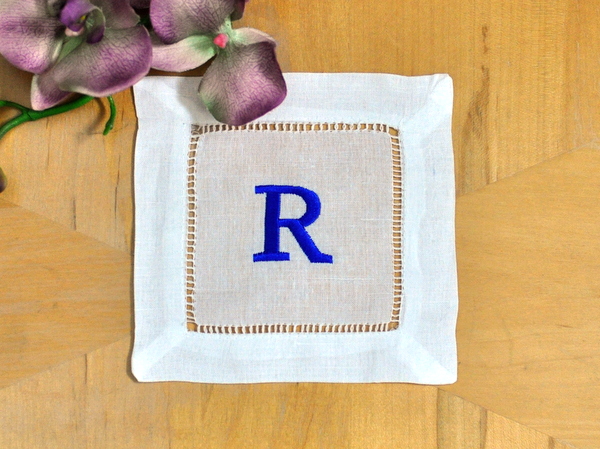 Stitched with the thread color of your choice, these beautiful cocktail napkins are a creative gift that your bridesmaids will use for years to come. Monogram each one to make them feel even more special. These linen napkins are stylish and can be used as coasters on a daily basis or as cocktail napkins during parties.
Reviews on these coasters say that the pictures don't do them justice—they are shinier and more beautiful in person. 
Bridesmaid Gift Idea #20: Hardcover Photo Book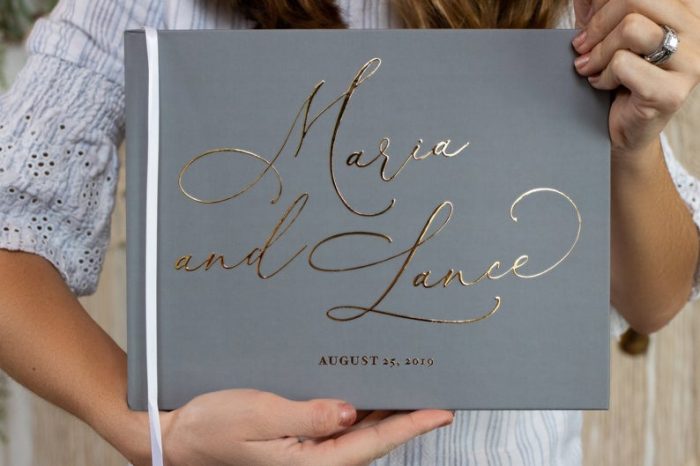 A book full of pictures of you and your bridesmaids? What a memorable gift that they will treasure forever. You can personalize this photo book with all your favorite photos of you and your bridesmaids.
Featuring 100% recycled pages, this Hardcover Photo book is a classic that your bridesmaids will enjoy looking through for years to come.
Available in different sizes and colors, you can match each book to the uniqueness of each bridesmaid.
Bridesmaid Gift Idea #21: Etched Skyline Wine Glasses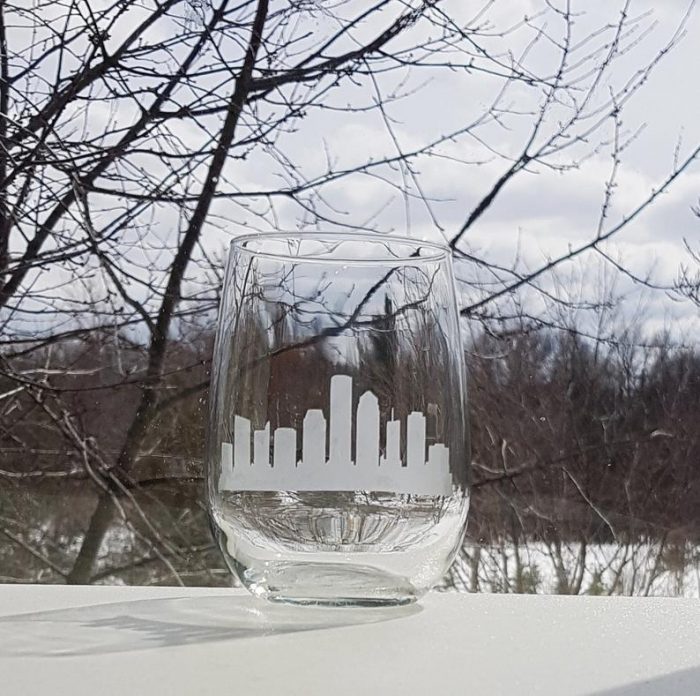 Created just for your bridesmaid, these etched skyline wine glasses are a creative gift that display your own city skyline wrapped around the glass.
Toast your bridesmaids with this unique gift that they will keep forever. It's a great way for you to remember where you became friends. I  love the idea of getting these wine glasses. I mean, who wouldn't?
Bridesmaid Gift Idea #22: Bridesmaid for a Day Best friend for Life Personalized Frames
A unique picture frame displaying a picture of you and your bridesmaid is a wonderful gift option. These 4X6 frames are the perfect gift for your bridesmaids to display in their homes. Available in various colors and font colors, you can personalize each frame to fit each bridesmaid. 
Add a special picture to the frame and you have a special gift ready to go! Buy these bridesmaid frames for $23 each on Etsy.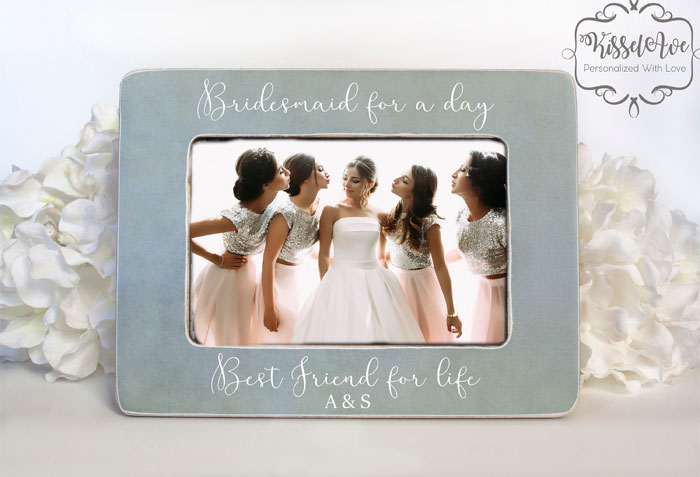 Luxurious Bridesmaid Gifts
Every girl loves to be pampered, so why not give the gift of luxury to your bridesmaids? They will enjoy the various scents and comfort of these next few gifts. 
Bridesmaid Gift Idea #23: Monthly Sheet Masks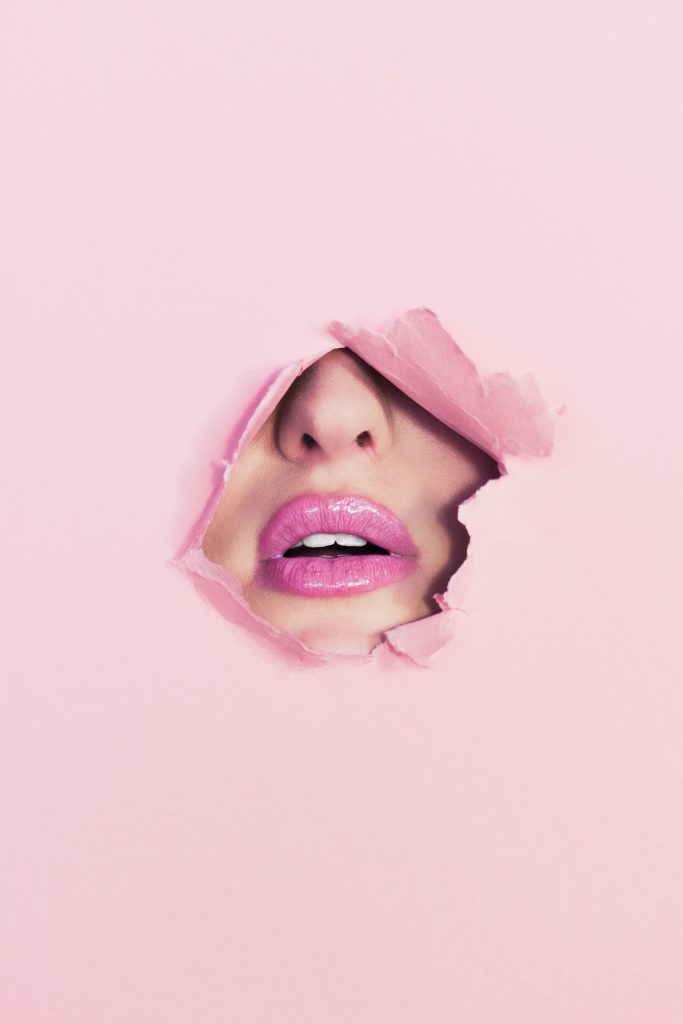 Pamper each of your bridesmaids month after month with these sheet masks delivered straight to their front doors from Amazon. 
Just order for them online through Amazon and have them sent straight to their door. Set yourself a reminder every month. Or you can also set up reminders for yourself every month.
Bridesmaid Gift Idea #24: Bridesmaid Satin Ribbon Slippers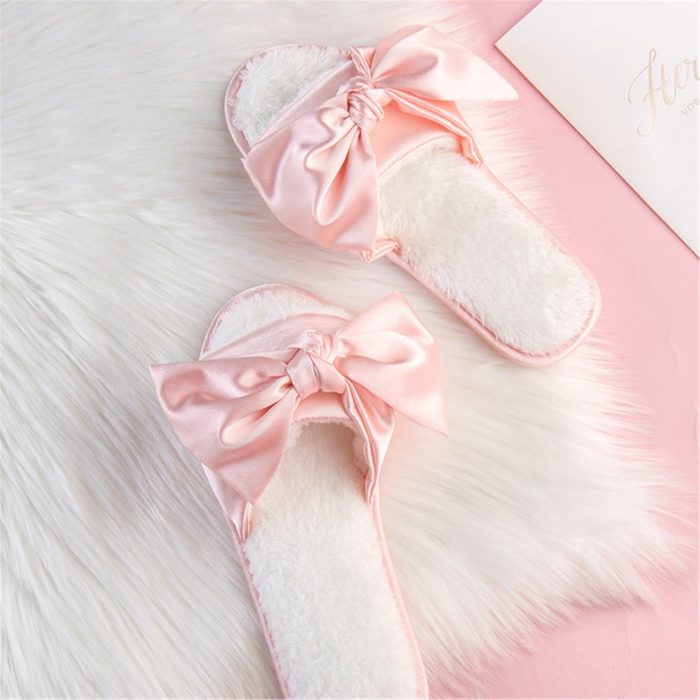 Nothing says comfort like a great pair of slippers! After all, our feet get neglected often. These handmade luxurious satin slippers are the perfect gift for each of your bridesmaids (buy a pair for yourself too!) 
Choose the sizes you want, and for $17.50 each on Etsy, you will be soon giving each of your bridesmaids the gift of comfort. 
Bridesmaid Gift Idea #25: Handmade Lavender Spa Gift Set
Lavender is a calming scent that relieves stress and anxiety. Your bridesmaids will love being pampered with this handmade lavender spa gift set. Each set comes with two medium sized lavender bath bombs, lavender whipped body butter, lavender cuticle cream, lavender bath salts, kaolin clay mask, a lavender guest sized bar, shea butter hand soap, and a lavender accent.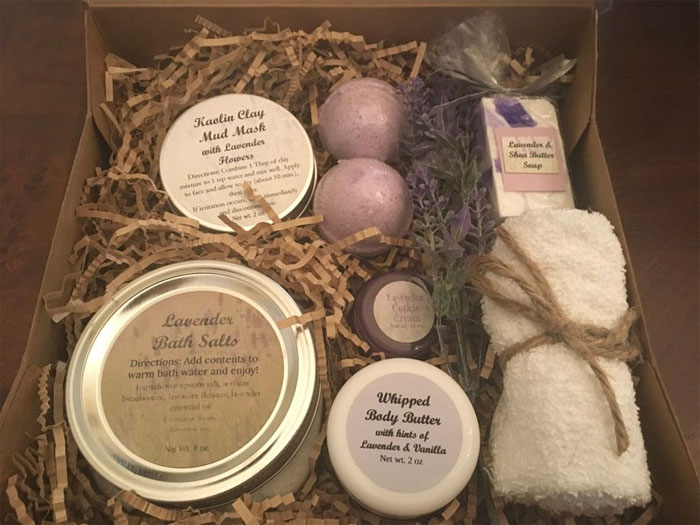 Bridesmaid Gift Idea #26: Essential Oils Gift Set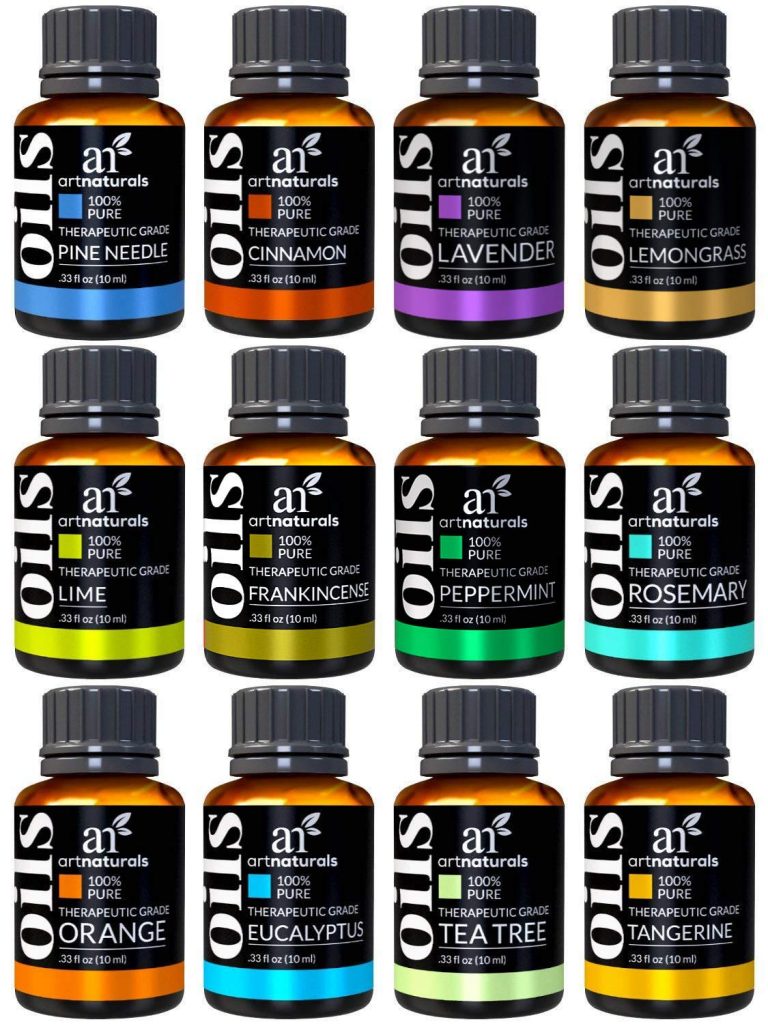 Essential oils are a great idea for a luxurious gift for your bridesmaids because they can always be used. ArtNaturals Aromatherapy Essential Oil and Diffuser set comes with six natural essential oils including sweet orange, peppermint, eucalyptus, tea tree, rosemary, and lavender oil. This set also features a LED lighted bamboo-look essential oil diffuser. A diffuser fills your home with wonderful scents, along with the proven health benefits of essential oils. 
You can buy this essential oil gift set from Amazon for only $24.95. 
Bridesmaid Gift Idea #27: AIMASI Scented Candles
What better aromatherapy gift than a set of four scented candles? This best-selling candle set comes in the scents Jasmine, Lilac, Lotus, and White Gardenia and is made with 100% soy wax. Each candle is 2.2 ounces and burns for 12-15 hours.
This candle set is an ideal gift set for your bridesmaids to enjoy hours of relaxation.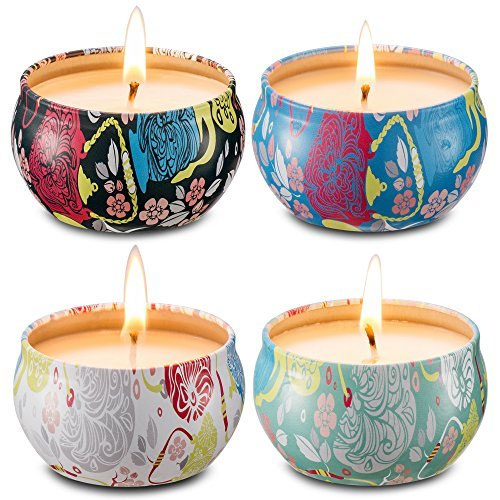 Other Great Bridesmaid Gifts
Here are some other great ideas for your bridesmaids—there's a few for the writer, one for the gym lover, and a few that all of them will enjoy! 
Bridesmaid Gift Idea #28: Personalized Notebook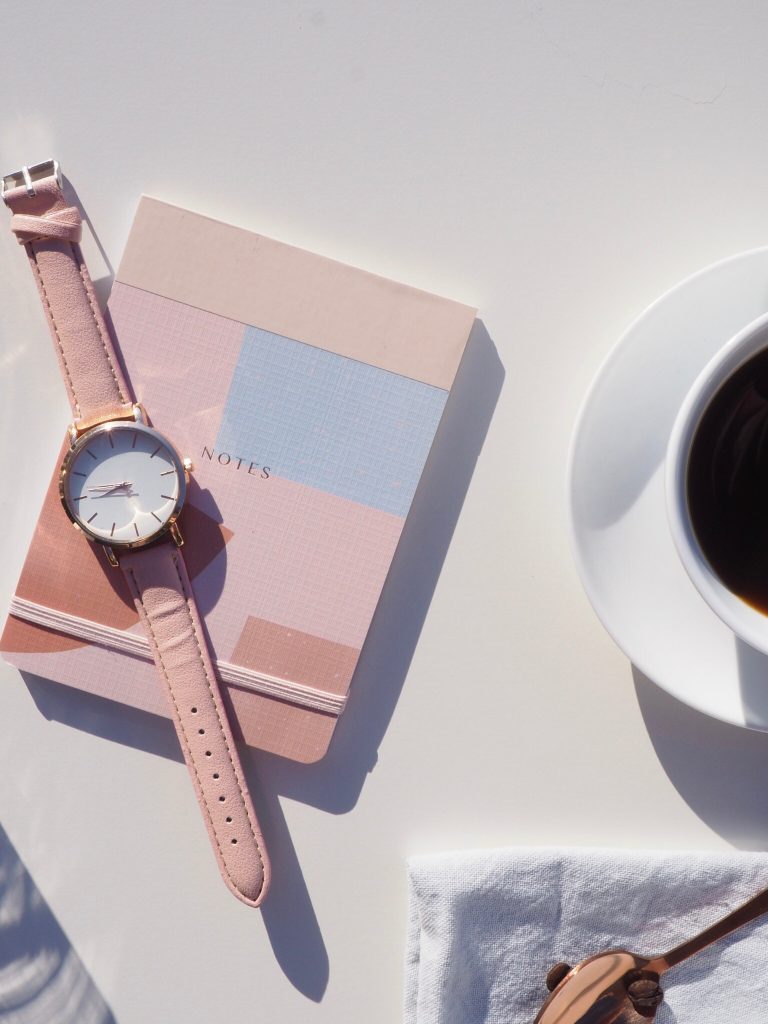 For the girl who loves to write (like myself), get her a personalized notebook she can carry in her purse or tote bag. Inspiration can strike anywhere, and it is absolutely essential for a writer to have a notebook nearby at all times.
Get it stamped with an elegant gold foil, this notebook can be personalized with your bridesmaid's name or initial.
Bridesmaid Gift Idea #29: Yoga Mat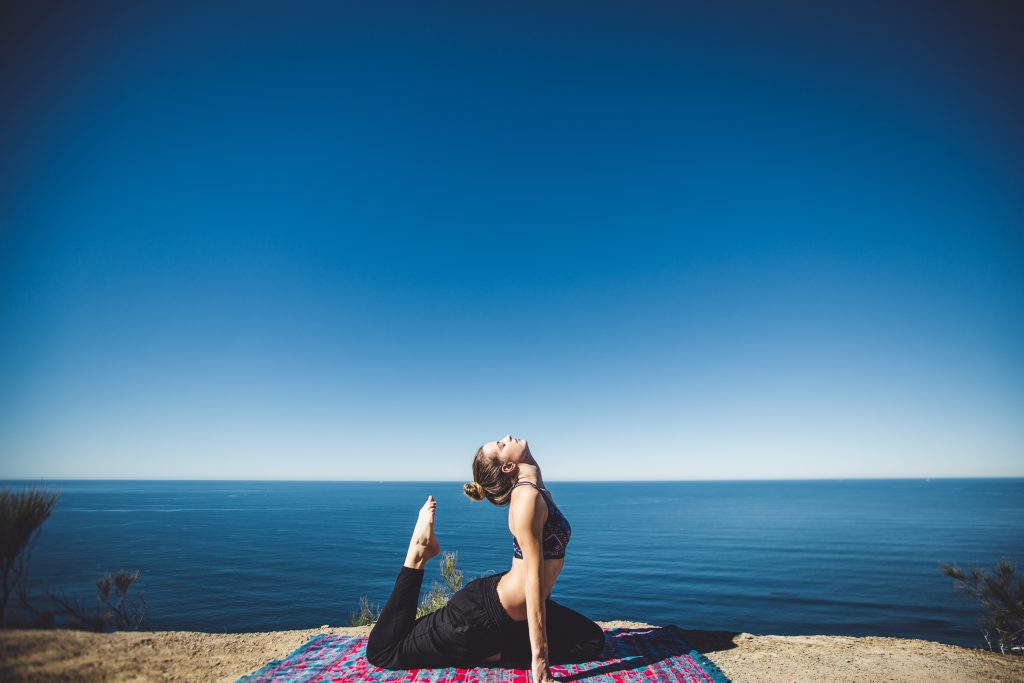 The bridesmaid who never misses yoga class? How about a gift to help her keep her Zen on? This one is for her. A best seller on Amazon, this BalanceFrom GoYoga All-Purpose yoga mat is a great choice for the yogi. 
This yoga mat comes in seven colors and a carrying strap. You can buy yours on Amazon for cheap.
Bridesmaid Gift Idea #30: Travel Packing Cubes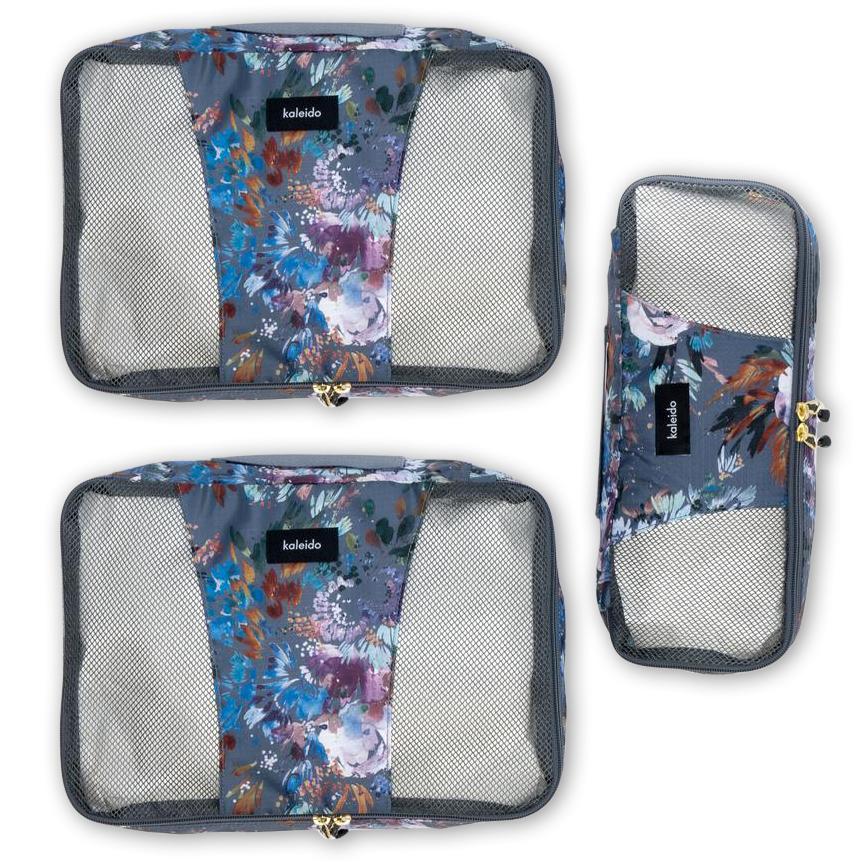 Every girl needs packing cubes when she travels. It's amazing how many more items you can pack in your luggage when you utilize them. They make for a super fashionable and functional gift for your bridesmaids.
Available in many fun artistic patterns, these artist designed packing cubes are stylish and make for a very unique bridesmaid gift. Choose a design that your bridesmaids will love.
Bridesmaid Gift Idea #31: Bridesmaid Compact Mirror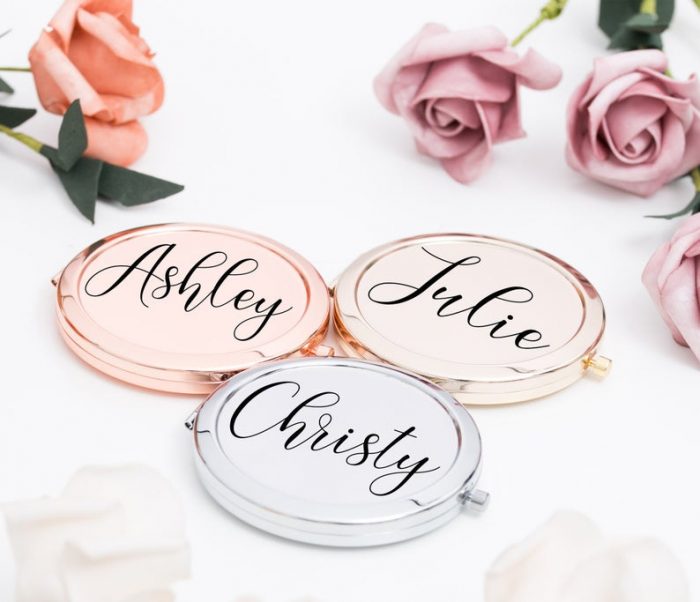 Most girls carry a compact mirror with them wherever they go! Available in silver, gold, or rose gold, these compact mirrors are handmade and unique bridesmaid gifts. 
Each one can be personalized for each bridesmaid. Your bridesmaids will appreciate the elegant mirrors that they can easily store in their purses and use whenever they like. Buy each mirror on Etsy for a really cheap price. 
Bridesmaid Gift Idea #32: Bridesmaid Shirts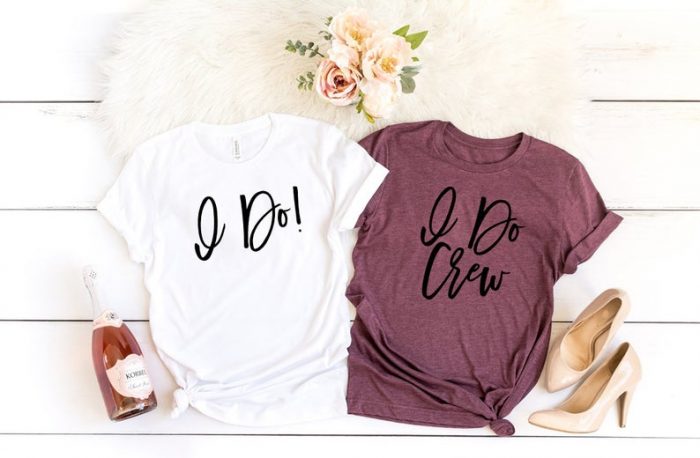 This is a fun gift and will be good for pictures! Buy your bridesmaids matching shirts that they can wear and remember your big day. These comfortable, high quality t-shirts come in a plethora of colors and can be personalized with a variety of sayings including but not limited to "I Do Crew" or "Bride's Babes." 
Bridesmaid Gift Idea #33: Perfect Pashmina Shawl
Every time she wears this stylish shawl, it will be like a hug from you! These pashminas can be dressed up for an elegant night out or casual for a night in. Available in a plethora of colors, these shawls will keep your bridesmaids fashionable and comfy all the time.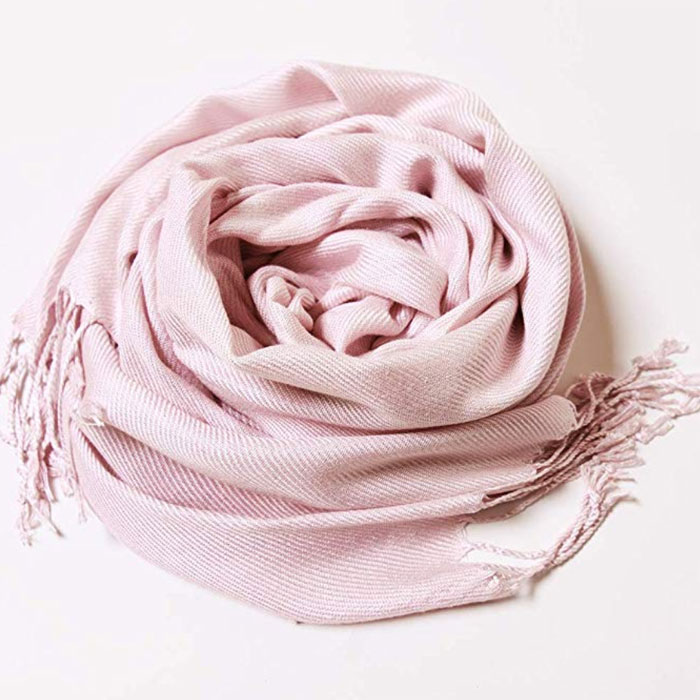 Bridesmaid Gift Idea #34: Personalized Stationary
If some of your bridesmaids enjoy writing notes, they will love this watercolor burst personalized stationary. Available in three colors (cotton candy, turquoise, and creamcicle), you can order 25 sheets of this pretty stationary for just $50. Your order will be delivered in a matching gift box. 
So, there you have it. Thirty-two wonderful bridesmaid gift ideas for your bride tribe. The most important thing is that you choose gifts that are perfect for each bridesmaid and come straight from the heart.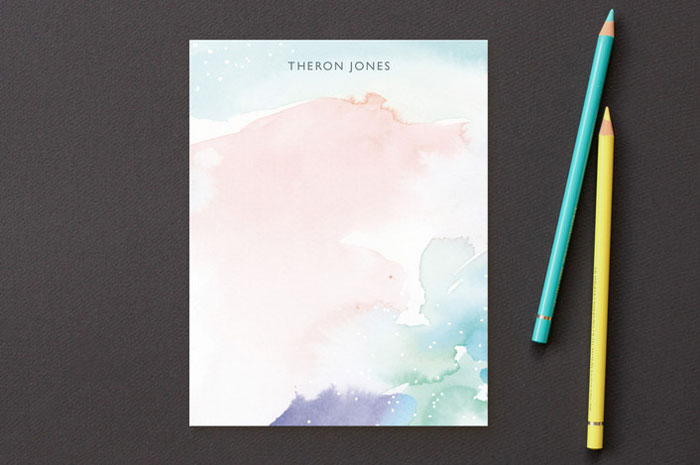 Bridesmaid Gift Idea #35: Tie the Knot Bracelet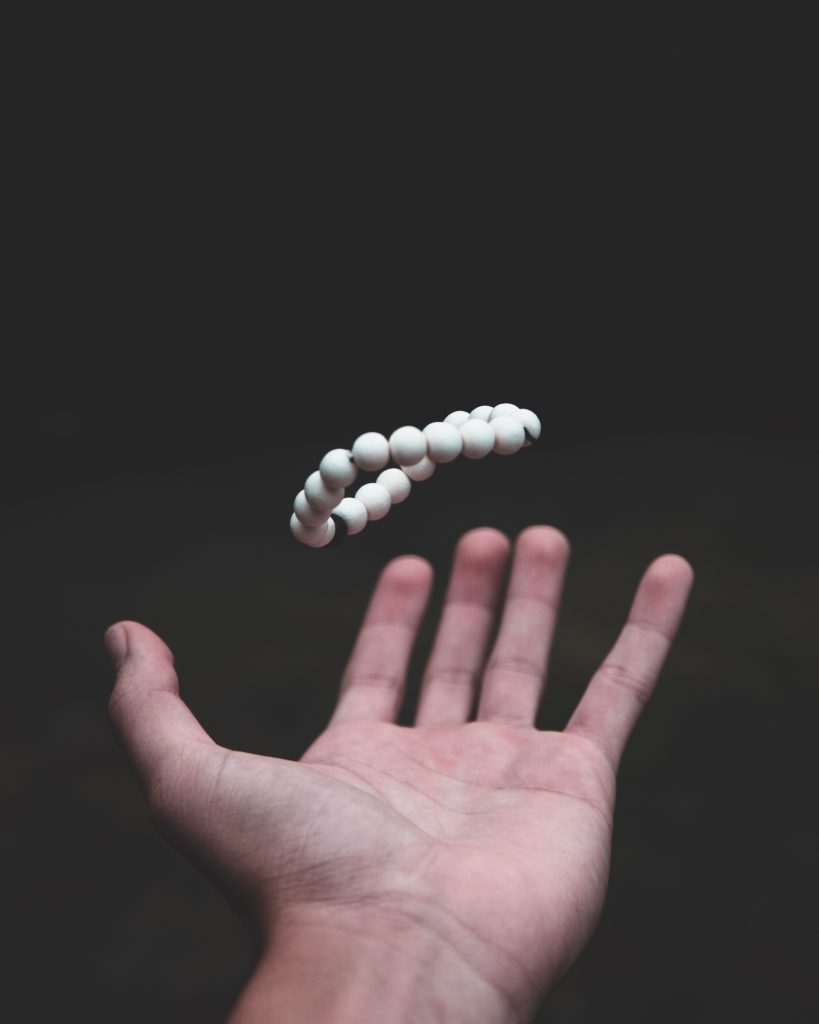 Timeless, classic, and simple, this Tie the Knot Bracelet comes in gold and silver and can be personalized with your bridesmaids' initials. You can choose from the messages "Will you help us tie the knot?" or "Thank you for helping us tie the knot" in the pretty gift box.
Your bridesmaids will love the fact that they can wear this glamorous bracelet on your big day and for many days after that.
These Tie the Knot bracelets are available at David's Bridal for $16.99. 
Your bridesmaids will be by your side for not only your wedding day, but for the rest of your life. Give them a special Thank You for all they do! As John Green once said, "Good friends are hard to find and impossible to forget."
The Best Bridesmaid Gifts They'll Cherish for Years to Come
So, there you have it. Thirty-five wonderful bridesmaid gift ideas for your bride tribe. The most important thing is that you choose gifts that are perfect for each bridesmaid and come straight from the heart.