The 1st year anniversary gets a lot of attention. Many couples go great lengths to celebrate that special milestone, as they should. But arguably, the 2nd year anniversary gift is even more important!
Often the second-year anniversary gets overlooked in the whirlwind of life but don't take your spouse for granted. You must pay special attention to this important marriage milestone.
If you need a 2 year anniversary gift for him or her, look no further.
The traditional second anniversary gift is cotton, which symbolizes comfort and strength. If you think about threads of cotton woven together, it makes sense.
Like the interwoven fibers, cotton in the second year of marriage represents the couple growing closer together as their lives become increasingly intertwined.
A more modern gift theme for the second year anniversary is china or porcelain, which are both delicate and resilient.
China can easily break if mishandled, which is a message for couples to always take good care of each other and the marriage.
To celebrate a couple's second year of marriage, of course, we have some cotton and ceramic gifts to share with you. There's no reason you can't break the mold though, so we also included some other fantastic gift ideas, too!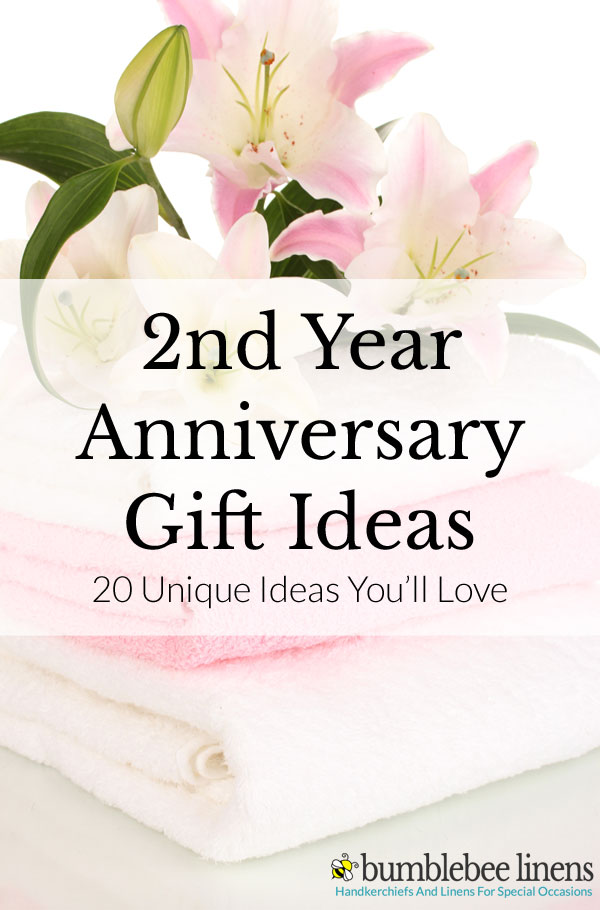 2nd Year Anniversary Gift #1: Personalized Monogrammed Ladies Aprons
A fun gift from Bumblebee Linens, these cotton aprons are not only adorable—they're practical!
She will love wearing one as she makes her favorite dishes. They are machine washable, so that any spills can be cleaned right up.
You can also personalize them by picking the theme you know she will love and ordering embroidery, a three-letter monogram, or her name. With many different patterns and styles to choose from, you will surely find one she will love.
Best of all, you can order these, and they will be embroidered and sent to you in a jiffy. Bumblebee Linens is notorious for their fast shipping and satisfaction guarantee!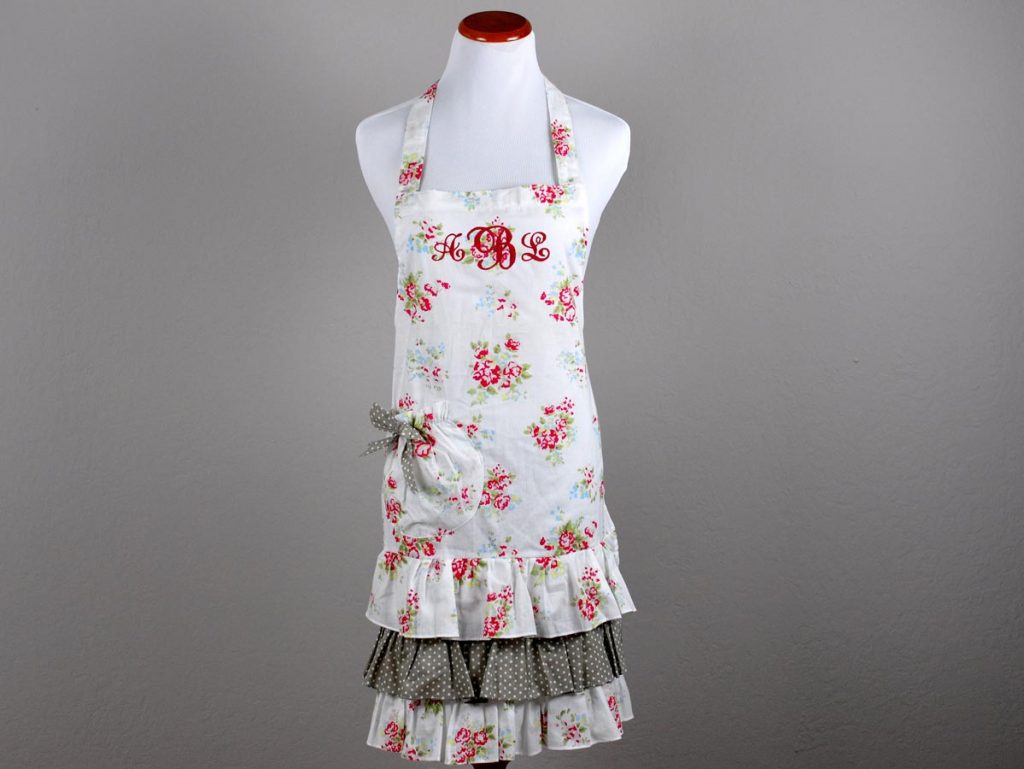 2nd Year Anniversary Gift #2: Cozy Turkish Bathrobe
Available in fourteen colors and made with 100% cotton, this Turkish Towel bathrobe will be one she will enjoy lounging in while watching her favorite shows.
These comfy robes are made for men and women, so grab one for yourself as well. They are super absorbent, so they are perfect for grabbing right after you walk out of the shower or relaxing in after a long day.
These Turkish Towels come with plenty of cool features including a thick shawl collar, stitch-free tailoring, a sewn-in hanger loop, front pockets, and a reusable zipper bag that you can use to store other garments.
All of these features, paired with the comfy robe, makes this a gift of luxury at its finest!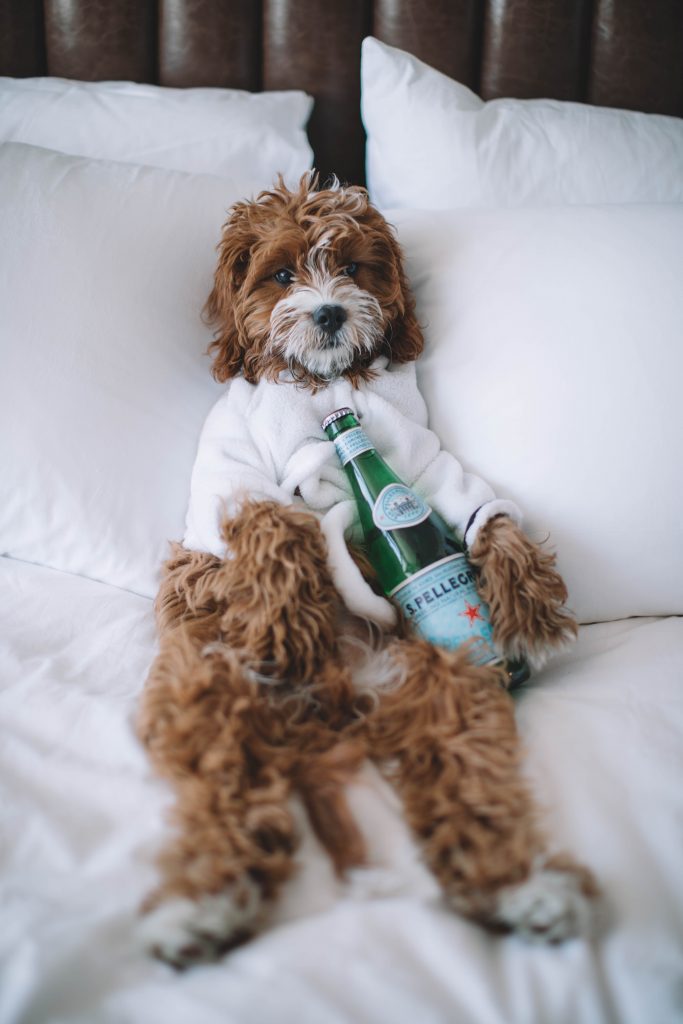 2nd Year Anniversary Gift #3: Warm Cable Knit Throw
Sticking with the cotton and cozy theme, this knit throw is made with a cotton/acrylic combination material and it reverses to polyester sheepskin for extra warmth.
She will love snuggling under this soft blanket while binge-watching Netflix. Throw it in the washing machine when needed, and it's as perfect as when it arrived at your doorstep.
Available in six neutral colors, this knit throw measures 50 inches wide by 60 inches long. She will love draping this throw over the back of the couch or on the end of the bed when she is not using it. It adds an element of comfort to every room.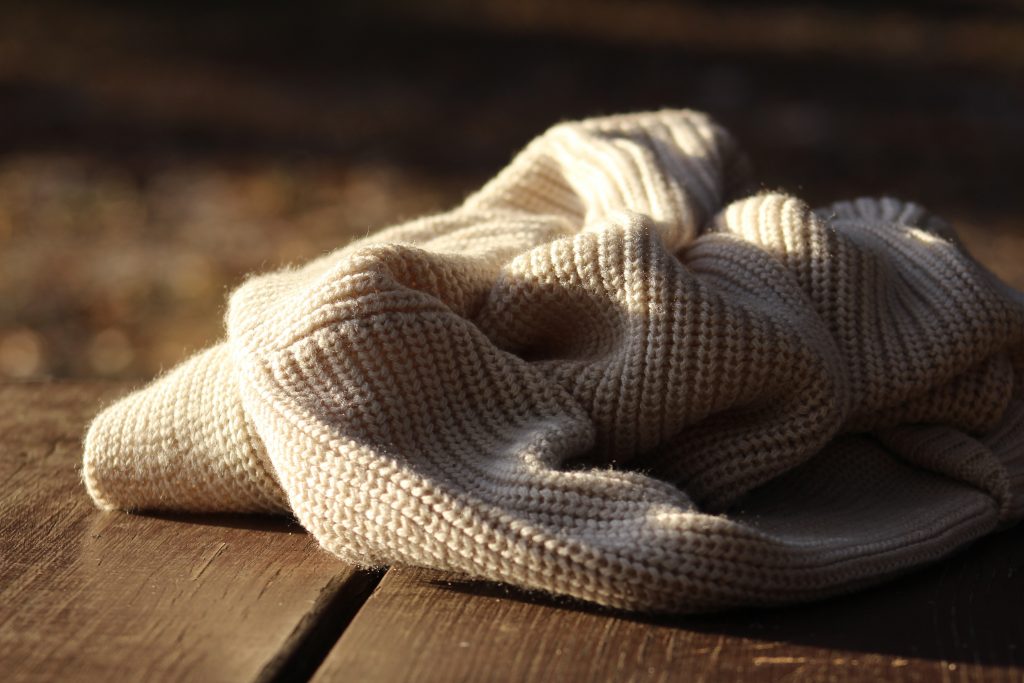 2nd Year Anniversary Gift #4: Personalized Faux Leather Travel Jewelry Organizer
She will love keeping her jewelry organized in this large, personalized, faux leather travel jewelry organizer. It's perfect for holding necklaces, earrings, watches, bracelets, or any other keepsakes.
The metallic gold initials make it her own, and she will love tossing this organizer into her purse or bag to keep her jewelry tidy.
Available in white or navy, this organizer is small enough to fit into her purse or weekend bag. It is truly a great gift idea for the bride who likes to stay organized!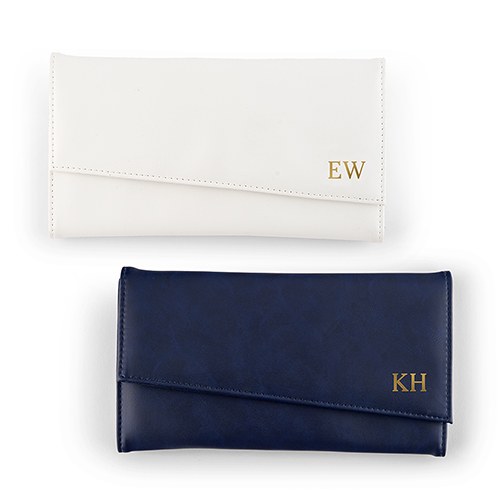 2nd Year Anniversary Gift #5: Ceramic Jewelry Organizer, Necklace and Earring Holder
The most important piece of jewelry is on her left hand, but she probably has an assortment of other jewels she treasures. This coral branch design jewelry holder is an attractive way for her to store her favorite gems and other trinkets.
Made with an elegant rose gold metallic finish and a white ceramic tray, this gift complements anyone's style. She can place it on her nightstand, in her bathroom, or on her dresser, and it will add a classy touch to the room.
This gift is for the bride who not only wants to organize but wants to turn her jewelry into a work of art!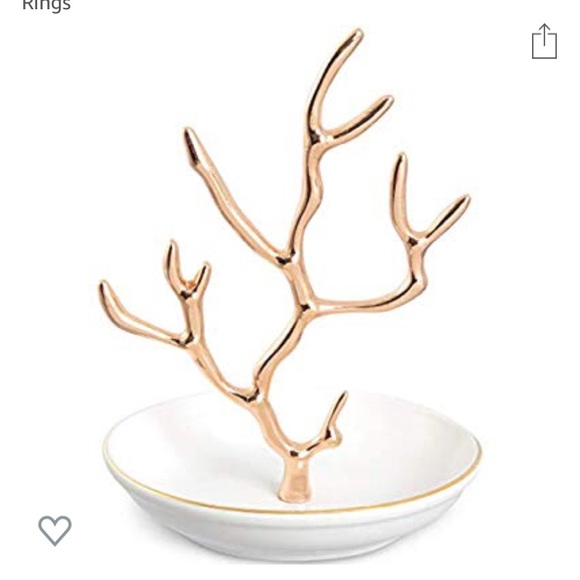 2nd Year Anniversary Gifts for Him
2nd Year Anniversary Gift Ideas #6: Men's Monogrammed Pocket Squares and Suit Handkerchiefs
For the special man in your life, check out these 100% cotton perfect pocket squares and suit handkerchiefs—perfect for a night out or even a work day.
To make them even more special, you can have them monogrammed or embroidered!
With 27 designs to choose from, you are sure to find one that your man will treasure. Bumblebee Linens offers fast shipping and 100% customer satisfaction guaranteed.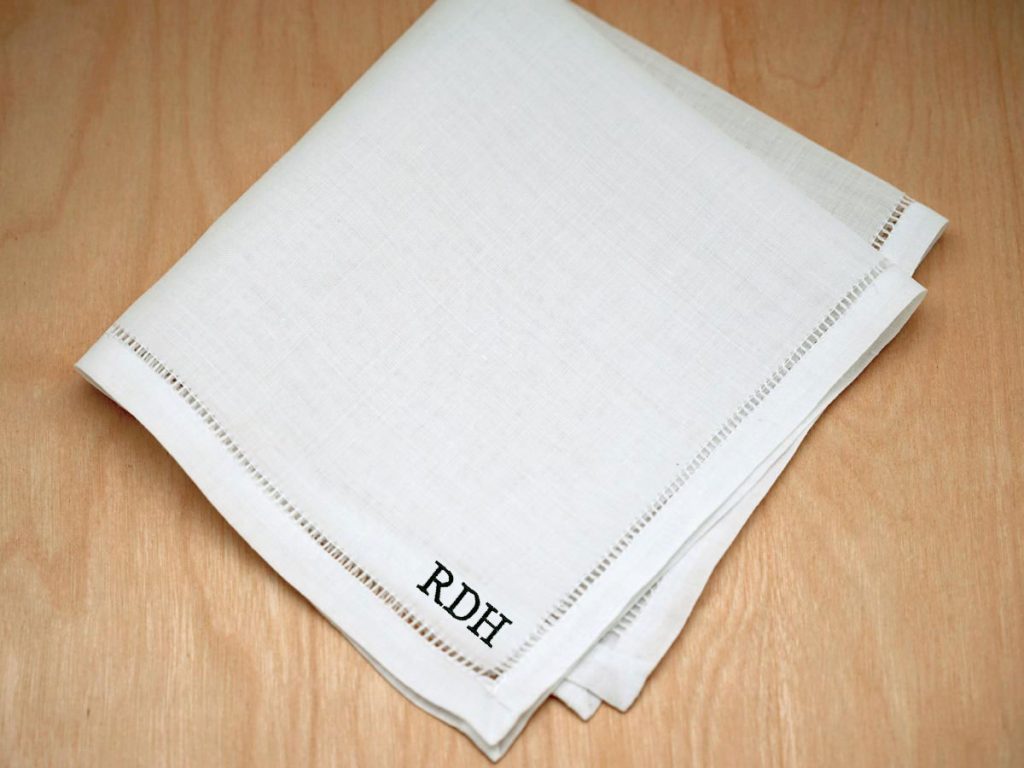 2nd Year Anniversary Gift #7: Original Pawleys Island Deluxe Cotton Rope Hammock
Take relaxation up a notch with this Pawleys Island Deluxe Cotton Rope Hammock. This hammock comfortably holds two people with its sturdy oak wood bars on each end.
This cotton rope hammock doubles as gift for you, of course! Imagine snuggling under the stars in this sturdy hammock. Throw in a few decorative pillows, and you have yourself the coolest, most comfy hangout spot! Bring some fun and luxury to your backyard!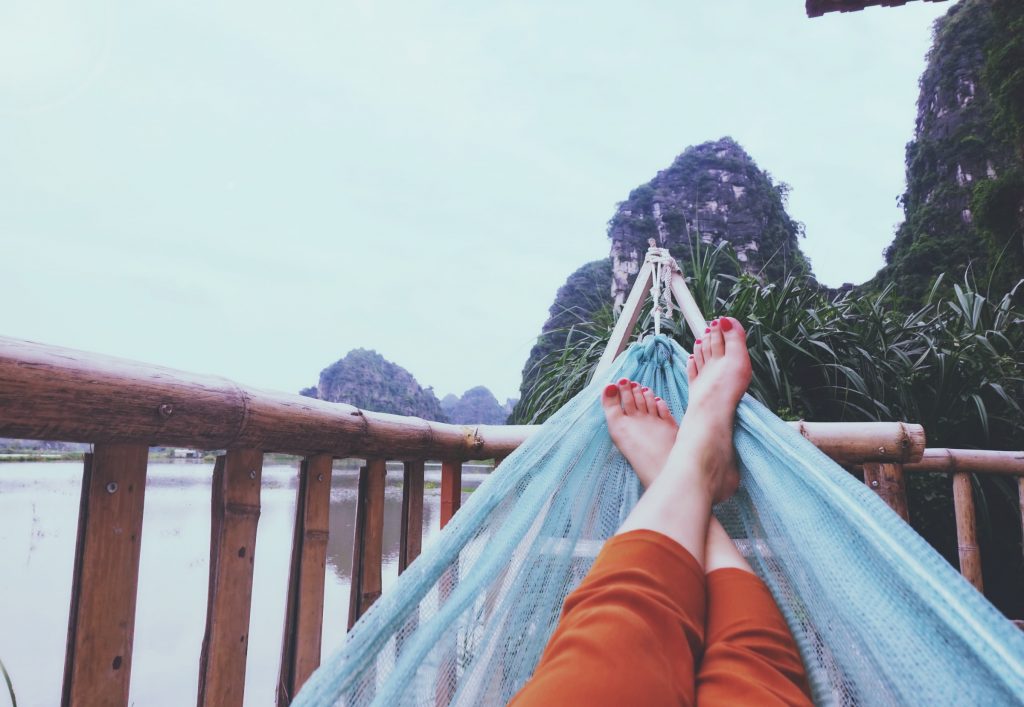 2nd Year Anniversary Gift #8: "His" Porcelain Camping Coffee Mug
He will love drinking his morning (or afternoon, evening) cup of joe in this fun coffee mug, since it will be "His" coffee mug. Yes, this mug is advertised as a camping mug, but that's because of its lightweight stainless-steel durability, so you he can drink his favorite hot beverage wherever he wishes.
You can grab one for yourself with the matching "hers" version. These mugs feature a silver rimmed edge to add a little class!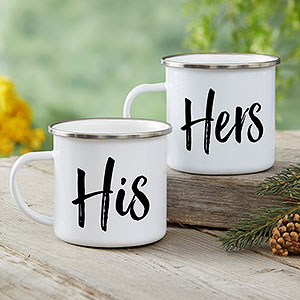 2nd Year Anniversary Gift #9: Engraved Wooden Watch for Men
A bestseller on Etsy, this gift is for the man who loves unique watches and special messages. Each wooden watch is engraved however you wish—whether it's you and his initials or your favorite inside joke!
The watch comes with a genuine black leather band and a stainless-steel clasp. These watches are also handcrafted from natural wood.
With excellent customer reviews and quick shipping available, you can be assured that this will be a timeless gift for the man you love.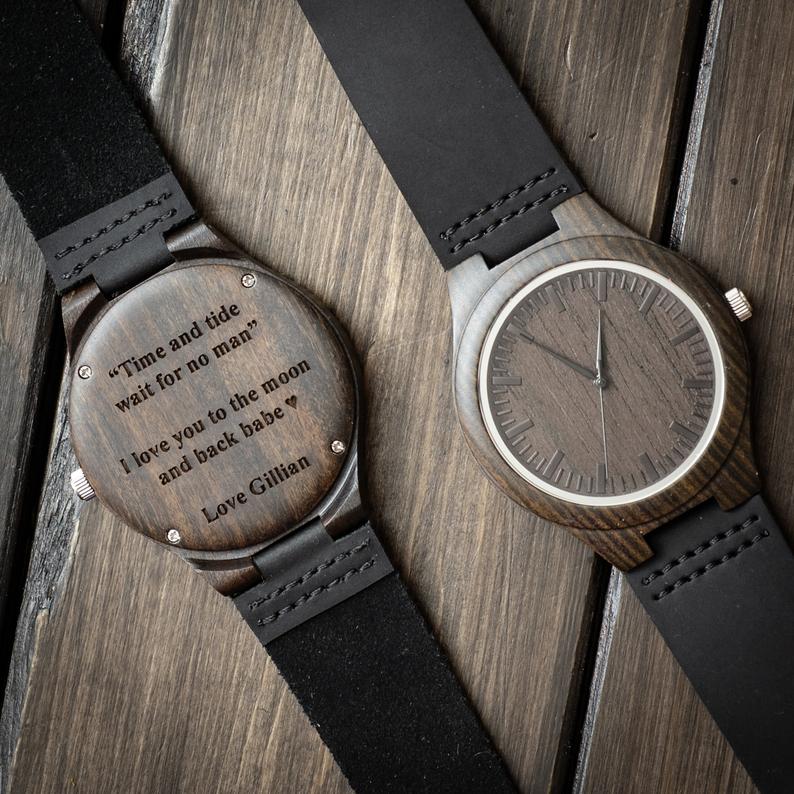 2nd Year Anniversary Gift #10: "I Love You" Hidden Message Tie Bar
To remind him that you love him, (especially when he's a wearing tie), how about this tie bar with "I love you" engraved on the back? He will see your message all the time, but it won't detract from the sophisticated look of the silver piece.
This tie bar is approximately 2" X ¼" so it's the perfect size for a subtle message. Available from Ox & Bull Trading Company, this gift ships the same business day and comes packaged in an elegant box.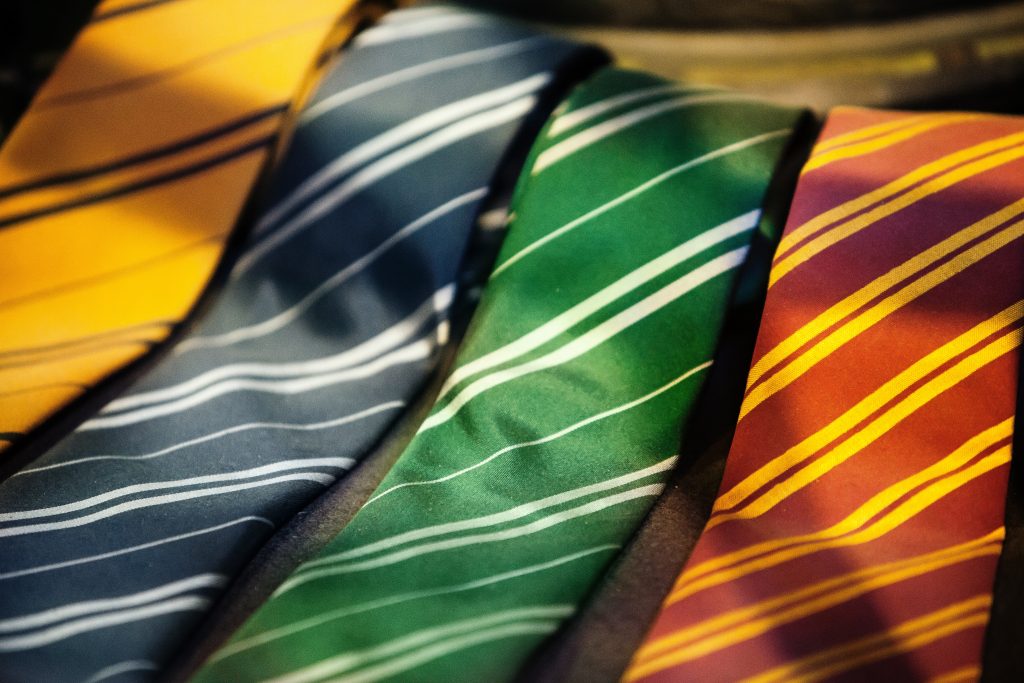 2nd Year Anniversary Gifts For Him And Her
2nd Year Anniversary Gift #11: Personalized and Monogrammed Handkerchiefs
These personalized handkerchiefs stay with the cotton theme and make great gifts for the bride and groom who are celebrating two years together.
You can choose from 16 handkerchief styles and thread colors, so there's a little something for everyone! If you wish, you can even get these hankies embroidered, making them extra special.
The bride and groom will treasure this gift for years to come. Best of all, you can order this gift and have it delivered quick—the fast turnaround times are a perk!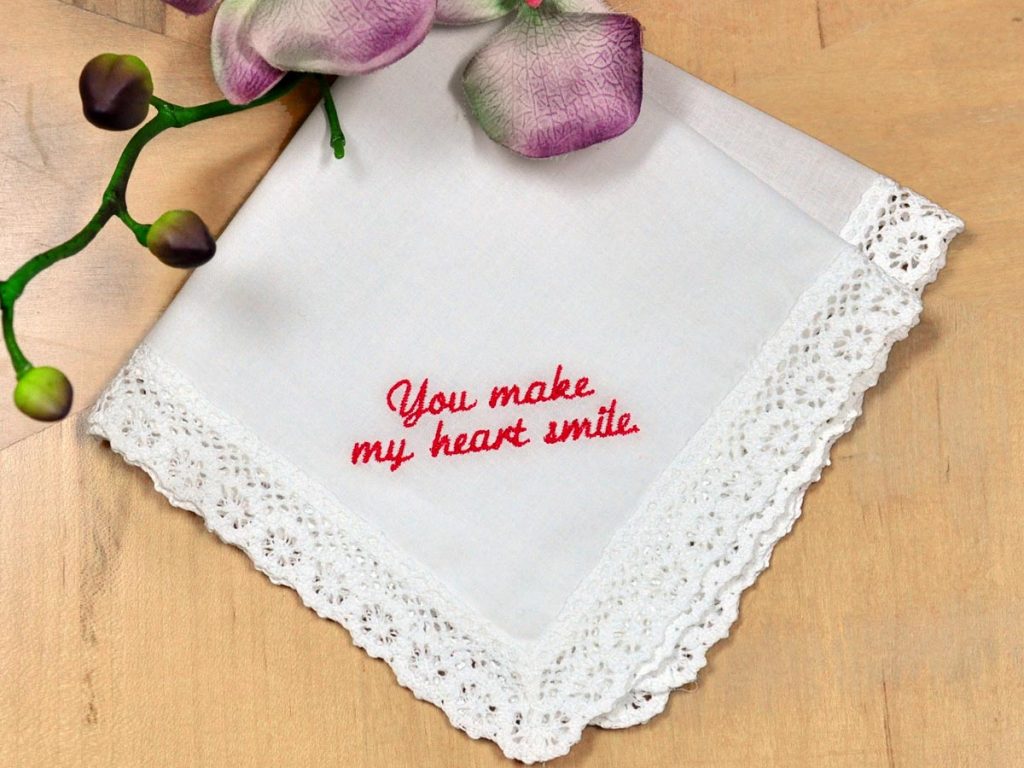 2nd Year Anniversary Gift #12: Monogrammed Linen Dinner Napkins
Want a practical, yet classy gift for the couple? How about these monogrammed linen dinner napkins from Bumblebee Linens?
These linen dinner napkins are so popular as gifts that they were featured in Real Simple and House Beautiful and Country Living Magazine.
Personalize the napkins with a variety of colors and font styles to choose from. The special couple will enjoy entertaining guests with these pretty and elegant napkins. Enjoy fast shipping and guaranteed satisfaction!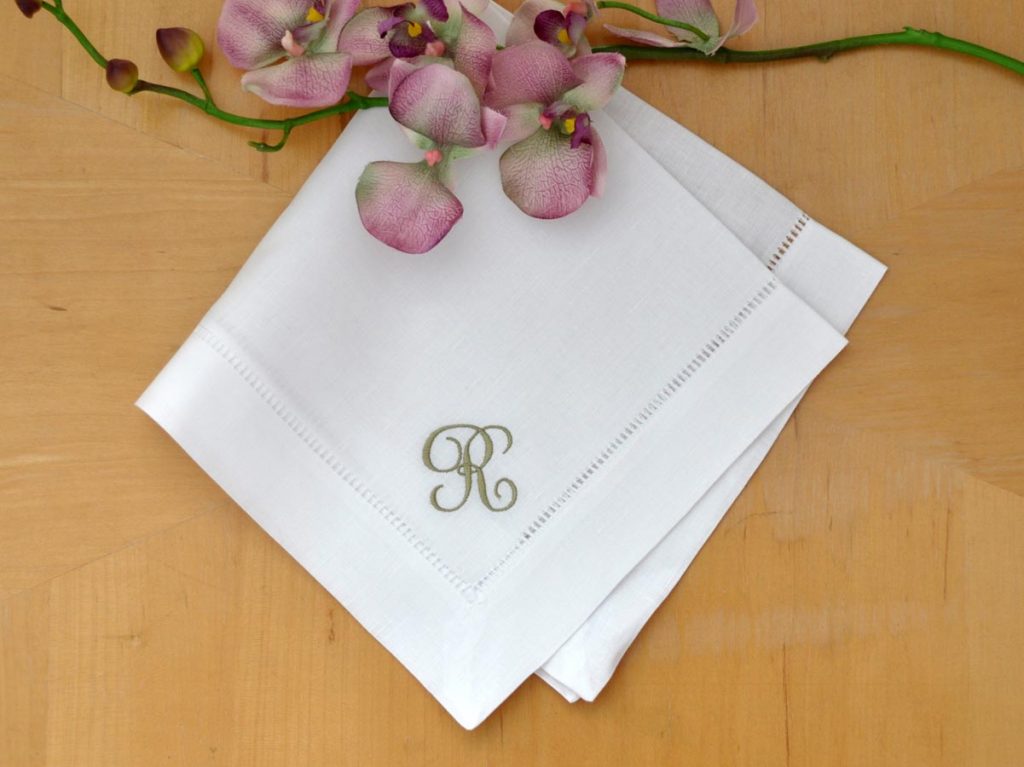 2nd Year Anniversary Gift #13: Pair of Cotton Pillowcases with A Wave Design
Another elegant cotton gift from Bumblebee Linens is the cotton pillow cases.
They are not just any cotton pillow cases though; these pillowcases feature an intricate wave design. Each pillowcase fits a standard or queen size pillow.
Even cooler, these pillow cases match other items in the store, such as napkins, place mats, and bath towels, so they are worth checking out as well!
With great customer reviews, fast shipping, and customer satisfaction guaranteed, you can't go wrong with this gift!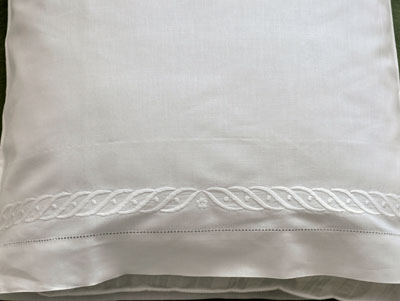 2nd Year Anniversary Gift #14: Hand-Embroidered Cotton Map Hoop
This unique, cotton gift marks a special occasion or location, such as the couple's wedding date or their new home.
It is framed in a wooden embroidery hoop and hand-embroidered. After you place your order, this company will contact you via email with a digital image of your design, so you can be sure that you are pleased with the outcome.
Made with 100% cotton and hand-embroidered with 100% cotton threads, this item is made with delicate care just for the special couple. Personalize this gift with the couple's names or initials, and they will be thrilled to hang it up.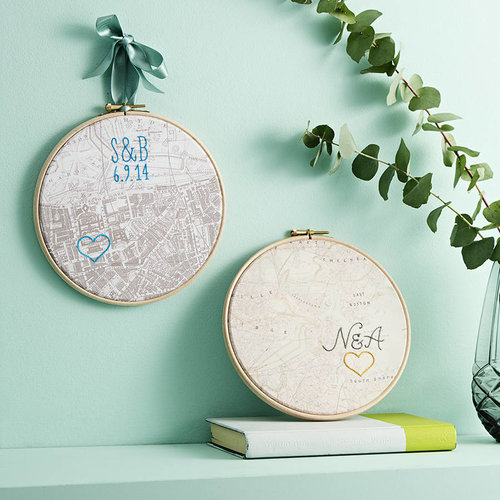 2nd Year Anniversary Gift #15: His/Hers 2 Piece Kitchen Linen Set
The couple who cooks together stays together. Isn't that how the saying goes? Oh wait, maybe not. Still, this gift is perfect for the couple who cooks together; these cotton kitchen sets make a great asset to the bride and groom's kitchen.
They will enjoy many years with these "his" and "her" tea towel and oven mitt and make many yummy casseroles and pies! Let the memories begin.
2nd Year Anniversary Gift #16: Two Year Anniversary Picture Frame
Simple and classy goes a long way. That's why we chose this two year anniversary picture frame for our list.
It is 8 inches long and 7.25 inches wide and made with light walnut wood. A metal photo clip is ready for a picture to display!
Even better, this frame is personalized especially for the couple. The wording of your choice is engraved into the wood, an art called Pyrography.
Simply order the frame, print a picture of the couple, and voila you have a fantastic anniversary gift for them to display in their homes.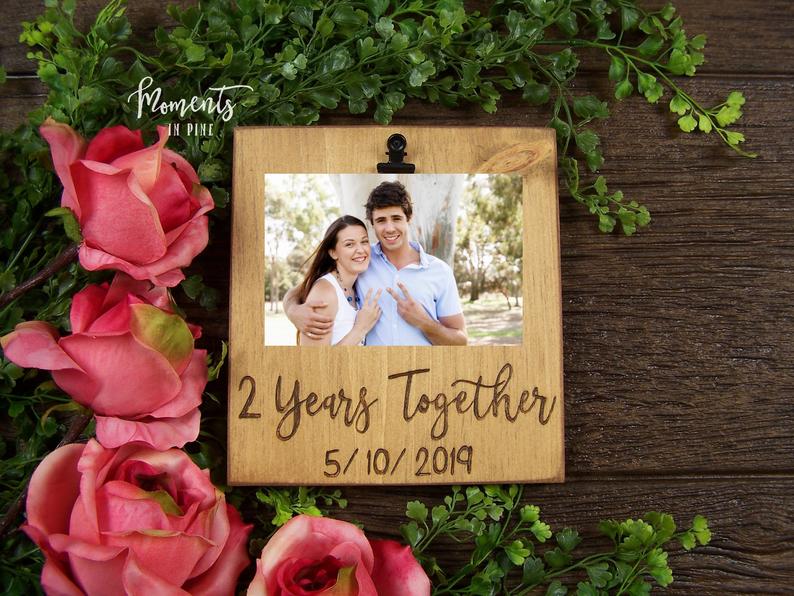 2nd Year Anniversary Gift #17: Two Years Together Wall Art
This creative, handmade gift is perfect for personalizing, and the couple will enjoy hanging it up on their wall.
With a creative font, this plaque lists how long the couple has been married, down to the minutes! At the bottom, it can be personalized with the bride and groom's names and the date of their wedding.
The font is professionally printed on high quality, ultra-pro satin photo paper, so the image is crisp! You can also choose the color choices. Complete with quick shipping, this gift is a great option for the couple celebrating two years!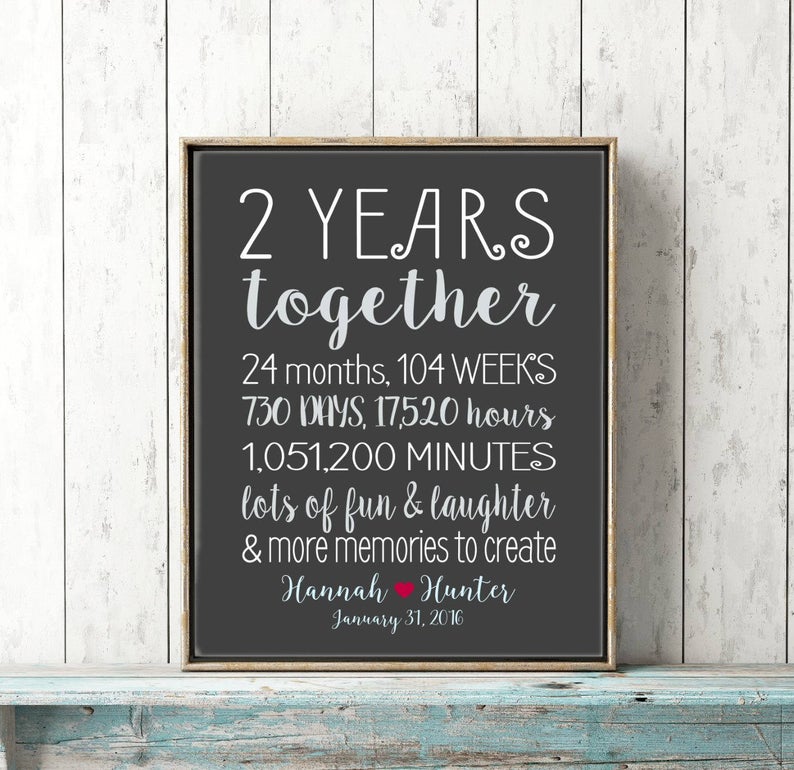 2nd Year Anniversary Gift #18: Hamilton Beach Programmable Slow Cooker
Slow cookers are so convenient, especially for working couples who can just dump the ingredients in the cooker in the morning, and when they get home from work, dinner is ready.
This Hamilton Beach slow cooker features flexible programming options, a 7-quart dish, and it's even dishwasher safe.
They will enjoy this practical gift, and even better, they will enjoy countless homemade meals made from it. This slow cooker is a reasonable gift that they will use for years to come.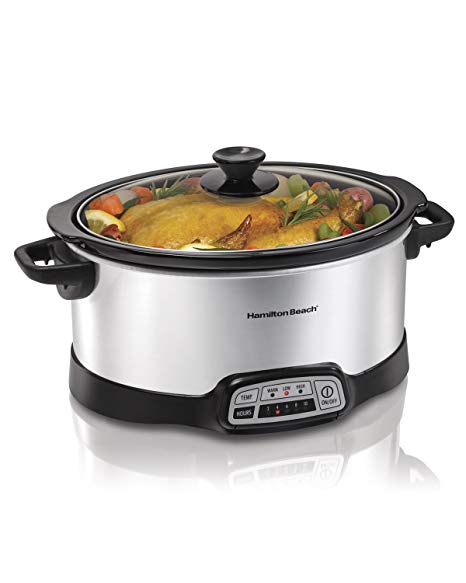 2nd Year Anniversary Gift #19: Gourmet Happy Anniversary Gift Basket
Almost four pounds of goodies, this happy anniversary basket is a perfect gift for the couple who likes to eat! There are 15 items in each basket, including pretzels, cookies, and even salted caramel hot chocolate.
When you order this basket, make sure to click, "this order contains a gift," so you can write a message to the couple and have it delivered straight to their door. This gift basket full of savory snacks is sure to help them celebrate their second anniversary!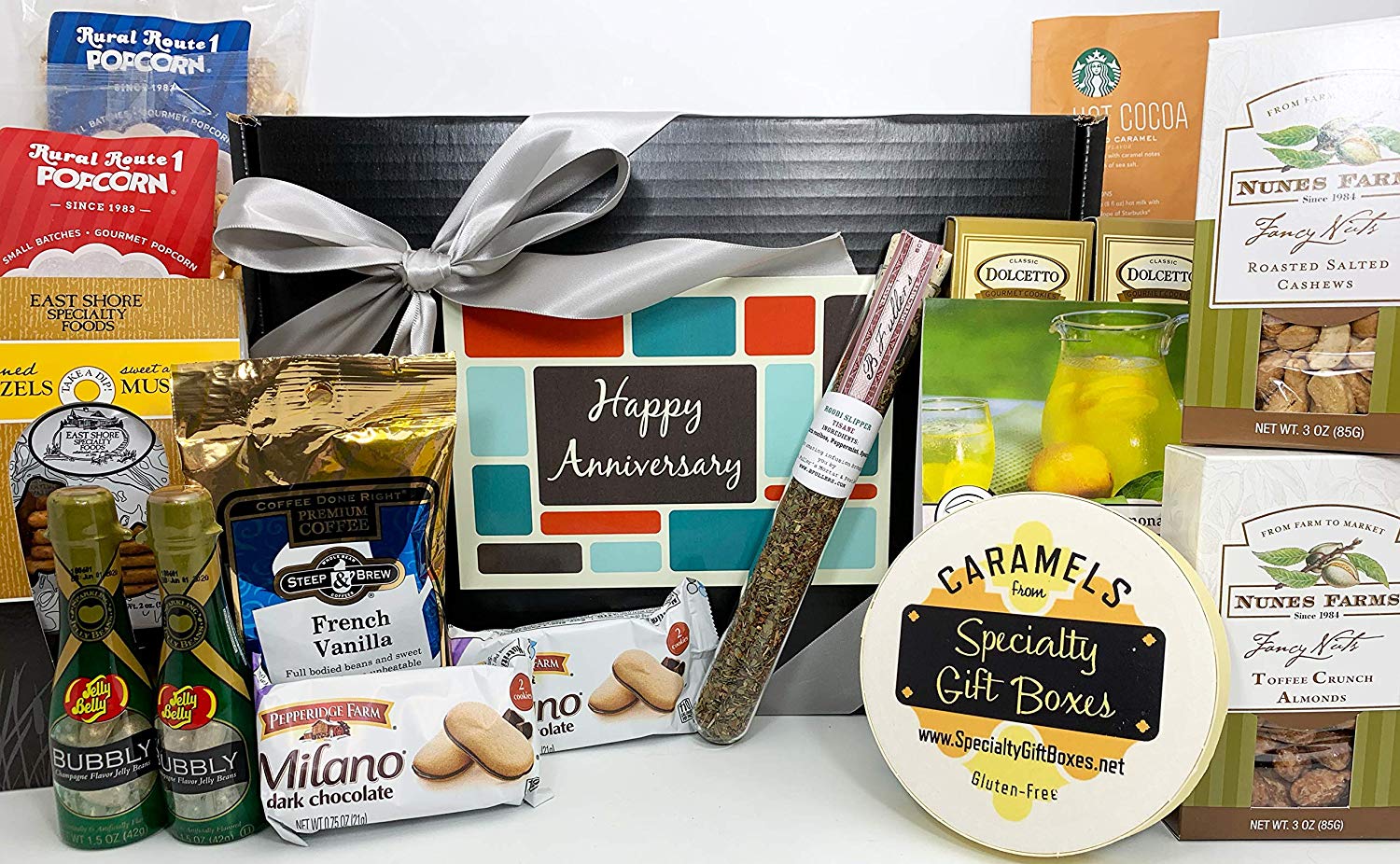 2nd Year Anniversary Gift #20: Amazon Prime Membership
If you want to get the couple something they will use over and over again, and that will save them money, why not go for an Amazon Prime Membership?
There are endless perks of being an Amazon prime member, from the two-day delivery to the free shipping, you can't go wrong. Also don't forget the library of streaming video options.
Most couples won't expect this gift, as it is an "outside of the box" type, but think of all the enjoyment they will get and how often it will come in handy!
So, there you have it. Gifts for her, for him, and for them to celebrate their special second anniversary! The most important gift if whichever one you choose—and the fact that it comes from the heart.