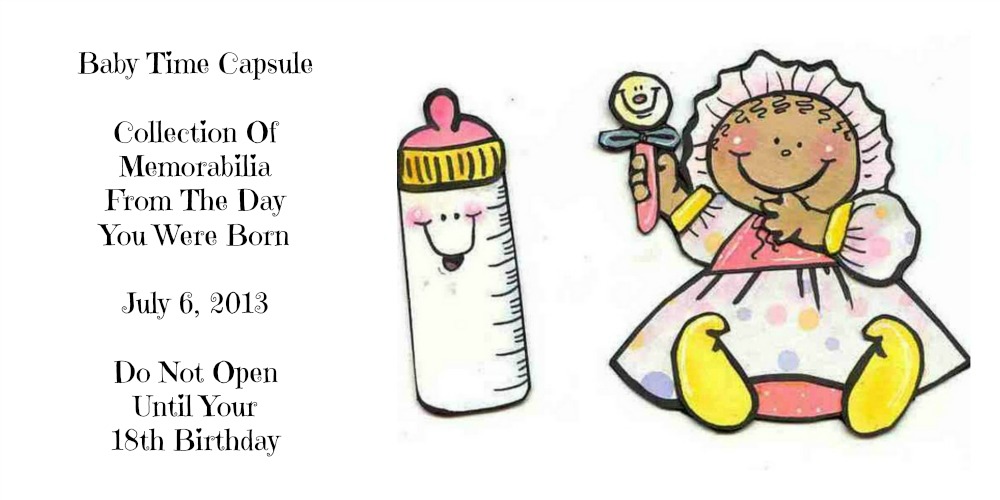 One of my closest friends, just gave birth to a beautiful baby girl. As my gift to her and her husband, I decided to create a time capsule for their daughter that she can open once she turns 18 years old.
So what is a time capsule? Webster's dictionary defines it as "a container holding historical records or objects representative of current culture that is deposited for preservation until discovery by some future age". In her case, a time capsule is a snapshot of what was popular on the day she was born.
Editor's Note: Another popular idea is to create a time capsule for the baby's first year of life and present it on their first birthday.
For my baby time capsule, I decided to store my items in a pink plastic scrap booking box. I'm sure there are better containers out there but I mainly decided on this box since it's pink and airtight. It also claims to be archival. But no matter what you choose, you should store your time capsule in a dry and bug proof location. In other words, I wouldn't recommend burying it.

Since I don't live close to my friend and her husband, I'm mailing them my gift and then asking them to add a couple more things into the box.
These are the fun things I included in her time capsule:
A copy of a nationwide newspaper printed on the baby's birthday. (USA Today Newspaper)

A copy of a bridal magazine so that her little girl can find out what today's brides are wearing (Bride's)
A copy of a fashion magazine so that she can find out what fashions are being worn today (Vogue Special Edition)

A copy of a lifestyle magazine so that she can find out about today's celebrity and gossip (People). Should create a lot of interesting conversation on who's who once she's older.
A copy of an entertainment magazine. I was lucky this week, they had a special edition on top movies and TV shows (Entertainment Weekly).
A copy of a music magazine so that she can find out about today's music trends. (Rolling Stones) Another idea would be to download the top billboard songs onto a USB stick. I went with a magazine, since I wasn't sure about future technology. There's a reason why today's generation has never heard of a cassette or VHS tape.

A copy of a news magazine so that she can find out about today's political and cultural/geographic issues (Times and National Geographic)

On a personal note, I also included a card with a picture of my kids welcoming their new playmate to the world. I also included a personalized bridal hanky. I stitched the hankie with her initials in blue. My hope is that she uses it at her future wedding as her something blue and/or her something old.
Finally I added fun facts to be included in the baby's time capsule. Facts included, name of President, cost of living and her birthday's top hits.


These are the things I'm asking my friend to include:
Photos and Snapshots: Pictures of her Mommy with her baby belly pre-labor, the hospital where she was born, the doctor that delivered her, her on the birth scale, and the first picture of them as a family.
Her first foot and hand prints.
Her going home outfit and/or her first baby hat.
Her hospital bracelet
No matter when her daughter decides to open up her time capsule, I have no doubt that it will be a fun occasion for her and her parents. Don't forget you're making tomorrow's memories today!
photo credit: Enokson