Father's Day is rolling around and I'm very excited to give my husband this gift. He's absolutely the best father in the whole wide world to my two children and my best friend. I can go on and on about what he does for my family and why I love him, but I don't want him to get a big head. =)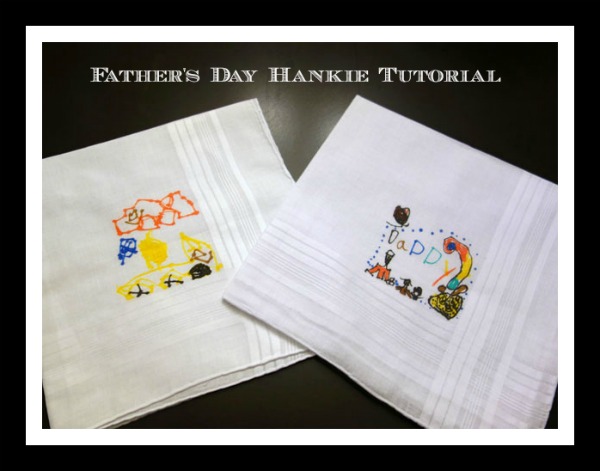 I love this craft idea because not only does it involve my children's art work but also my love of handkerchiefs. Hey, you can't have a linen business and not love your products, right? The other thing I love about this craft is that it's super easy and requires little work to prepare. Plus this craft is appropriate for all age ranges. My kids are aged four and six and they had no problems with it.
All you need is a blank men's handkerchief, some masking tape, fabric pens and your kids' creativity. Note: Thin tipped fabric markers work best.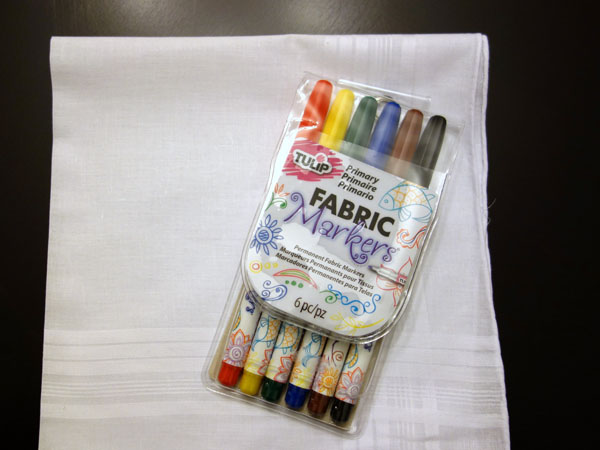 Tape off the area on the handkerchief that you want the art work in. Tell your kids that they can only draw within the box. Trust me this is a must, otherwise your entire handkerchief will be drawn all over.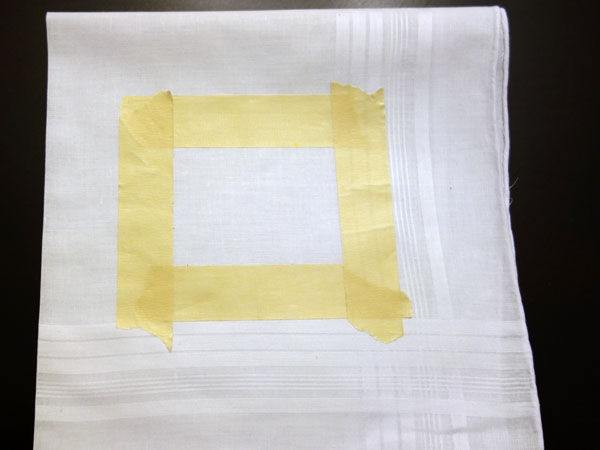 Once the kids are ready to draw, stick a piece of paper underneath the fabric and directly under the "box". This is helpful in case the ink bleeds though the fabric.
Let your kids have at it. My kids were super excited since I rarely let them draw with marker.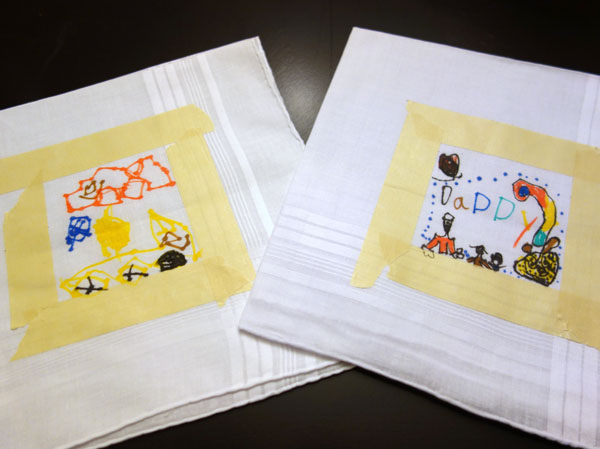 Remove the masking tape.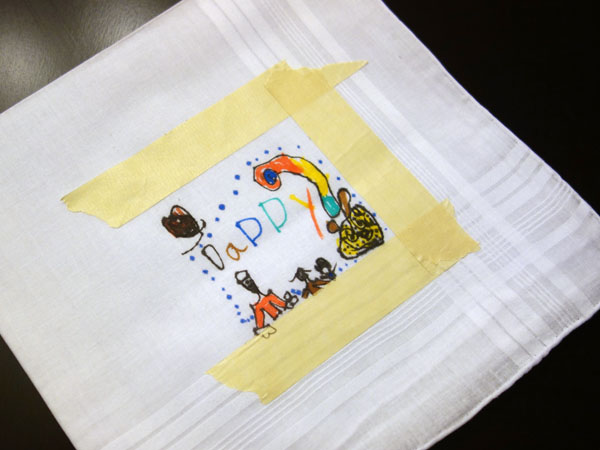 After removing the tape, turn your hankie over and dry iron the back of the hankie to set the ink. Voila!
My four year old son is still really into vehicles. So when I told him to draw a picture for Daddy, he decided on a vehicle theme. First he drew a construction truck and then a flying orange pickup truck above it.  When I thought he was done he said, no they HAVE to have faces on them like Lightening McQueen.
<Note: for folks that don't have little boys, Lightening McQueen is the main car character in the Disney Cars movie and he talks and has a face>. Can you find the vehicle's eyes and mouth? And if someone can figure out what the blue thing is, please tell me so I can explain it to my husband. =)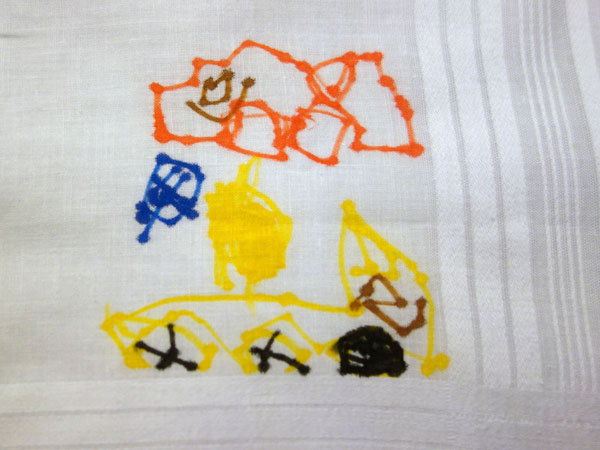 I was a little surprised when I saw my six year old daughter's drawing. Not that it isn't cute, but I would have expected her to draw a picture of her as a princess. Right now, all her art work seems to have some sort of princess or fairy on it. Instead she drew a very cute picture of her daddy, herself and her little brother holding hands. She then embellished the rest with scrolls and butterflies and wrote "Daddy" in rainbow colors. She also wrote a hidden message in the yellow happy face heart. Look very carefully and you may be able to make out the word "BFF". She learned this term in Kindergarten which I find extremely funny. But in her case it is totally appropriate since she always tells my husband how she is his best friend.

Aren't these hankies awesome! You now have instant Father Day handkerchief that your husband can cherish for years to come.
Happy Father's Day, Honey! We love you very much.