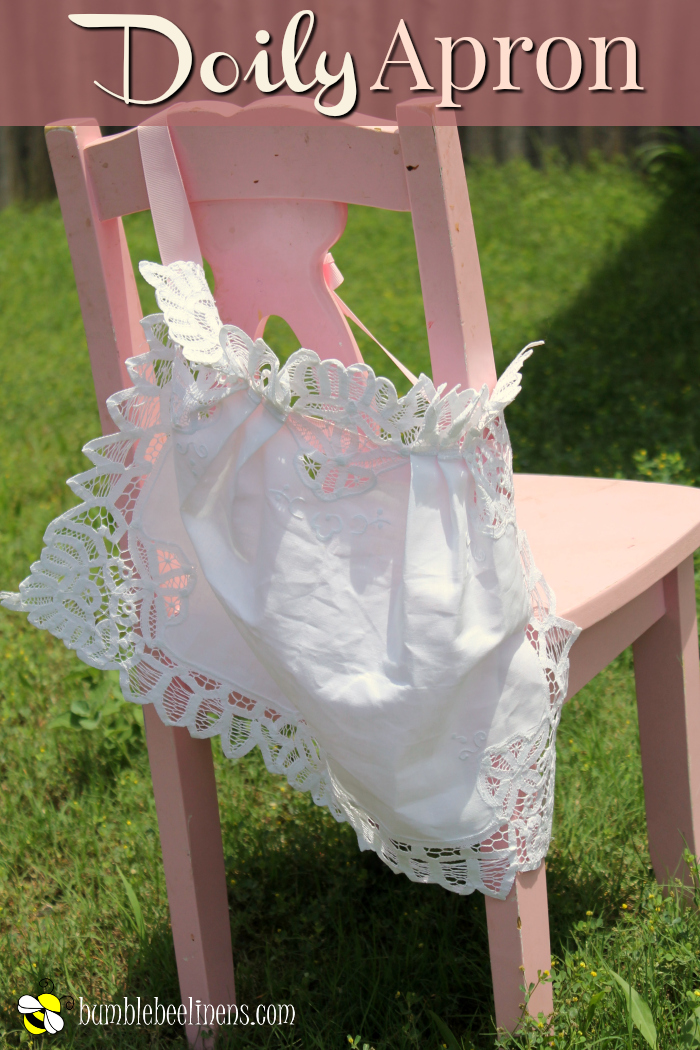 My little girl loves to play kitchen and dress up and shop owner. These darling Doily Aprons are a perfect way for her to get all dolled up for all three!
There are so few supplies in this project and it takes about 15 minutes to accomplish but the results are to die for!
I chose a pink ribbon for this project because I wanted it to be delicate and feminine. Any color of ribbon could be used. I think a black grosgrain ribbon or a navy and white striped ribbon would be beautiful with this project.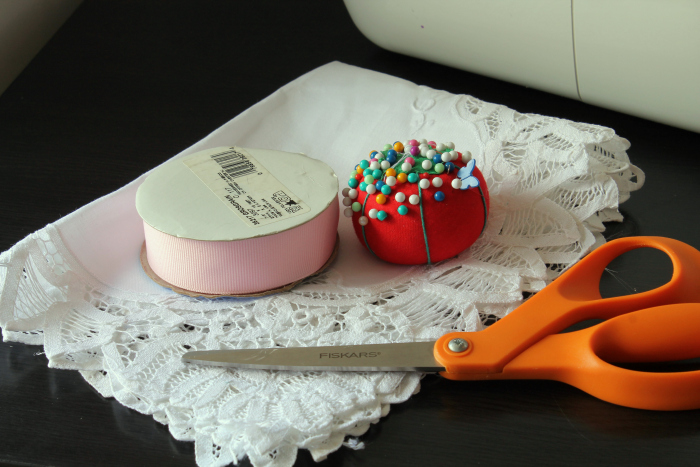 Supplies
grosgrain ribbon
scissors
pin
sewing machine
white thread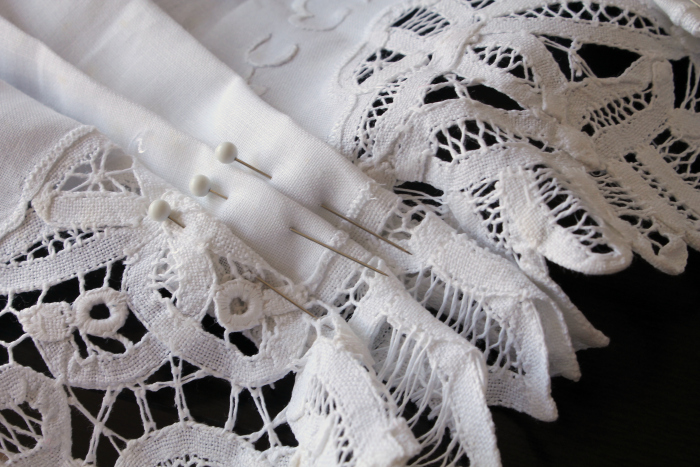 Fold over some pleats on the top edge of the doily. I leave the center of the doily flat and create the pleats by folding over about 1/2 inch at a time.
Start with the one closest to the center. Gather about 1/2 inch of fabric into your fingers. Fold it inward toward the center. Pin the pleat in place.
Repeat this to form three pleats on that side of the center. You don't want to have the pleats include too much of the outer lace edge. This is already a beautiful edge and pleating it will detract from the style.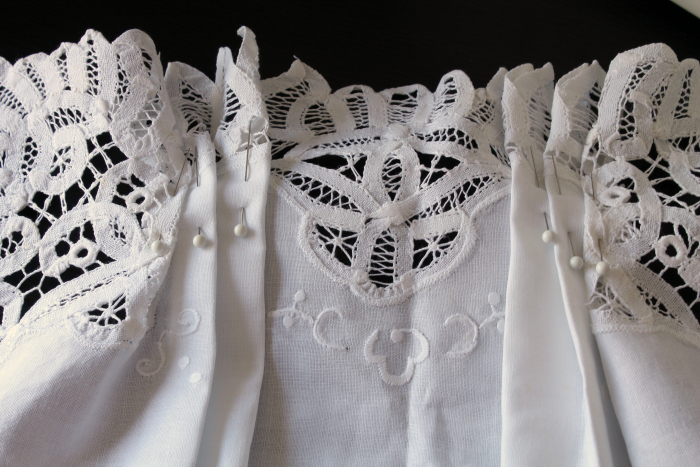 Pin the pleats in place and make them balanced on both sides of the top edge.
These pleats will create a nice blousing effect.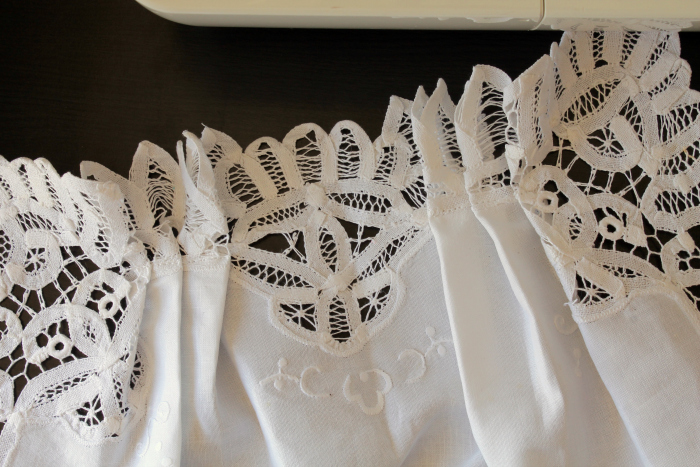 Use a straight stitch to sew the pleats in position. Make sure to remove all the pins.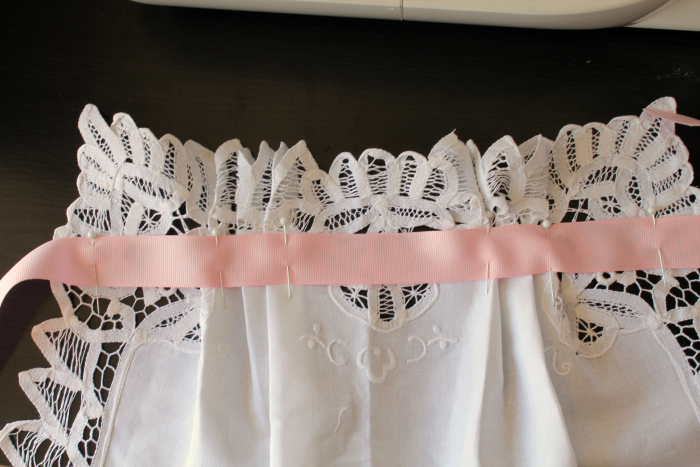 Cut a length of ribbon about 24 inches larger than the waist of the person going to wear it. So if the person's waist is 30 inches, cut a single length of ribbon to 54 inches.
Find the center of the ribbon and pin it in place in the center of the back of the apron. You don't want to put this on the lace part because you want to leave that edge open and decorative. Place the ribbon below that lace section (about 2 inches down from the top).
Pin along the rest of the apron body about every 2 or 3 inches.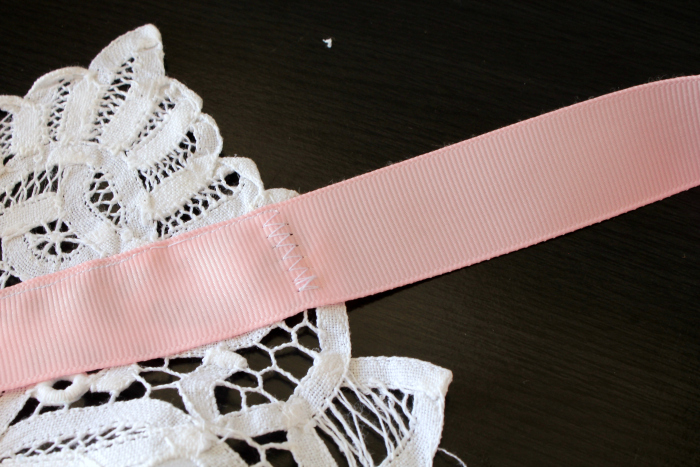 Sew a straight stitch along the top of the ribbon and a zig zag stitch along the outside edge of the ribbon where it meets the doily edge.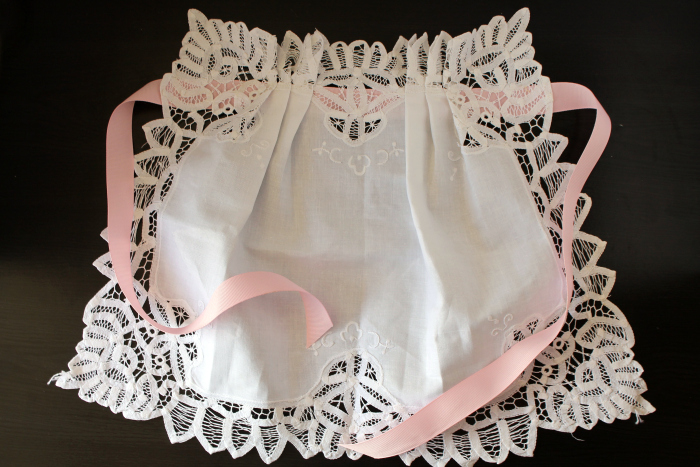 You're ready to enjoy your new apron!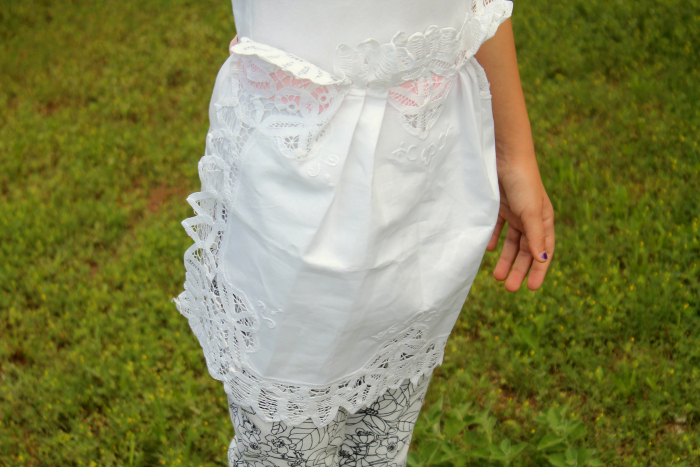 This doily apron craft makes a great gift. Make one for:
Mother's Day
Housewarming Gift
Bridal Shower
Grandparent's Day
Birthdays
Christmas
Easter