So another year has gone by but it feels just like yesterday that you married the love of your life.
No matter how long you've been together, you will want to find the perfect gift to celebrate this milestone and make your partner feel extra loved. But how do you even start finding the perfect gift? Traditional cotton anniversary gifts are the way to go.
Cotton is the traditional material for second-year anniversaries, but don't let that stop you from going through this list of incredible cotton anniversary gifts.
The material comes in many beautiful and useful forms, making it a great gift for any year. What's more, cotton literally and figuratively embodies comfort and strength, two things every happy relationship needs. That said, you can never go wrong with a cotton anniversary gift.
Know that a great gift doesn't have to be expensive. Case in point: this list of 20 lovely anniversary gift ideas all cost below $100. Say "I love you" with a personalized gift, meaningful artwork, or useful items for him or her.
If you're a friend or family member of the couple, you'll find great gift ideas here, too.
Keep scrolling to find the perfect cotton anniversary gift to celebrate the occasion!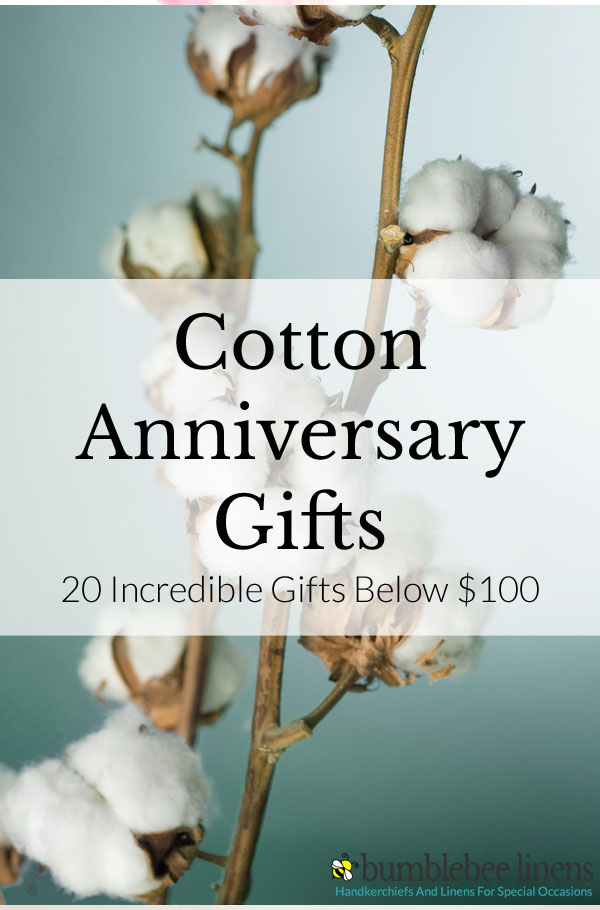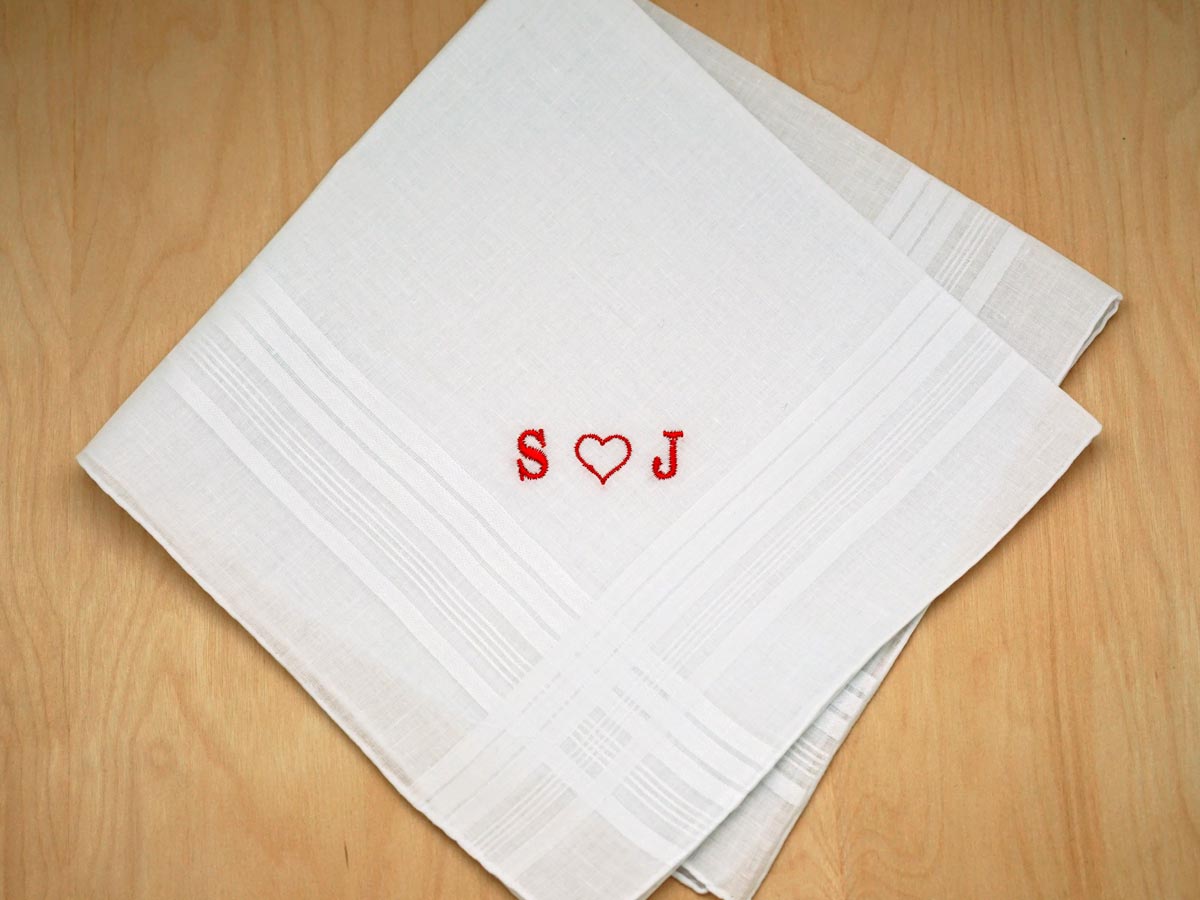 A monogrammed handkerchief is a simple yet meaningful anniversary gift. Have a sweet message or your initials embroidered onto the handkerchief. Your spouse will be able to use this gift every day, which will be a constant reminder of your affection for each other.
The trick with pulling off this gift is to buy from a reliable store backed up by great customer reviews. Check out Bumblebee Linens' monogrammed handkerchiefs that are both beautiful and top-quality. Loved by loyal customers, the brand offers fast turnaround times and quality customer service— The store's gorgeous products were featured on popular magazines like Martha Stewart Weddings, Country Living, and Real Simple. A truly special gift for your special someone!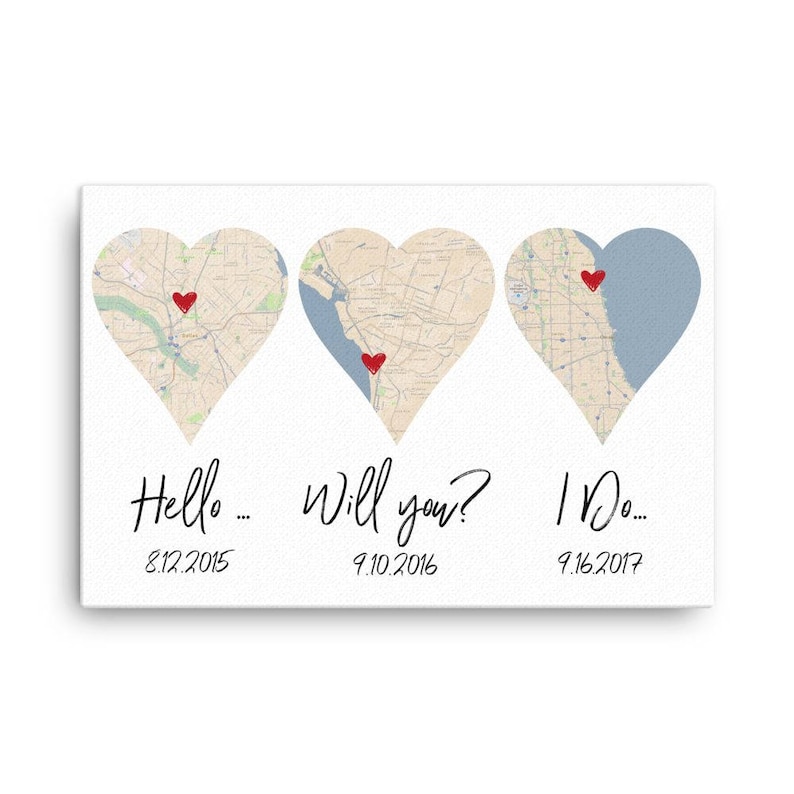 Melt her heart with this custom artwork commemorating the significant places and dates of your relationship. This map art will be a reminder of your milestones together, such as the day and place you met, got engaged, and got married. There's just something touching about seeing all these significant places and dates side by side. Nostalgia is the perfect recipe for a great anniversary gift.
To stay true to the anniversary theme, when ordering, make sure to you choose cotton for the canvas material. The artwork will be printed on a textured and fade-resistant canvas (OBA-Free), and is 1.5″ thick. This item truly makes for a high-quality and thoughtful gift.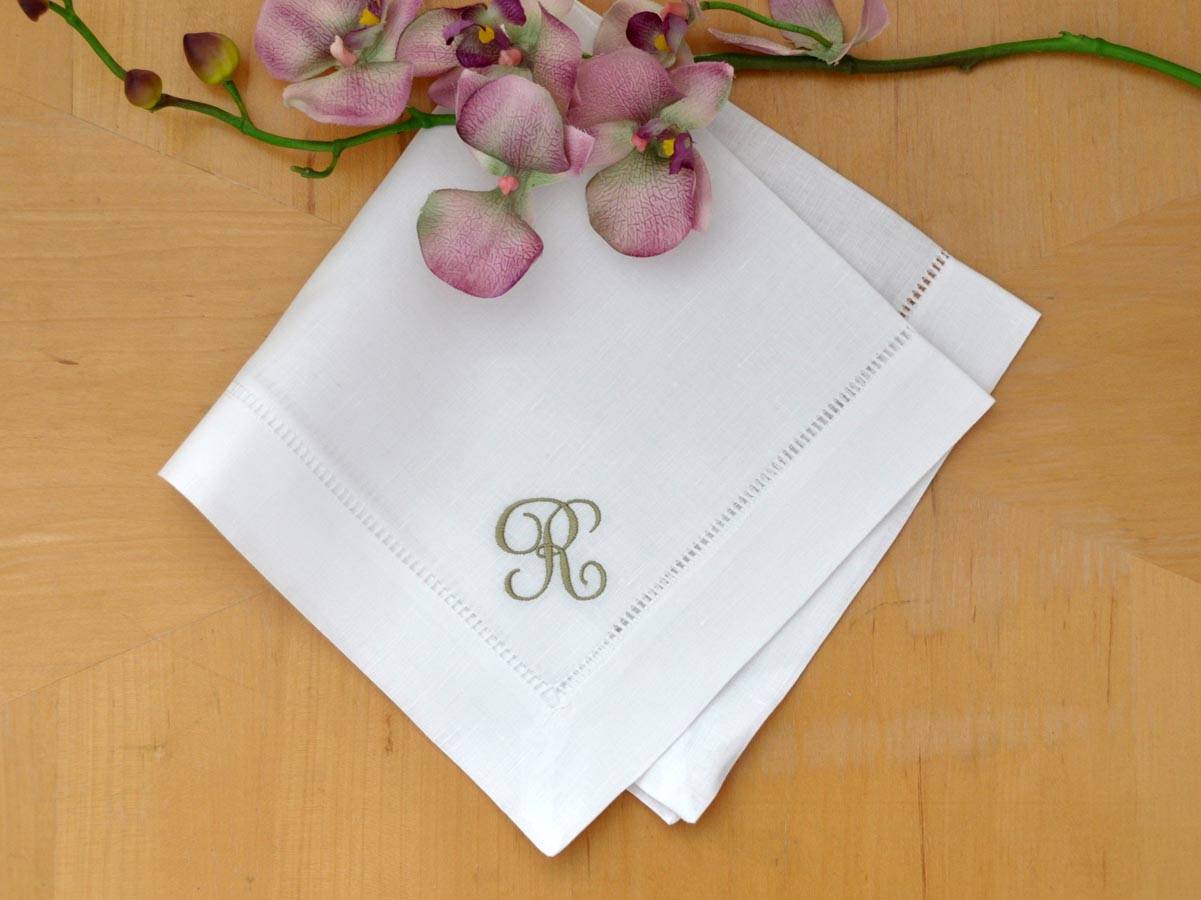 When thinking of an anniversary gift for a couple, think about their typical needs. The challenge is to find something fancy yet not too expensive.
Dinners are frequent events for couples; they're going to host hundreds of dinners with friends and family in their home. For this reason, they'll appreciate fancy monogrammed dinner napkins that they can proudly display on their dining table.
These elegant and high-quality monogrammed napkins come in sets of four. Personalize the napkins with the couple's monogram and a font style that suits their taste. This is a chance for you to show how well you know the couple! What's more, you'll be helping them add a special touch to their dining experience at home.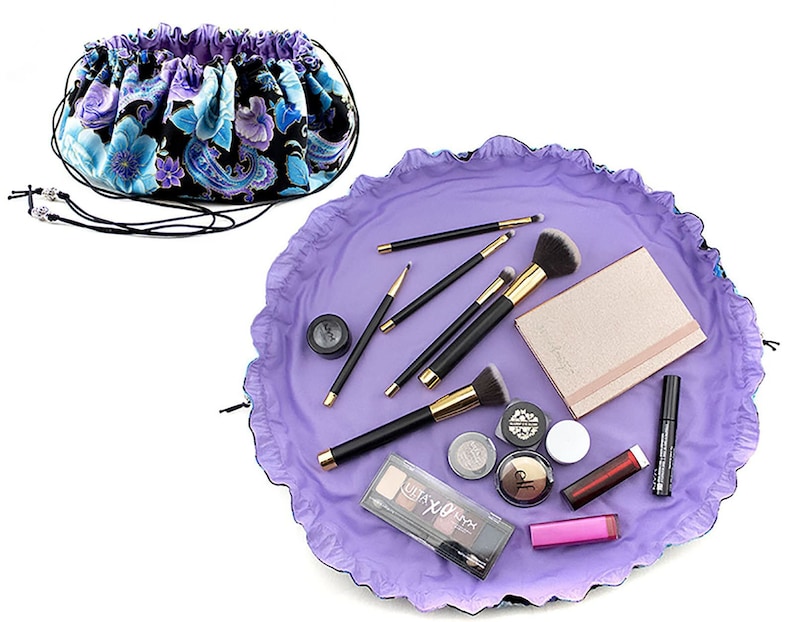 Don't shy away from stylish and practical gift ideas such as nifty makeup bags. Save your wife the hassle of rummaging through a typical makeup bag to find her lipstick or mascara. Powder room touch-ups will be a cinch with this floral cinch bag!
The bag opens flat so she can easily access her makeup wherever she goes. This pouch also turns into a bowl to keep her makeup from rolling all over the counter.
Make this gift more special by adding an embroidered monogram or a sweet message on the inner lining. Go all-out and pick her favorite color for the interior. She'll love how much thought you put into finding her a prettyand useful gift!
Your wife's go-to sweater may have served her well, but chances are it only looks good with a limited number of outfits. For this reason, maybe she can't wear her sweater on all occasions. No problem. Add this versatile, oversized cardigan to her wardrobe!
The cardigan is not only cozy, but it is very versatile. It will pair nicely with several outfits⁠—be it a t-shirt and jeans, dress or blouse, or everyday office wear. The cardigan offers a relaxed fit which will keep her comfortable.
Give her this gift and you'll be keeping her warm throughout the four seasons. According to reviews, wearing the cardigan feels like walking around in a cozy blanket. Your wife will love it!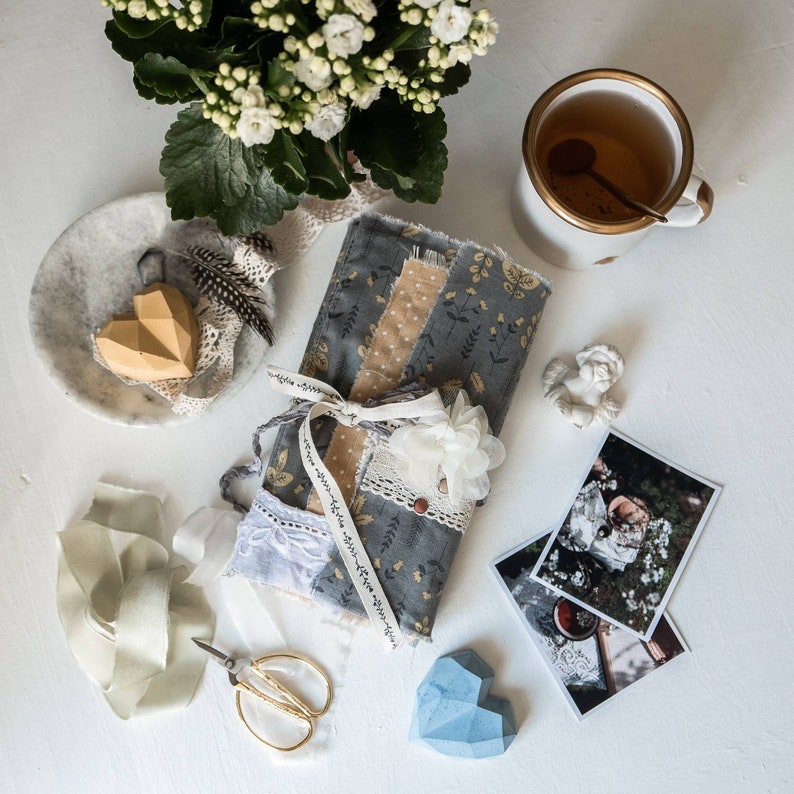 Traveling together should be on every couple's bucket list. You learn about each other while traveling, and seeing the world is simply something you want to share with the love of your life.
As you go on this adventure, you want to remember the tiny details like that quaint cafe you stumbled upon in Spain or that funny mishap you encountered on the streets of Japan.
This handy travel journal can store all your photos and notes from those trips. The small size makes it easy to bring along anywhere you go. Use it as a travel journal or a vacation planner; you decide! The pretty lace fabric gives it a nice handmade touch that's perfect for your jottings. And you can be assured of the thick, high-quality paper and 100% cotton material. Best if you take an instant film camera with you so you can fill up this journal as you go.
Bonus tip: If you have the extra budget, enclose this gift with tickets to a romantic trip to Paris and she'll be over the moon!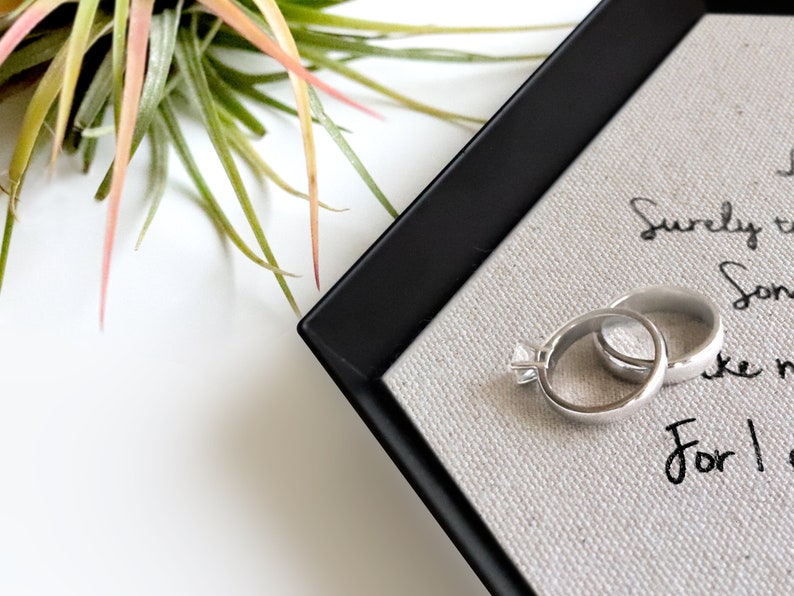 Don't underestimate the value of a practical item with a thoughtful message.
This personalized cotton tray is a nice way of saying "I love you" with wordings that your partner can see every day. Personalize this gift with your names, vows, or song lyrics to your favorite song. This gift will make your partner smile every time they put on their jewelry or put down their wallet and keys.
The modern design is perfect for any stylish couple. And it's made out of 100% organic cotton that's made to last. A gift he or she will treasure for years to come.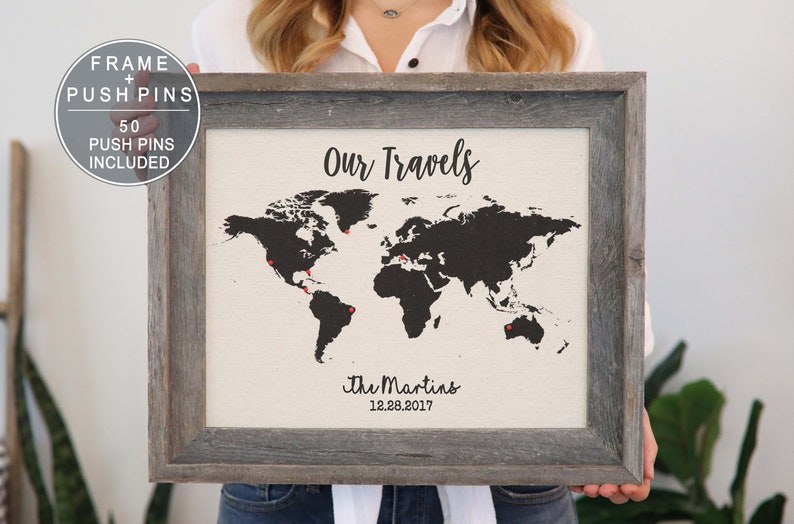 Always wanted to travel together? Wanderlust can start at home. This push pin world map is perfect for adventure-seeking couples. It's a heartwarming symbol of all the places you'll go together, and a nice reminder of all the places you've visited.
Choose from over 12 phrases like "Oh darling, let's be adventurers," "Our travels," or "You are my greatest adventure." Otherwise, you can also come up with your own message.
The push pin map is printed on genuine cotton fabric stretched on a foam board, so you don't have to worry about unsightly pinholes. Each item comes in a barnwood style frame designed around the natural knots and rough edges; every detail is uniquely designed and made with love!
In a rush to find a gift? No worries. You can get this push pin map within 3 business days if you live in the USA.
Get your hubby this closet staple! Every guy's closet should have a set of basic polo shirts. Does your husband struggle with finding a nice shirt to wear for an impromptu night out? Polo shirts are a fool-proof way to look nice for any occasion.
Amazon Essentials sells affordable, quality clothing. Check out these basic polo shirts made of 100% cotton. You can never go wrong with a classic cut made of comfortable fabric. Buy them in different colors for various occasions. A set of reliable polo shirts can lessen the stress of finding the right outfit, whether your husband is getting dressed for work or dinner with some friends.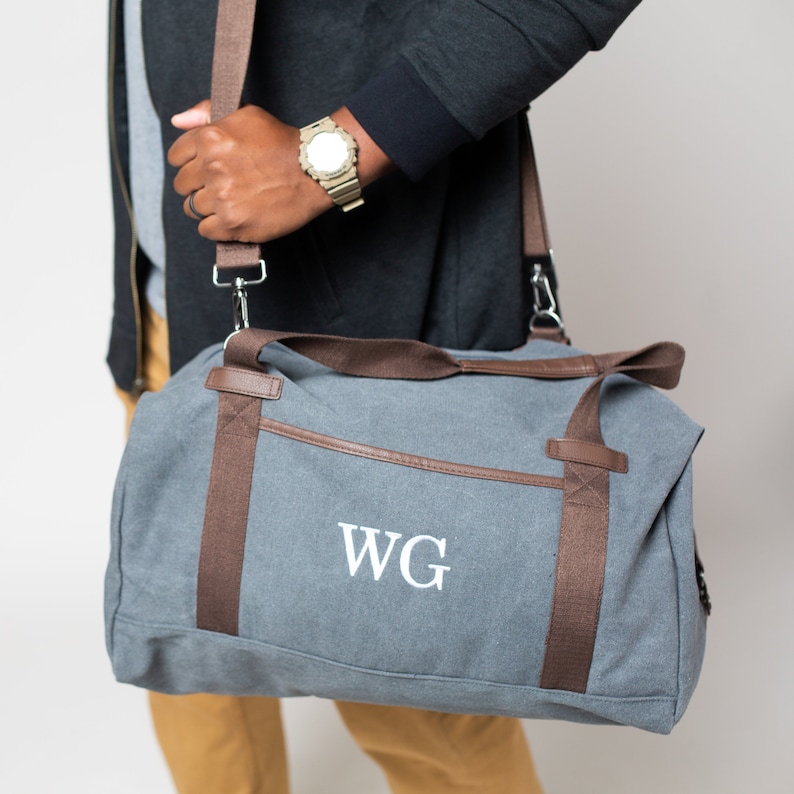 Does your husband never have the right weekender bag to bring on his out-of-town work trips or weekends with the guys? Maybe he's stuck with a beat-up old bag, or forced to lug around several bags to fit all his stuff.
This embroidered duffel bag will rid him of those hassles. With a sleek design and adequate storage space, he can finally travel with convenience and style. And did we mention the beautiful monogram on the front pocket looks amazing? Personalize the bag with his initials, and you will have come up with the perfect gift.
The weather can get unpredictably cold, and you never know when you'll enter a room with extremely cold air-conditioning! That's why a lightweight, cotton scarf is a lady's best friend.
Whether your wife needs a quick wrap to stay warm or glam up her outfit, a cotton scarf will come in handy. The scarf is long and wide enough to cover herself up for all the seasons. Beyond utility, this accessory is also fashionable and goes with many outfits. What's more, she can use the scarf as a shawl, headscarf, or wrap around her legs when she's at the beach. The perfect travel companion when you two go on vacation!
So go ahead. Check out the products and choose colors that she would like. You're on your way to getting her a gift she'll love.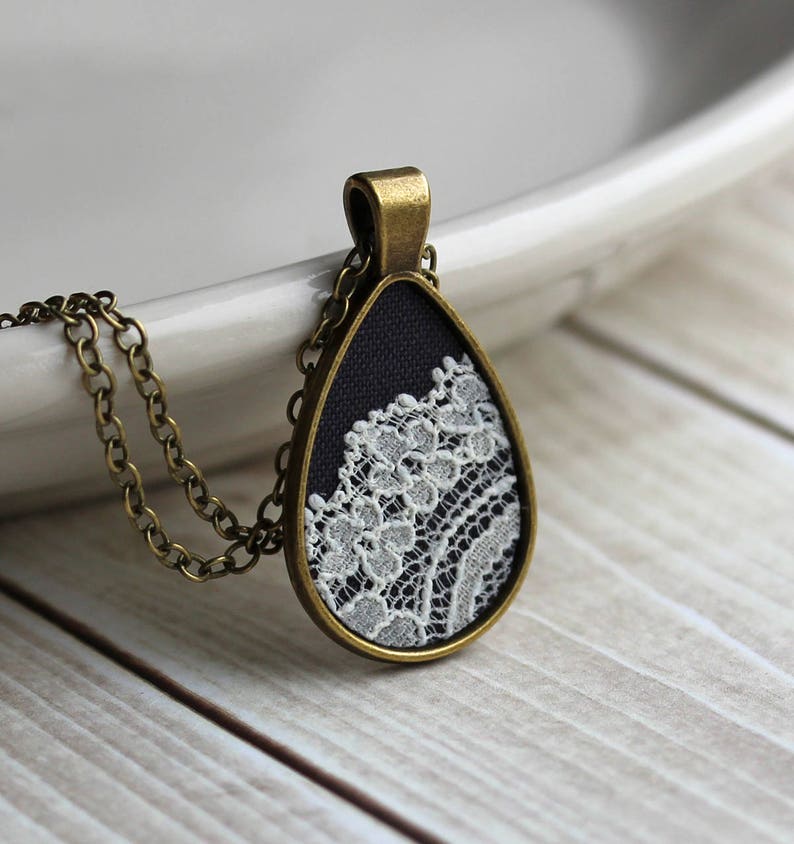 Jewelry is a timeless gift. For this reason, you want to up your game and make sure you find a unique piece amid all the usual jewelry.
Looking for jewelry that stands out from the typical gold or silver jewelry? Etsy is a haven for handmade and unique pieces that look oh-so-pretty. Why not get your wife this teardrop necklace made with vintage ivory lace?
This necklace is easy to wear with an everyday look because of its neutral colors and small size.
Choose the chain length for a perfect fit. The necklace even comes in a nice gift box!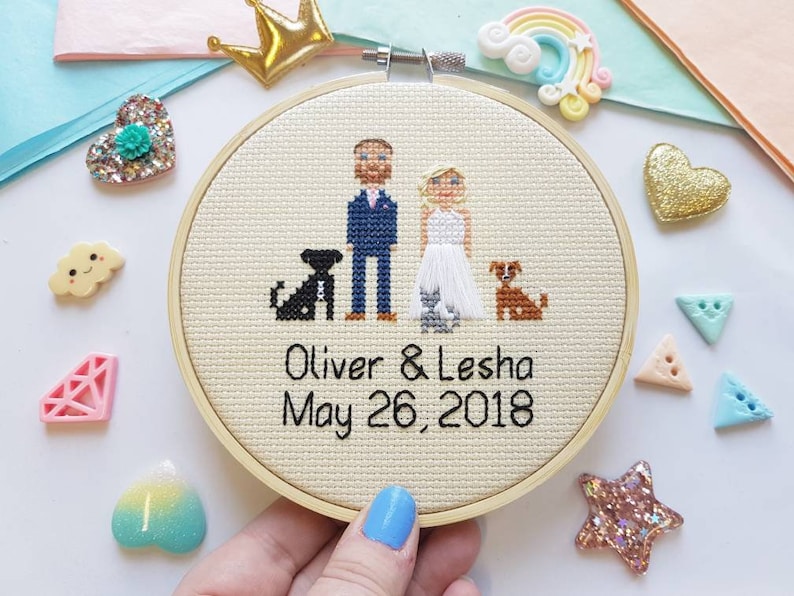 Why not give the couple a unique family portrait with their anniversary date? A custom cross-stitch family portrait sparks a sense of whimsy that you don't usually get from traditional family portraits. This cute artwork is bound to make anyone smile. Plus, cross stitch art is easy to appreciate because you can see how much skill and effort went into every stitch.
Ask the artist to make an artwork out of the couple's wedding portrait or even a picture of their growing family. SewCrossHandmade lets you add as many family members as you want onto the custom portrait—be it the couple's kids or their adorable dogs.
The great thing about this gift is you're sure it will be one of a kind; the creator has completed over 3500 of these portraits and attests that no two are the same.
Add a pop of color to your husband's wardrobe with this funky collection of socks! We recommend this dress socks set that's gotten great reviews.
Whether your husband loves edgy clothing or would want to jazz up his black-and-white office suits, he'll love these stylish socks. These socks with eye-catching, classy designs can boost his confidence, and they're bound to attract compliments! The gift is a good balance of style and quality.
He'll be happy to slip these socks on for the office or special occasions. And he'll have lots of designs to choose from to match up with his clothes.
If you want to give him a gift that he can use for the years to come, get him this dress socks set. The bright, colorful designs will give him a delightful unboxing experience!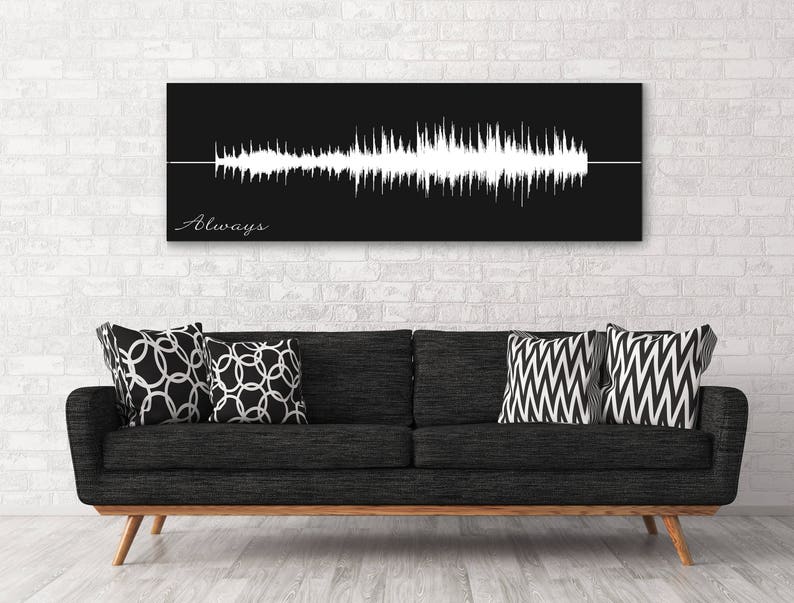 Songs can transport you to significant memories, be it the day you met or the first time you danced at your wedding. What if you could visually capture your favorite song and turn it into beautiful art? Thanks to technology and modern creative minds, now you can!
Check out this song sound wave art by CanvasVows for a unique gift. Choose your favorite song, first dance song at your wedding, or any other song that's special to your relationship. The artwork will be a visually interesting piece for your living room or master bedroom. Previous customers attest to the products' crisp, clean, and beautiful quality.
This custom art can remind you of the good times when things get rough or even nudge you to play your song on the stereo over dinner every once in a while.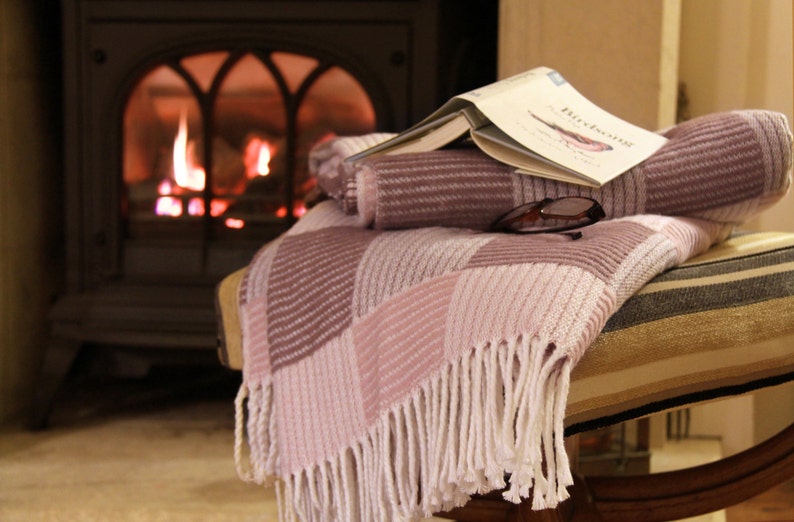 Keep her warm figuratively and literally with this sweet gift! A cozy throw blanket will keep her warm on those cold winter nights. This throw blanket is extra large, which makes it perfect for cozy cuddles while binging on your favorite shows!
This pretty throw blanket is made with fine cotton mixed with acrylic for that extra warmth. It also has a cashmere feel for added luxury. Make the throw blanket extra special by embroidering your names, anniversary date, or a heartfelt message. The throw blanket will make an elegant accent over your bed or sofa.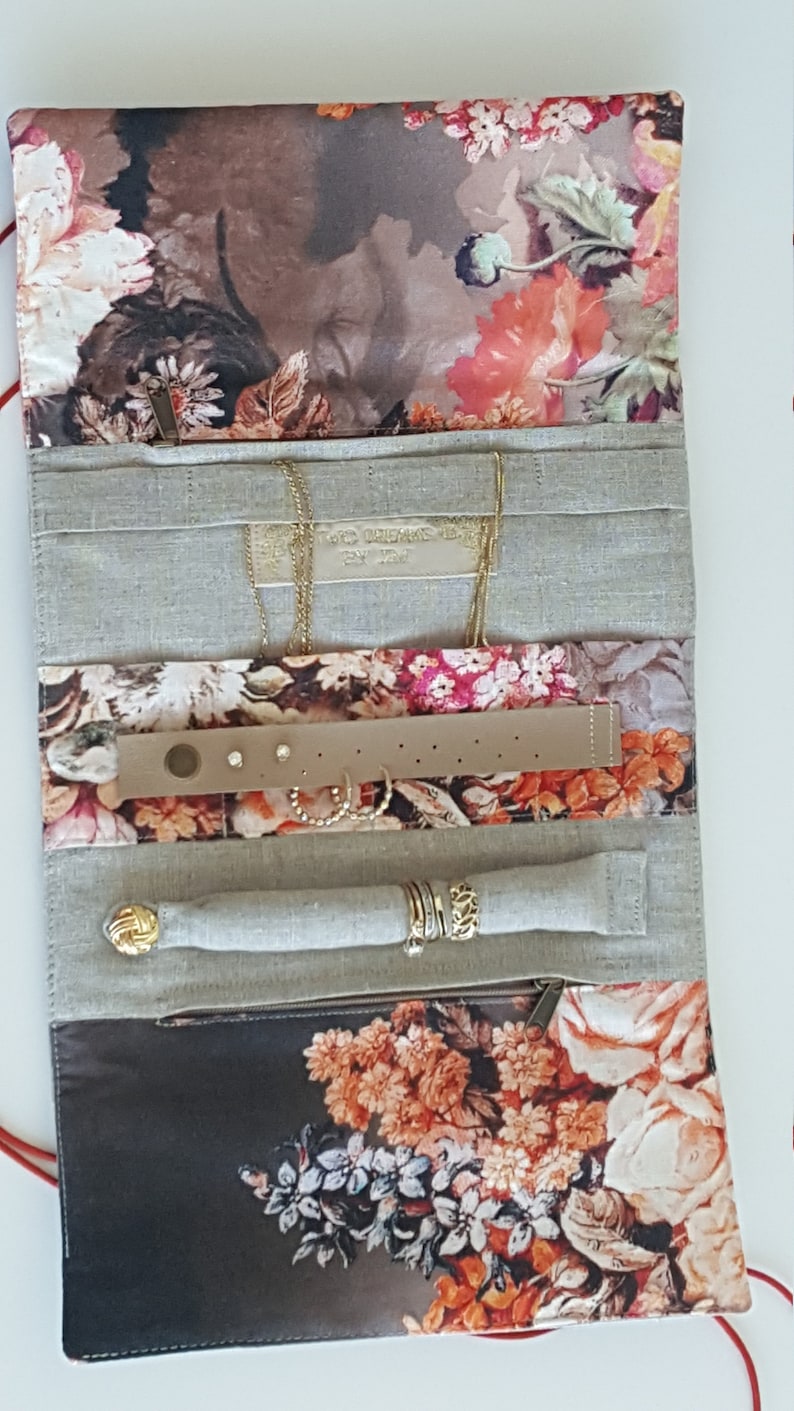 Does your wife have quite the jewelry collection? When traveling, she's probably had to limit the jewelry she takes with her. And it's no wonder; packing several jewelry pieces into one bag can be inconvenient. No one enjoys untangling necklaces or pouring out all their jewelry to find a particular tiny earring.
Luckily, you can buy this jewelry roll so your wife can neatly and safely store all her precious jewelry. Traveling with many jewelry pieces will be easier, giving your wife more options when she goes on long trips.
Add a nice touch by personalizing the jewelry roll with her initial or monogram.
Bonus tip: Insert a pretty new necklace or earrings in the jewelry roll to surprise her!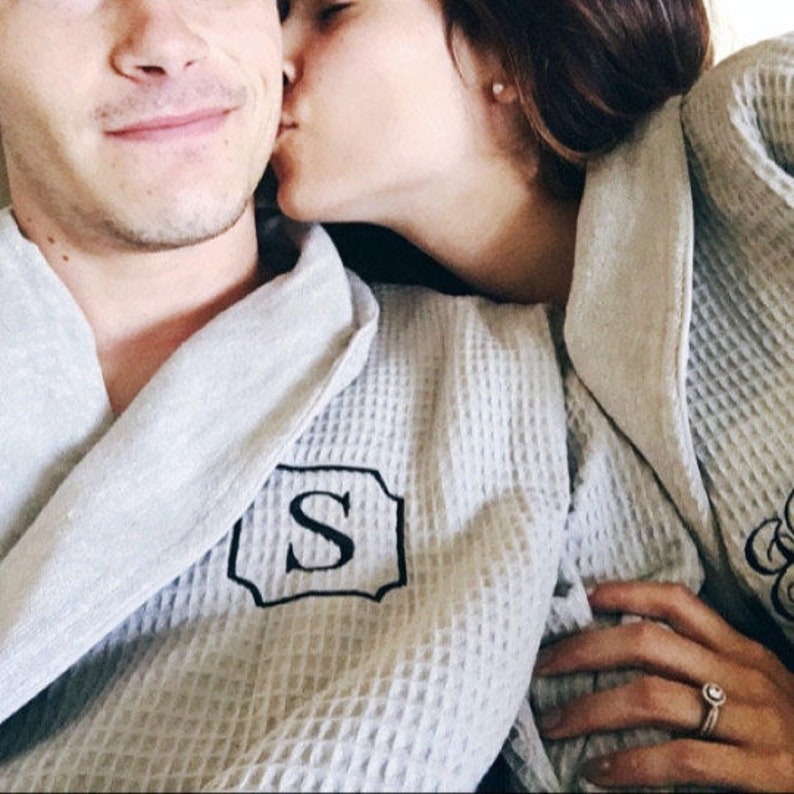 Nice bathrobes can enhance your bath experience; imagine wrapping yourself in a big, cozy robe after a bath. It may not seem like much, but after a stressful day, you'll be glad to have this simple luxury while you unwind at home.
Matching monogrammed robes make the experience even better. (Take note: Each robe is sold individually so make sure to buy two!) Plus, they'll look great on your bathroom rack!
Personalized gifts are the most memorable gifts of all. Get your initials or names embroidered onto these classy couple robes. The elegant waffle-weave exterior lined with soft cotton offers a comfortable and absorbent fit. And the weight makes it feel like a big hug around your body. The perfect gift for everyday pampering!
Does your SO often come home tired at the end of a workday? He or she will love slipping their tired feet into these cozy cotton slippers! Give them these slippers and they'll feel like walking around on a soft cloud.
The memory foam perfectly adapts to your feet and keeps them warm. Buy matching slippers and cuddle up on the sofa together while you catch up on your favorite shows. It's small, everyday items like these that enhance the precious free time you spend together. Quality slippers for quality time are the way to go.
You don't even have to worry about scratching your beautiful floors because of the slippers' rubber soles.
A duvet cover can instantly make a bed cozier. This set makes the perfect anniversary gift for any couple who likes a cozy home (AKA everybody).
They'll surely love this duvet cover set. Pure cotton fabrics tend to be softer and more skin-friendly so you know you'll be giving them a quality gift. The good thing about this product is that it's fade and shrink resistant. Also, the couple can enjoy this duvet cover during any season of the year. As for cleaning, they just need to take off the duvet cover, throw it in the washer, and voila! Effortless cleaning for everyday comfort.
Whether you're approaching your first, second, or 100th anniversary together, remember that every year is worth celebrating.
Gifts are special not because of the money you spend, but the thought, time, and effort you dedicated to making your partner feel loved on your special day. Keep this in mind and any gift on this list can be the perfect gift. Happy anniversary!