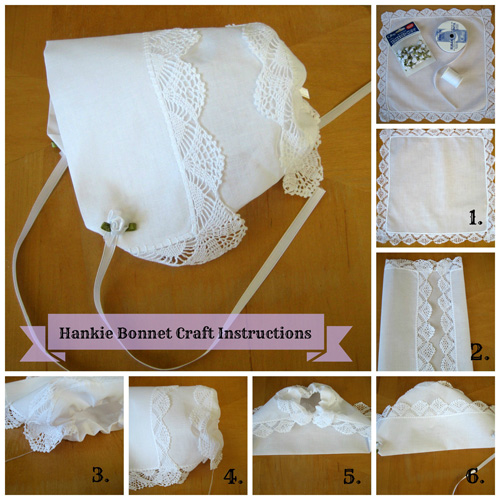 One of my favorite aspects of running our business is that I get to help our customers plan for momentous occasions such as weddings and christenings.  In fact, the majority of products that we sell are for special, once in a lifetime events.
Today, I want to talk about one of my favorite DIY crafts which can be used at both wedding and christenings alike! This craft is the ever popular handkerchief baby bonnet craft.
Baby hankie bonnets are very popular baby shower gifts because they hold special meaning to the parents. Not only can the hankie bonnet can be worn by the baby on the way home from the hospital but also at the baby's Christening. And if the parents store the bonnet nicely, it can then be used again on the child's wedding day as their "something old" or "something blue".
One of the reasons we provide this craft to our customers is that we want to maintain this time honored tradition.  I love talking to past customers and hearing about their plans to turn their own bridal handkerchief into a hankie bonnet for their future child.
In fact, just recently one of our customers contacted us and told us that he had created a much improved version of the classic hanky bonnet poem. He told us when poetry misses out on meter, he always feels a burning need to fix it so he has graciously has allowed us to post it online.  Please enjoy!
The original hankie bonnet instructions and original poem can be found here. This hanky craft is made using 11″-12″ lace handkerchiefs.
Hankie Bonnet Poem
A Classic Poem Adaptation by Howard Ray White
I'm just a dainty hanky,
As square as square can be.
With stitches hands have fashioned
A bonnet out of me.
She'll wear me home, a newborn,
Or for a special day.
Then I'll be washed and pressed and
so neatly tucked away.
When Her Wedding Day arrives,
She'll search about I'm told,
To find an item quite small
Of long ago and old.
And when she spots baby's cap
No better will she see.
Snip out my stitches, and a
Wedding hanky I'll be.
He got me to thinking are there more versions that I haven't heard about? After careful research, I found some more variations of this well beloved poem.
Heirloom Bonnet Poem
A tiny square of linen
And a dainty edge of lace,
Designed into a bonnet,
To frame your baby's face.
After baby's worn it
Fold and tuck away…
And it becomes a hanky
For your daughter's Wedding Day.
Or if the baby is a boy,
On the day he marries
This can be the "something old"
His joyful bride will carry.
Wedding Handkerchief Poem
Carry this beautiful handkerchief on your wedding day,
Then with a stitch or two you'll use it in another way.
Enclosed are satin ribbons and tiny buttons too,
For baby's first bonnet, made with love by you.
Treasure Bonnet Poem
This bonnet at first seems small in your hands,
A treasure of lace and ribbon bands.
But this gift is more than linen and charms
For the sweet baby who rests in Mother's arms.
From boxes long sealed, she will search for the hat,
Snip off the ribbons, and after that
Hand over this handkerchief with a smile
To her grown-up daughter, who will walk down the aisle.
Or to maybe her son, a young handsome groom,
She will hand him a gift, a family heirloom.
He will give it to the girl who holds his heart
To have and to hold, till death do they part.