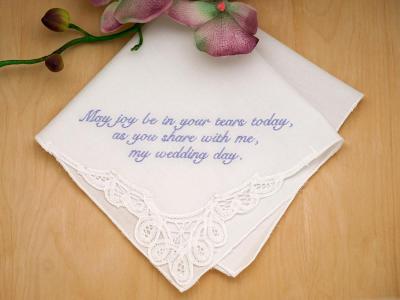 Personalized Up To Four Lines of Your Choice Hankie - Font S [MHankie_3LCE] $16.99
Displaying 1 to 6 (of 55 reviews) Result Pages: 1
My daughter will be carrying the hankie I carried at my wedding. When I carried it I had a "B" in on..
Rating:

[5 of 5 Stars!]
Nice quality and good price for a small wedding gift. Wrapped perfectly to put in nice gift bag.
Rating:

[5 of 5 Stars!]
Ordered a personalized handkerchief for my niece's b/d and she loved it!
Rating:

[5 of 5 Stars!]
Customer service was great. I wanted something a little different from the standard format and Bumbl..
Rating:

[4 of 5 Stars!]
Stitching makes the fabric look puckered not at all like the photo
Rating:

[1 of 5 Stars!]
Wonderful product! Very fast service as promised!! It's just beautiful!!! Sure to used on our daug..
Rating:

[5 of 5 Stars!]
Displaying 1 to 6 (of 55 reviews) Result Pages: 1