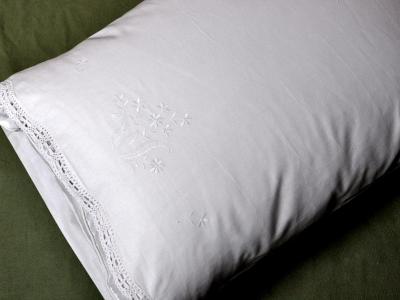 Pair of Cotton Pillowcases with Daisy and Lace Edges [PCWL-003] $23.99
Displaying 1 to 4 (of 4 reviews) Result Pages: 1
Lace was very pretty. However, I had to repair one of them before use as the lace trim was not attac..
Rating:

[2 of 5 Stars!]
The pillow cases are exquisite. Delicate, beautiful, and well made. The linen is crisp and feels won..
Rating:

[5 of 5 Stars!]
Lovely pillowcases. Excellent customer service and quick delivery. Coupon and extra gift item was a ..
Rating:

[5 of 5 Stars!]
I just love these new pillowcases! They dress up the bed without making it look too fussy. The lace ..
Rating:

[5 of 5 Stars!]
Displaying 1 to 4 (of 4 reviews) Result Pages: 1