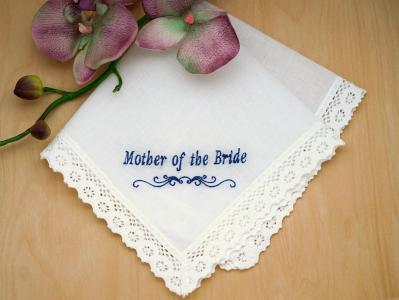 Mother of the Bride Personalized Handkerchief - Font I [MHankie_PB] $15.99
Displaying 1 to 5 (of 5 reviews) Result Pages: 1
The two hankie's I bought are gifts for friends who will be Mother's of the Bride in coming months. ..
Rating:

[5 of 5 Stars!]
It was very pretty and my gift was so appreciated by the recipient. It was delivered to me very quic..
Rating:

[4 of 5 Stars!]
this is the second product I have purchased from bumblebee linens and have been equally pleased both..
Rating:

[5 of 5 Stars!]
Just beautifule! My suster thought he was gorgeous. Than You, will visit your website again. Barbara..
Rating:

[5 of 5 Stars!]
HANDKERCHIEFS WERE OF VERY NICE MATERIAL, WITH BEAUTIFUL EMBROIDERY AND THEY WERE DELIVERED IN 2 DAY..
Rating:

[5 of 5 Stars!]
Displaying 1 to 5 (of 5 reviews) Result Pages: 1