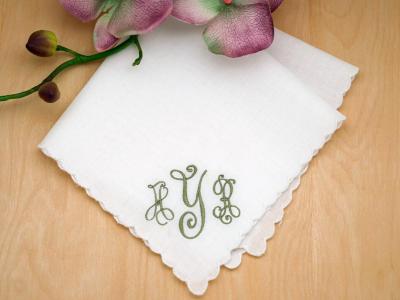 Monogrammed Wedding Hankie w/ 3 Initials - Font B [MHankie_3V] $16.99
Displaying 19 to 23 (of 23 reviews) Result Pages: 4
I ordered the monogrammed hankie and have ordered these before. Love the fabric and the monogram. Te..
Rating:

[5 of 5 Stars!]
These monogrammed hankies are beautiful! I also bought a set of unmonogrammed hankies that have wash..
Rating:

[5 of 5 Stars!]
Beautiful handkerchief for my mother for my upcoming wedding. I am sure she'll love it.
Rating:

[5 of 5 Stars!]
Nice quality. The initials look great. The material is a little stiffer than expected but I have no ..
Rating:

[4 of 5 Stars!]
Thank you for my order from Bumble bee linens.The order was very prompt and exactly what I ordered.Y..
Rating:

[5 of 5 Stars!]
Displaying 19 to 23 (of 23 reviews) Result Pages: 4