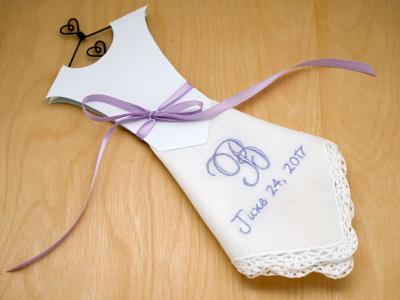 Monogrammed Wedding Dress Hankie Kit 1 Initial/Date Font J [CHankie_1ID] $20.99
Displaying 1 to 4 (of 4 reviews) Result Pages: 1
I ordered this for my future daughter in law, it arrived quickly and the monogram was beautiful. I d..
Rating:

[4 of 5 Stars!]
fast, fun project and so cute! I will do it again when I have the opportunity.
Rating:

[5 of 5 Stars!]
Thank you for this beautiful wedding hankie. Something borrowed that is blue! So dainty a great keep..
Rating:

[5 of 5 Stars!]
I gave the hankie as a bridal gift. It was the perfect gift
Rating:

[5 of 5 Stars!]
Displaying 1 to 4 (of 4 reviews) Result Pages: 1