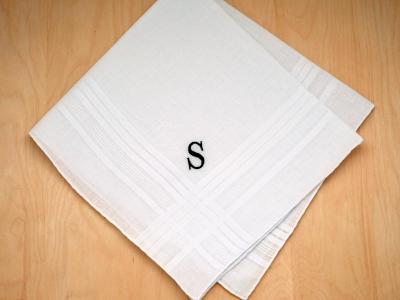 Mens Monogrammed Wedding Hankie w/ 1 Initial - Font R [MHankie_M1R] $15.99
Displaying 1 to 5 (of 5 reviews) Result Pages: 1
The linen is beautiful, but, from my perspective, I thought the single letter monogram could have us..
Rating:

[2 of 5 Stars!]
Gave these to the pallbearers at my father-in-law's funeral. They were not only a beautiful gift, bu..
Rating:

[5 of 5 Stars!]
I ordered two and they are absolutely beautiful. I chose white thread on the white fabric and am del..
Rating:

[5 of 5 Stars!]
The handkerchiefs are great. I want my husband to use quality handkerchiefs instead of tissues or ot..
Rating:

[5 of 5 Stars!]
Thank you so much! I really appreciate the time and effort you put into my order. I got the delivery..
Rating:

[5 of 5 Stars!]
Displaying 1 to 5 (of 5 reviews) Result Pages: 1