Other Handkerchief Projects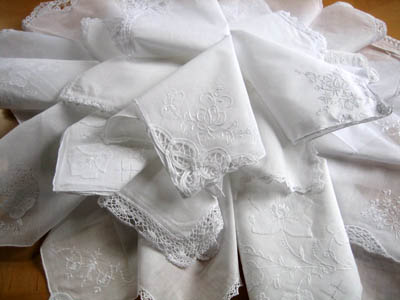 You will be surprised at how many different uses there are for our lace, white embroidered and color embroidered handkerchiefs.

Pillow Cover

It is really easy to transform 2 handkerchiefs into a brand new decorative throw pillow. Simply obtain two matching hankies and sew them together on all four sides. Or, you can simply attach a single handkerchief to a solid pillow to instantly make it look brand new. Handkerchief pillows make great gifts for friends and family.

Handkerchief Dolls

Handkerchief dolls make great crafts for bridal showers and hostess gifts. Making a handkerchief doll begins with a diagonally folded handkerchief with cotton batting stuffed inside to form a head. The head is then defined by tying a ribbon around the neck. The arms are formed by knotting each of the hankie corners into a pair of puffed sleeves. We have seen our customers use our handkerchiefs to make very elegant dolls and doll dresses.

Projects With Sewing Machines

If you purchase many hankies, you can piece them together in coordinating colors and styles to make an elegant table runner. We have even seen customers make beautiful curtains and table toppers out of handkerchiefs. If you are especially good with a sewing machine, making decorative quilts is another excellent idea.

Decorating with Handkerchiefs

We have found creative ways of decorating our house with handkerchiefs as well. Whether it be draping handkerchiefs diagonally on a shelf or framing a potted plant, sprinkling lace or floral touches around the house can be very charming. We have made beautiful flower arrangements by tucking flower embroidered hankies into a ball vase. We have also used handkerchiefs as basket liners to add character to our bedrooms and bath.
Buy handkerchiefs for these crafts now!
Choose from a wide variety of wedding handkerchiefs at excellent prices.
Continue