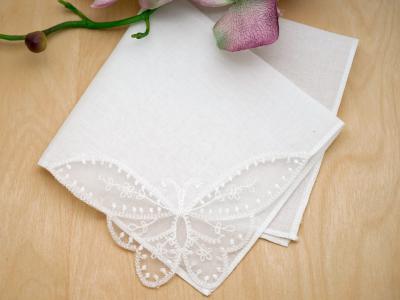 Set of 3 Butterfly Delicate Lace Corner Wedding Handkerchiefs [HLW-037] $24.99
Displaying 1 to 4 (of 4 reviews) Result Pages: 1
I purchase this set as a wedding gift for a young bride. The handkerchiefs were beautiful and dain..
Rating:

[5 of 5 Stars!]
I received the handkerchiefs as expected. The quality wasn't what I expected but still had to use th..
Rating:

[4 of 5 Stars!]
The butterfly is beautiful. Stitched with fine craftsmanship.
Rating:

[5 of 5 Stars!]
Beautiful work: crafted with care, very elegant, and pleasing to the eye.
Rating:

[5 of 5 Stars!]
Displaying 1 to 4 (of 4 reviews) Result Pages: 1