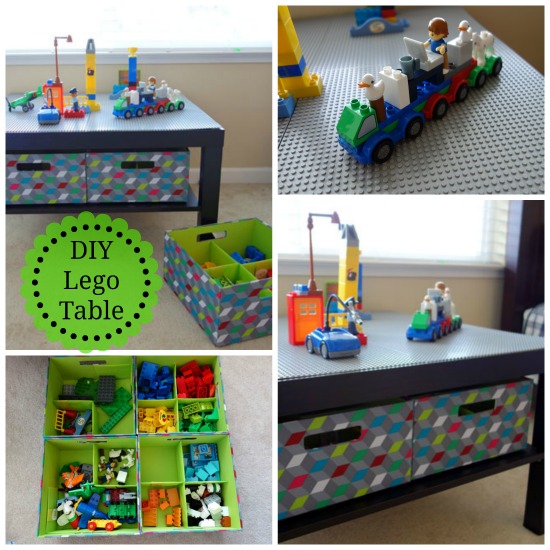 Today, we're going to change things up and post a non-linen craft that I made for my son, a DIY Lego table. Like a lot of parents, I spent way too long stepping on Legos in every room of the house. I decided it was time to take control of the situation–with a cute craft, of course.
Now I'm sharing the results with you. Hopefully you're inspired to try crafting Lego tables for your own kids.
The Need For A Lego Building Table
When my son turned four, our house suddenly transformed from Disney Car central to a Lego/Duplo household. Now instead of accidentally stepping on cars, I step on tiny Lego pieces in every room of the house. Ouch!
So I finally got tired of stepping on Legos and decided we needed a Lego table in my son's room ASAP. We needed to get the pieces off the floor and put them into a dedicated spot. With a Lego table, I can tell him, the Legos need to stay by the table and in these bins.
The bags and plastic bins of Legos that we were using were not cutting it. Even if the Legos made it back into the bags, and that is a big IF, my son tends to take his Legos from room to room. So instead of me just stubbing my toe only in his room, I would end up stubbing my toe in every room. The madness needed to stop!
Why I Opted For A DIY Lego Table And How To Get Started
The problem is the Lego tables I saw on the web didn't look cute at all and they were either too small or way too big. Plus, they seemed to cost an arm and a leg to buy.  I also wanted something that would match his bedroom's decor and something he could still use once he got older.
So I started researching and researching and I finally found a great blog post from a mom that made her son his own Lego table. I was intrigued by the idea because I never considered making my own table. I mean, seriously, Moi? What do I know about making a table? What I loved about her craft idea was that she bought a preexisting table and then added Lego base plates to it. Brilliant!
I modified her instructions to use a Ikea Lack coffee table since it's lower to the ground and is reasonably priced at $30. Plus this coffee table also has a shelf underneath which is perfect for storage. So if your kid's bedroom looks like Legos were thrown up all over it, like mine does, this Lego table tutorial is for you.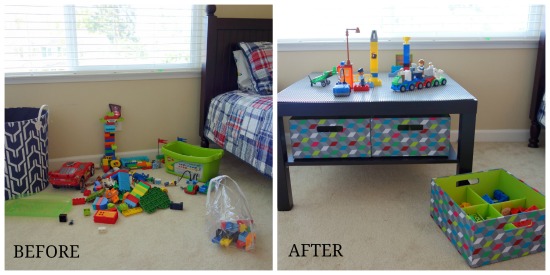 The main component to this craft is the Ikea Lack coffee table, 4 extra large Lego base plates (15″ square), and Velcro sticky backs. Optional: storage bins
Building DIY Lego Tables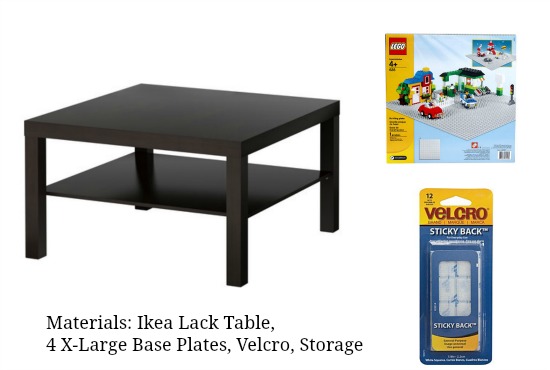 The first thing you need to do is buy an Ikea Lack square coffee table and assemble it. The top of the table measures slightly larger than 30″ square. This is perfect because the Lego extra large base plates are 15″ square. So four base plates should do it or you can get nine of the normal 10″ square base plates. I decided on the four larger base plates since it was more economical than buying nine smaller plates.
(Editor's note: if your kids are younger, Duplo also sells 15″ base plates but only in the color green)
The Lego base plates come in blue, green and gray. I ultimately decided on the gray ones because I thought it would go better with my son's room decor.
After assembling the table, lay out all four base plates onto the table and then piece by piece add a small strip of Velcro to the back of each base plate corner. Then stick the base plate to the table. Pretty easy, right?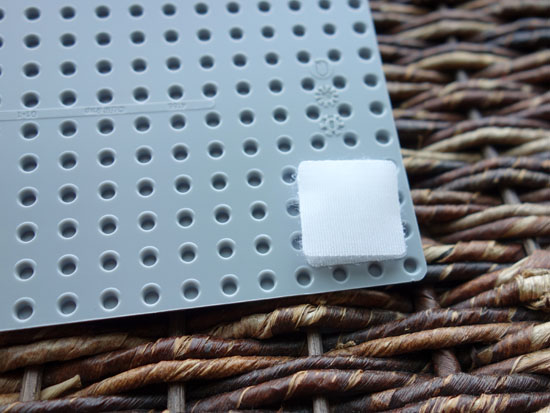 Once all four base plates are stuck to the table, it should look like this.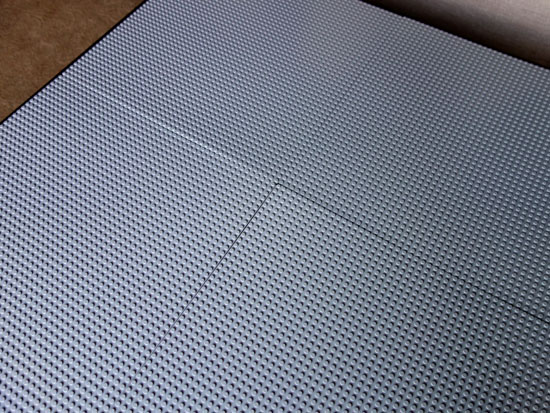 Don't Forget Storage For Lego Plates!
If you're like me and sick of stepping on Legos, don't forget about storage!
I bought these great bins on clearance at my local big box store. They are made by Rubbermaid and are perfect for this table. They easily fit on the shelf underneath and on the floor underneath if necessary. I also like that they don't have covers which makes clean up much easier for my kids. So even if they just dump all the Legos in after playing, it would already be a big improvement over what I have now.
No more stubbed toes is a victory.
I don't necessarily love the pattern but I do like the color of the bins. The accent colors are colorful like the Legos and the gray background matches my base plates. But what I love most about these bins is that they can be modified to what you need them for. They have these flexible dividers that can be popped open or closed. These dividers are great for Lego organization.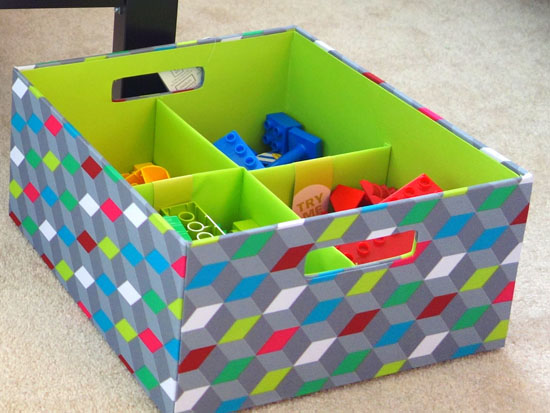 You can either open none of the dividers to create a big storage box. Or just one, to create one small and one large space, or both dividers to create four small square boxes. 


For me, I had the little ones sort their Legos by color. In another box, I had them put the small base plates and their little Lego figurines.
Your kids can sort them however they want but the main thing is to get them used to sorting their Legos now. Be sure to do it before their Lego addiction gets worse.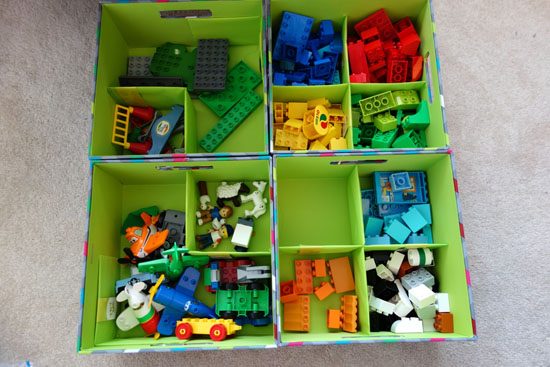 Now are you ready to make your own Lego table?
DIY Lego Table Craft Material List
1 x Ikea Lack Coffee Table {Michael's Craft Store}
4 x Extra large Lego base plates (15″ square) {Lego}
4 x Rubbermaid Bento Decorative Storage Boxes {Target}- optional
1 x Box of Velcro sticky backs {Michael's Craft Store}