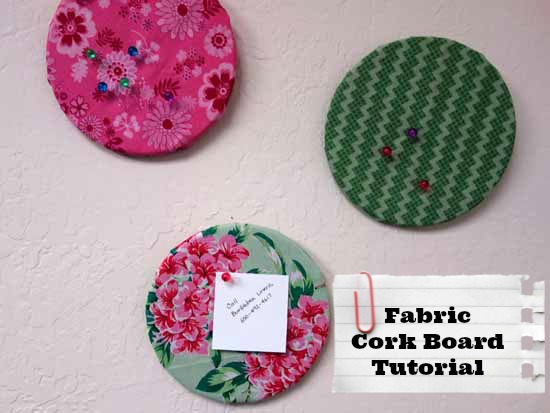 As a mommy of two little kids and a small business owner, my house constantly looks like a tornado blew through it. So I'm always looking for ways to organize and simplify my life, both in my house and at work.
So I came across this idea on creating a small grouping of fabric cork boards versus one larger one. I love the idea of having a place dedicated for messages and thoughts but I don't like the look of the traditional cork boards that you see in the stores.
The craft idea came just in time, as last week, I missed an important phone message that my employee left me. A call came in while I was at lunch which asked for a quote on a pretty large amount of dinner napkins. Since my employee wasn't positive if we had enough in stock, she took a message on a post-it note and placed it on my computer screen. The message asked me to call the customer back within the hour.
Long story short, the note fell and I missed the deadline. I didn't even know about the message until my employee mentioned it later that day. By not having this dedicated spot for notes, I missed the opportunity to sell the napkins and more importantly it was bad customer service on my part. And one thing we pride ourselves on is excellent customer service. Needless to say, I was very irked by the experience.
Though, I plan to make another fabric cork board for my home office, this first one went straight to my work office.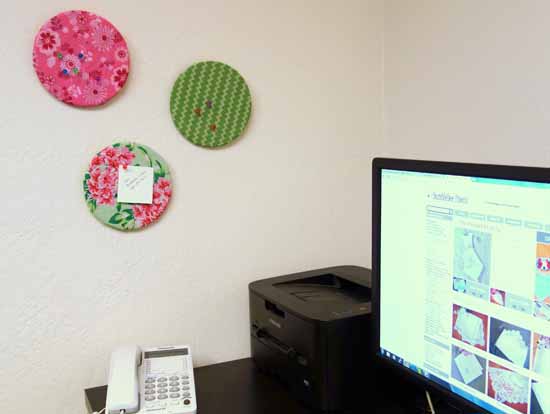 For this craft you will need some pretty printed hankies and/or some patterned scrap fabric. You will also need three cork hot plate coasters (also known as trivets), scissors and hot glue.
Note: I bought my cork trivets at Ikea (measures 7″ and sold in sets of 3). I've also seen cork tile at the hardware store that will also work well. And if you are super crafty and want to make your boards truly unique, I've also seen rolls of cork at my local craft store that you can cut into different shapes.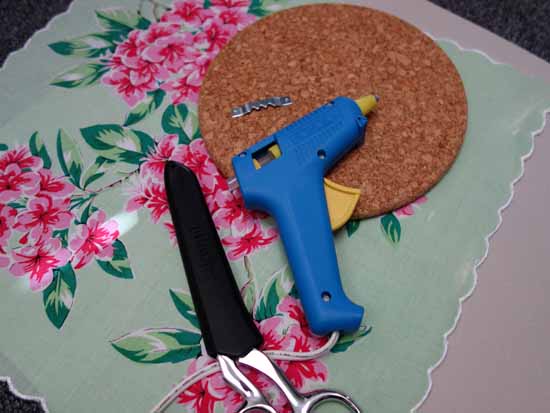 Since I love the print on this hankie, I decided to cover the cork with a pretty vintage inspired handkerchief. I also picked two coordinating fabrics to match.
The instructions on this craft is pretty simple and requires no sewing. As long as you can hot glue and cut fabric, you should be fine.
First you will need to iron your fabric or hankie. Remove all wrinkles from the fabric.
Place the handkerchief on top of the hot plate coaster. Make sure that the design on the fabric is placed in such a way that it is attractive.
Carefully flip the handkerchief and hot plate coaster over, making sure not to shift the fabric design while doing so.
Using a pen, lightly draw a line on the fabric approximately 1.5″ away from the edge of the cork board.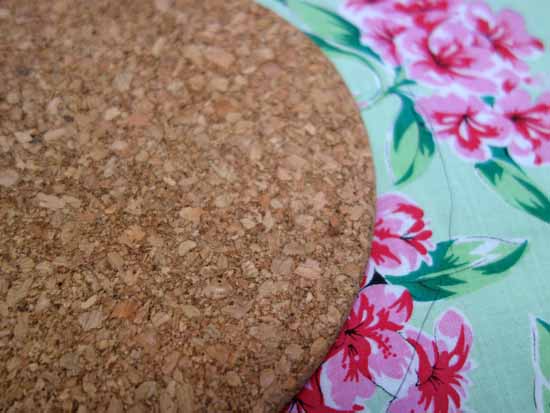 Cut along the line with fabric scissors.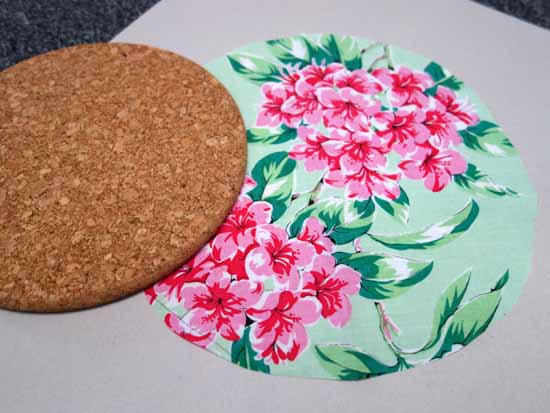 Now make sure your newly created circle is upside down (the back of the fabric will face up) and place the cork directly on top.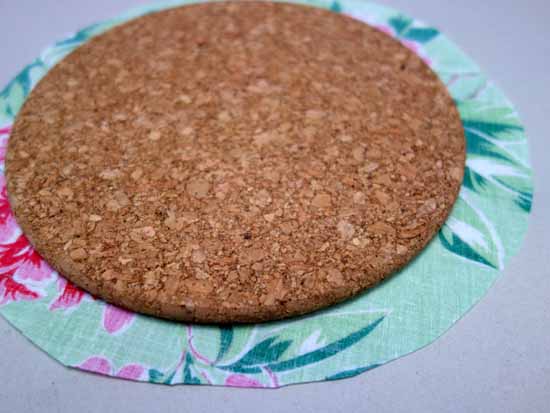 Place a fine line of hot glue close to the cork coaster's edge.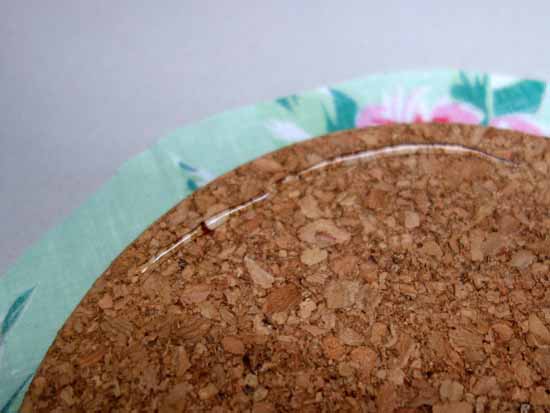 Fold the edge of the handkerchief onto the coaster. To avoid air bubbles on the other side, be sure to pull the fabric tight during this step.
Now hot glue the picture hanger onto the back of the fabric cork board, near the top of the circle.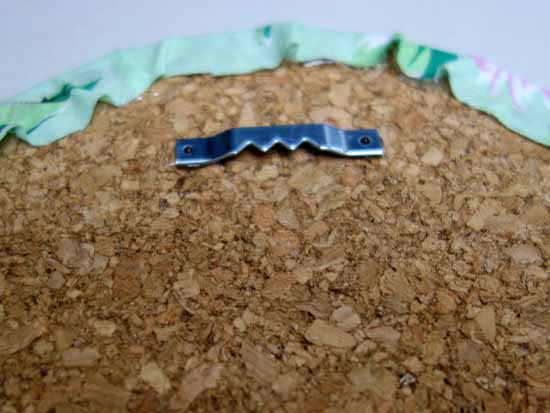 Repeat these steps for all your other cork boards.
Now hang and group them together on the wall. Bring the calls on!
Craft Material List
3 x Vintage Inspired Printed Hankies {Bumblebee Linens}
3 x 7″ Cork Trivets {Ikea}
Scissors
Picture Hanger
Hot Glue Gun