Making A Handkerchief Wedding Dress

Are you a bride looking for the perfect wedding favors? If you love the tradition and whimsy of a handkerchief, why not try these adorable wedding dress hankie bridal favors?

These little miniature wedding dresses are made out of handkerchiefs and make wonderful keepsakes on your special day. They are the perfect gift for the wedding party--especially your bridesmaids!

And for a little something blue, you can even make the favor out of monogrammed handkerchiefs.

Making these wedding dress hankie favors is easy to do. Any of our wedding handkerchiefs can be easily folded to create these keepsakes in minutes! It is a wedding favor that is beautiful and completely unique, just like your wedding. Any of our wedding handkerchiefs can be easily folded to create these great looking keepsakes in minutes!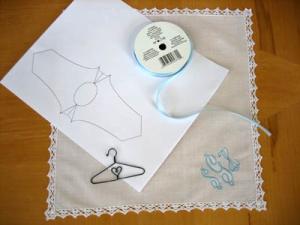 Materials Needed
All of the materials for a wedding dress hankie can be purchased from our
hankie craft kits
page. Everything ships quickly, so all you need is to order your handkerchiefs and get ready for some cute crafting.
One Sheet of White Card Stock
One Wedding Dress Template - Existing Bumblebee Linens customers may access our wedding dress template by sending us an email at info@bumblebeelinens.com. Or, you may design your own.
One Strip of 1/4in Ribbon
One 3 inch Miniature Wire Hanger
Directions How To Make A Wedding Dress Hankie Favor
Iron the handkerchief flat
Fold the handkerchief diagonally in half and press the fold with an iron(Figure 1).
Fold both corners of the handkerchief towards the bottom corner forming a diamond shape and press the fold with an iron(Figure 2-3).
Fold the left and right corners of the handkerchief towards the middle of the handkerchief and press the fold with an iron(Figure 4-5).
Using our wedding dress template, cut out the wedding dress top from the card stock. (Figure 6)
Fold the template in half along the dotted line. If you haven't already done so, cut out the neckline from the hankie dress top at this time.(Figure 7)
Flip the wedding dress template inside out making sure that the shoulders are tucked in along the dotted lines. The printed lines should be facing the inside.(Figure 8)
Open up the wedding dress top and tape the handkerchief to the base of the dress using double sided tape. Likewise, use the tape to fasten the hanger to the dress as well. (Figure 9)
Press both sides of the wedding dress top together. (Figure 10)
Using the ribbon, tie a bow at waist level. Congratulations, you've just made a wedding dress handkerchief favor!
Shop Materials For This Craft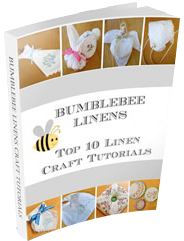 Sign up for our newsletter and receive a free book of crafts!
Arts and crafts projects
DIY tutorials
Fun decorating ideas