Making a Linen Towel Cake

A cute centerpiece for your next house warming party! These lovely towel cakes made from our White Hemstitched Linen Towels make excellent gifts for the hostess and perfect centerpieces as well!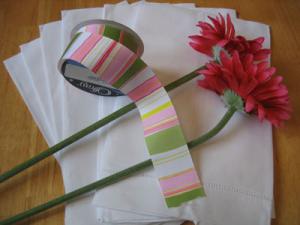 Materials Needed
Directions How To Make A Linen Towel Cake
Face one of the linen guest towels with the hemstitched hem on top.(Figure 1)
Fold the towel in half.(Figure 2)
Fold the towel in half again (Figure 3)
Roll the towel tightly (Figure 4)
Use a small piece of scotch tape and seal the roll in place (Figure 5)
Repeat instructions 1-5 on the remaining towels.
Now group 8 of the towels together into a circle and tie them all together with a piece of ribbon. Do the same with the remaining 16 towels. (Figure 6 and 7)
Stack the grouping of 8 towels on top of the grouping of 16 towels. You now have a basic tiered cake shape. (Figure 8)
To make the tiers stay together use the silk flower stems and poke the stems through the two layers of towels (Figure 9)
Arrange the blooms so that it looks full
Congratulations you have made a cute guest towel cake centerpiece.
Shop Materials For This Craft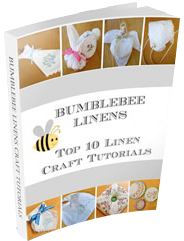 Sign up for our newsletter and receive a free book of crafts!
Arts and crafts projects
DIY tutorials
Fun decorating ideas