Making a Pillowcase Dress

Looking for an easy, fun and creative way to make cute clothes for your little girl? All you need is a pillowcase and some ribbon and you can create this lovely pillowcase dress with very little skill required! Any of our Embroidered Pillowcases are perfect for this craft, especially our Pillowcases with Ribbon and Flower Embroidery or our Pillowcases with Flower Embroidery. In the instructions below, we will show you how to create these pillowcase dresses step by step.

When you are new to sewing, one of the easiest dress patterns for girls is a pillowcase dress pattern. There are no tricky zippers or buttons that will get in your way and once you are finished with this easy project, you can show it off!

Plus, if you have already got some experience as a seamstress - making these kinds of dresses can be a simple yet creative way to use up fabrics from designer collections.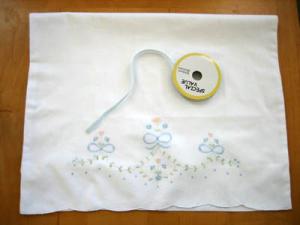 Materials Needed
Needle and Thread (Sewing machine recommended)
2 yds of 3/8-1/2 inch ribbon, cut into 2 pieces
Directions How To Make A Pillowcase Dress
Measure your child from the shoulder to where you want the hem to rest and then add approx 7/8in to the total. (Figure 1)
The following measurements can also be used.

6 months - 14 1/4in
12 months - 16 1/4in
18 months - 17 1/4in
2T - 18 1/4in
3T - 19 1/4in
4T - 20 1/4in

From the hemmed edge, measure up the length that you just determined and cut straight across the top to remove the pillowcase portion. This cut portion will be the top of the dress. (Figure 2)
Fold the pillowcase vertically in half (Figure 3)
Cut armholes into the pillowcase. (Figure 4) By folding the case in half, you have now created two identical armholes. (Figure 5) The shape of the armholes should be like a J. For a smaller child, make the armholes 1.5in wide and 3in deep. For a larger child make it 2in wide and 4in deep.
Now hem each armhole to avoid fraying.(Figure 6)
Fold the top of the front and back of the pillowcase, first 1/4in then 5/8in to form a casing. (Figure 7)
Sew a seam to stitch this closed. (Figure 8)
Thread 1 yd of ribbon through each casing by using a small bobby pin. (Figure 9)
Tie a small knot at the ends of each ribbon. (Figure 10)
Take the ribbon from the front and back, and tie bows on the shoulders. (Figure 11)
Shop Materials For This Craft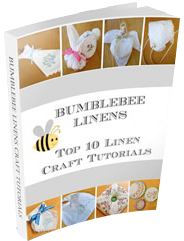 Sign up for our newsletter and receive a free book of crafts!
Arts and crafts projects
DIY tutorials
Fun decorating ideas