Making a No Sew Pillow From Crochet Lace Napkins

If you are looking for that extra added touch to dress up your living room, these personalized handmade pillows are perfect for decorating your sofas and loveseats. The best part is that absolutely no sewing is required. These no sew pillows can be made out of crochet lace napkins and make perfect gifts for your friends and family. Making a no sew pillow is extremely easy to do with our step by step instructions. Our white crochet lace napkins and ecru crochet lace napkins can be easily used to create these great looking pillows in minutes!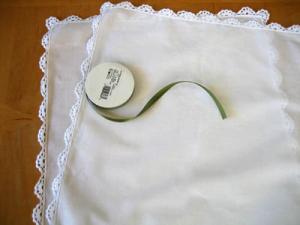 Materials Needed
8 ft of 3/8. ribbon cut into four pieces
14 X 14 Pillow Form
Directions for Making a No Sew Pillow
Iron both napkins flat. If any of your napkins are monogrammed or embroidered, make sure you iron the napkins over a towel to protect the embroidery.
Piece 2 napkins together with the monogram facing out and the crochet lace edges matching
In one corner, thread one piece of ribbon through the crochet lace center openings of both napkins
Pull the ribbon through and weave the ribbon in and out of the crochet lace opening until the entire side is weaved together and 3 inches are dangling from each side.
Repeat Step 4 on the next two pillow sides.
Once you have completed three sides of your napkin pillow, place the pillow form into the center opening.
Repeat Step 4 on the last remaining side.
On each corner, tie the ribbon together into a bow.
Congratulations! You have just made a beautiful no sew pillow.
Shop Materials For This Craft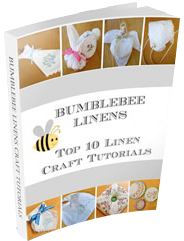 Sign up for our newsletter and receive a free book of crafts!
Arts and crafts projects
DIY tutorials
Fun decorating ideas