How To Make A No Slip Linen Guest Towel

Are you tired of using a ratty kitchen towel to wipe your hands on?

The instructions below will teach you how to make a no slip towel out of our monogrammed linen guest towels while brightening up your kitchen at the same time!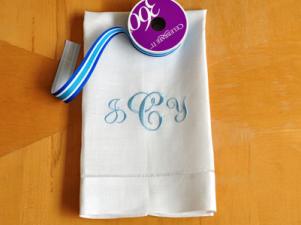 Materials Needed
Two Strips of Ribbon
Needle and Thread
Directions How To Make A No Slip Linen Guest Towel
Fold the monogrammed hand towel in half
Turn it upside down and place one of the strips of ribbon along the folded edge as a guide
Now fold the towel down and over the ribbon and press firmly
You will want to use the folded mark as a guide and pin along it
Machine stitch along the pin line as a guide and this will create a ribbon casing
Thread both stripes of ribbon in the ribbon casing
Pull the ribbon through so that both ends of the ribbon are equal
Pull the ribbon tightly and tie the ribbon on each side of the casing into a knot (this will prevent the ribbon from moving)
Tie both ribbon tails into a bow around the oven handle
Shop Materials For This Craft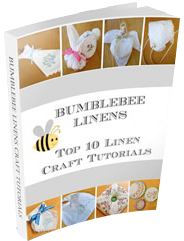 Sign up for our newsletter and receive a free book of crafts!
Arts and crafts projects
DIY tutorials
Fun decorating ideas