Making a Napkin Scented Sachet

These lovely sachets made from our white cocktail napkins will add a delicate scent to your lingerie and wardrobe. Fill your sachet with scented potpourri or english lavender to add a breath of fresh air anywhere in the house. These also make a great gifts for bridesmaids or they can be given as bridal shower favors.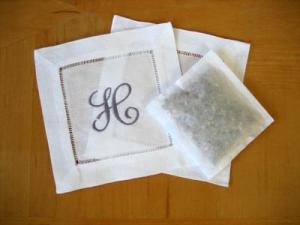 Materials Needed
Two of our Cocktail Napkins
White Needle and Thread
One packet of Potpourri (3.5in X 3.5in)
Directions How To Make A Napkin Sachet
Iron both cocktail napkins flat. If any of your cocktail napkins are embroidered, make sure you iron the napkins under a towel to protect the embroidery.
Piece the two cocktail napkins together with the embroidery facing out while lining up the hemstitched edges
Hand (whip) stitch the cocktail napkins together on three sides along the hemstitch edge. Leave an opening on the top side.
Tuck the packet of Potpourri into the cocktail napkins.
Congratulations! You now have a wonderful scented sachet. You can change out the potpourri as often as you desire.
Directions for Making Potpourri Packet
One sheet of unscented dryer sheet or embroidery stabilizer
Fold the sheet in half and machine stitch 3 sides (3.5. x 3.5.)
Trim the edges and you now have a basic bag for your potpourri
Pour in the potpourri into the bag
Now machine stitch the fourth side close
Shop Materials For This Craft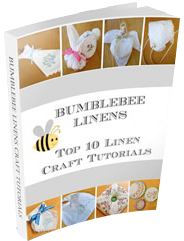 Sign up for our newsletter and receive a free book of crafts!
Arts and crafts projects
DIY tutorials
Fun decorating ideas