Folding and Presenting Your Wedding Handkerchief

Handkerchiefs make wonderful wedding favors on your special day. While there are many different ways to present your wedding handkerchief favor, folding the handkerchief nicely with a sweet message is a simple yet elegant way to present your wedding favor. We will show you how to fold our lace handkerchiefs and white embroidered handkerchiefs to create memorable wedding keepsakes in minutes!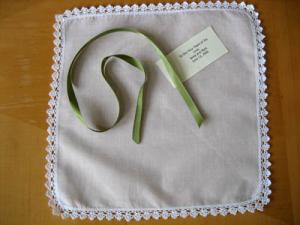 Materials Needed
Cardstock Printed with the Message of Your Choice
Strip of 1/4in Ribbon in Your Wedding Colors
Directions for Folding and Presenting Your Hankie Wedding Favor
Fold the handkerchief in half along the diagonal and iron the handkerchief flat.
Fold one corner of the handkerchief towards the center two-thirds of the way across.
Fold the other corner of the handkerchief towards the center overlapping the fold in step 2.
Fold the top corner of the handkerchief downwards to form an envelope
Punch a hole in the preprinted cardstock and run one end of the ribbon through the hole
Wrap the ribbon around the handkerchief envelope and tie a bow
Congratulations! You now have a lovely hankie wedding favor.
Shop Materials For This Craft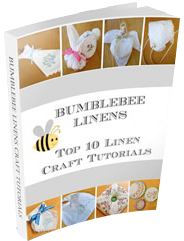 Sign up for our newsletter and receive a free book of crafts!
Arts and crafts projects
DIY tutorials
Fun decorating ideas