How To Make A Stamped Wedding Hankie Favor

Sometimes it may not be affordable to give a personalized handkerchief to all of your guests. Instead, you can stamp them to customize them and pay only a fraction of the cost. Stamping is really easy to do and fun as well!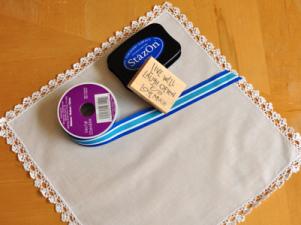 Materials Needed
Permanent Ink Pad for multi surfaces
Stamp (pick one up at your craft store or order a custom one with your names and dates)
1.5 ft of 7/8 inch ribbon
Piece of paper
Directions How To Make A Stamped Wedding Hankie Favor
Place your handkerchief facing up and on top of a piece of paper (in case the ink bleeds through)
Press the stamp firmly onto the ink pad
With firm pressure, press the stamp into the desired corner. Be sure to place center it in the corner
Let the ink of the hanky dry
Once dry, turn the hankie upside down and fold the right hand side 1/3 of the way over
Repeat on the opposite side
Fold the top piece of the hankie down to meet the lace on the bottom of the hankie
Tie a ribbon around the handkerchief to finish
Shop Materials For This Craft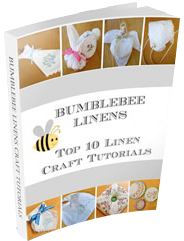 Sign up for our newsletter and receive a free book of crafts!
Arts and crafts projects
DIY tutorials
Fun decorating ideas