Making a Door Hanger From Cocktail Napkins

If you are looking for a cute gift for a baby shower, these personalized handmade door hangers are perfect. These door hangers can be made out of our White Hemstitched Linen Cocktail Napkins and make wonderful gifts. Let your creative juices flow and embroider them with any message you desire. Some cute sayings include, "Little diva is sleeping", "My little prince is sleeping", "Shhh", "Keep Out", "Our Wedding, Do Not Disturb". Even if you do not have an embroidery machine, you can still personalize these door hangers by using a fabric pen to add your message.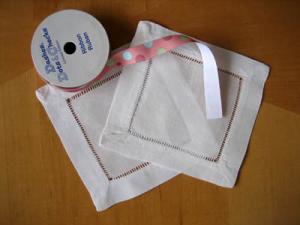 Materials Needed
Needle and White Thread
2 Strips of 5/8 Ribbon Cut Into Two Pieces
1 Bag of Polyester or Cotton Filling
Directions for Making a "Baby is Sleeping" Door Hanger
Iron both cocktail napkins flat. If any of your cocktail napkins are embroidered, make sure you iron the napkins over a towel to protect the embroidery.
On one of the cocktail napkins, hand stitch both pieces of ribbon to the top of the cocktail napkin.
Piece the two cocktail napkins together with the embroidered message facing out while lining up the hemstitched edges
Hand (whip) stitch the cocktail napkins together on three sides along the hemstitch edge. Leave an opening on one side. Alternative: Use a sewing machine and sew the 2 cocktail napkins together.
Use cotton or poly filling and stuff the door hanger to the desired thickness.
Hand stitch the opening closed.
Tie the two pieces of ribbon into a bow.
Congratulations! You are now ready to hang your lovely new "Baby is Sleeping" door hanger.
Shop Materials For This Craft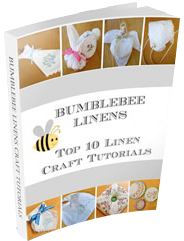 Sign up for our newsletter and receive a free book of crafts!
Arts and crafts projects
DIY tutorials
Fun decorating ideas