Looking for a perfect wedding gift or something blue? We carry an elegant selection of wedding handkerchiefs for your special day. Our collection of handkerchiefs come in many varieties including crochet lace, pineapple lace, scalloped crochet lace, battenburg lace, lily of the valley and various embroidered floral designs in both white and color. Purchase a set of three handkerchiefs for the bride, mother of the bride and mother of the groom.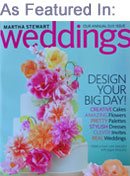 Don't miss our
arts and crafts
page where we show you step by step how to make many popular gifts such as
Wedding Hankie Ring Bearer Pillows
,
Wedding Dress Hankies
and
Hankie Bonnets
. Embellish your wedding invitations by reading our
Hankie Wedding Invitation Guide
. Finally, learn clever ways to
Package and Present
your wedding hankie favors.
Our line of handkerchiefs are organized by category. Please browse the subcategories below to find classic and timeless handkerchief designs at fantastic prices.