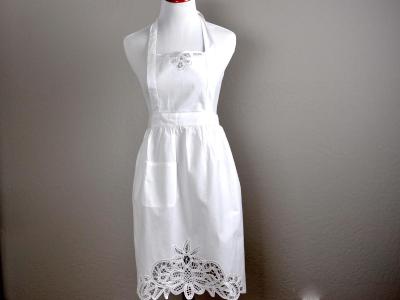 White Battenburg Lace Full Length Hostess Apron [ABW-012] $24.99
Displaying 1 to 4 (of 4 reviews) Result Pages: 1
This order is sadly to replace the linens which I purchased from you about 5 years ago. They were be..
Rating:

[5 of 5 Stars!]
Exactly what I was looking for. Beautiful. Five Stars
Rating:

[5 of 5 Stars!]
Sorry, I cannot give this a personal review as I bought it as a gift. However, I have not received a..
Rating:

[3 of 5 Stars!]
Perfect apron for luncheon with my girlfriends. This group always looks beautiful in their aprons wh..
Rating:

[5 of 5 Stars!]
Displaying 1 to 4 (of 4 reviews) Result Pages: 1