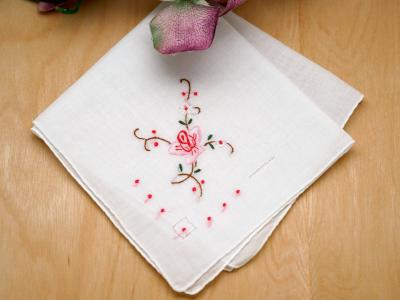 Set of 3 Pink Rose Embroidered Ladies Handkerchiefs [HEC-087] $14.99
Displaying 1 to 4 (of 4 reviews) Result Pages: 1
Nice purchase... delicate looking...not overly big...reasonable price.
Rating:

[5 of 5 Stars!]
I do like the embroidery and the finished rolled hem. I was a bit disappointed that the fabric was s..
Rating:

[4 of 5 Stars!]
For many years I've watched my mother Elizabeth trace her finger over fine linens in appreciation of..
Rating:

[5 of 5 Stars!]
They look lovely! I'm sure my wife will love them! The stitching is very high quality.
Rating:

[5 of 5 Stars!]
Displaying 1 to 4 (of 4 reviews) Result Pages: 1