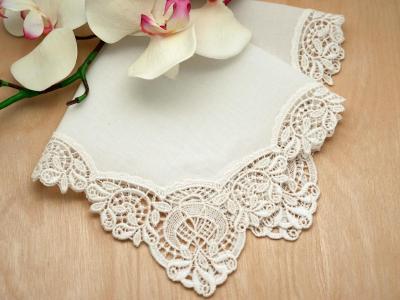 Ivory Duchess German Plauen Lace Womens Handkerchief [HPI-006] $34.99
Displaying 1 to 4 (of 4 reviews) Result Pages: 1
I was very pleased with how quickly I received my order. I'm a bit disappointed that I couldn't see ..
Rating:

[3 of 5 Stars!]
A very lovely handkerchief with an initial "I" embroidered on it. The only thing it looked lonely. M..
Rating:

[4 of 5 Stars!]
Exquisite! We purchased the German Plauen lacy handkerchief for the bridal bouquet. The hankie was p..
Rating:

[5 of 5 Stars!]
This handkerchief is so beautiful. The lace trim blends in with my daughter's wedding gown. It is qu..
Rating:

[5 of 5 Stars!]
Displaying 1 to 4 (of 4 reviews) Result Pages: 1