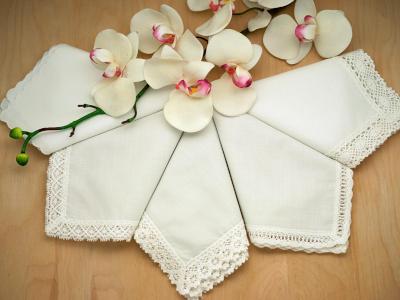 Bridal Set of 5 Different Ivory Wedding Handkerchiefs [HSW-014] $28.99
Displaying 1 to 4 (of 4 reviews) Result Pages: 1
Bride, mother and mother-in-law all loved these!!! That is really something when all 3 agreed!
Rating:

[5 of 5 Stars!]
Just love, love, love all your hankies. My son and soon to be d-i-l are getting married in a very sm..
Rating:

[5 of 5 Stars!]
Will be using these for my son's wedding. Very pretty designs. Thanks for a quality product!
Rating:

[4 of 5 Stars!]
Your products and service are great, and I always remember your name, as if you are down the street!..
Rating:

[5 of 5 Stars!]
Displaying 1 to 4 (of 4 reviews) Result Pages: 1