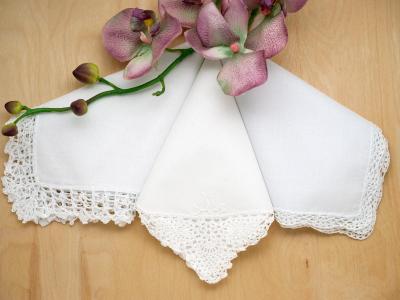 Bridal Set of 3 Different Crochet Lace Wedding Handkerchiefs [HSW-007] $15.99
Displaying 1 to 3 (of 3 reviews) Result Pages: 1
I was a little disappointed in the quality. I wanted to embroider for a bride on them but they are t..
Rating:

[2 of 5 Stars!]
I love the wedding hankies I received as my granddaughter is marrying her fiancé in New York . She ..
Rating:

[5 of 5 Stars!]
I was very impressed with these hankies. I was sure they would be nice but are of much better qualit..
Rating:

[5 of 5 Stars!]
Displaying 1 to 3 (of 3 reviews) Result Pages: 1